Long Point Provincial Park Review: Spending a Dog-Friendly Afternoon Swimming in Ontario's Warmest Waters
Did you know that Long Point Provincial Park is Ontario's 4th oldest Provincial Park? 
Established in 1921, this provincial park is located at the base of the Lake Erie sand spit, which extends easterly some 32 KM into the lake. 
In today's post, you'll learn more about Long Point Provincial Park, and how you can spend a dog-friendly off-leash afternoon at their dog beach. 
---
Looking for more dog-friendly day trips near Toronto?
West of Toronto
North-West of Toronto
East of Toronto
---
Dog-Friendly Afternoon at Long Point Provincial Park – Contents
This post is lengthy! Here are a few links to jump to the section you're looking for. Enjoy!
---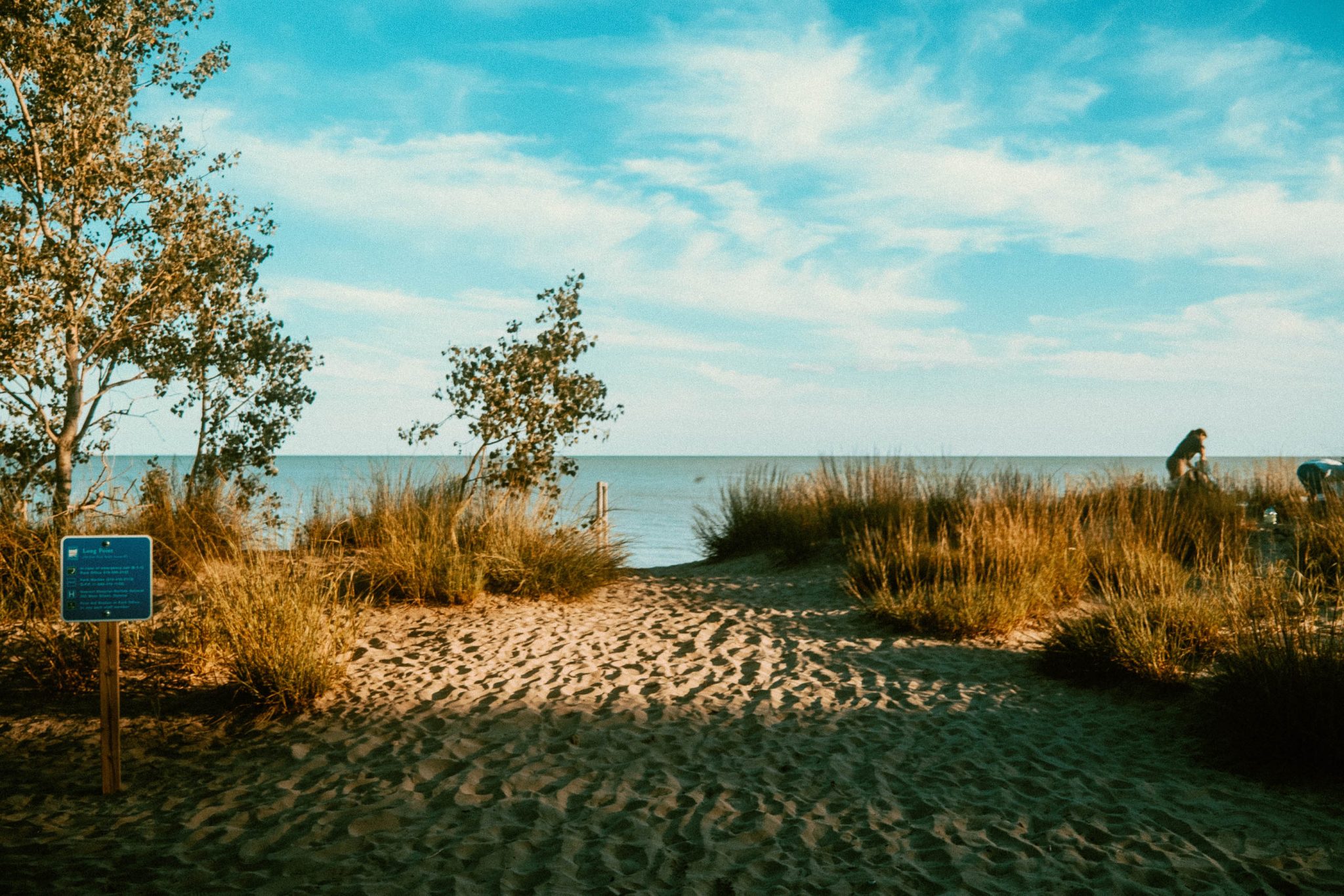 This post contains affiliate links to products. We may receive a commission for purchases made through some of the links on this post.
Long Point Provincial Park Overview
Despite its small size (coming in at 1.4 square kilometres), this long and narrow provincial park has a lot of surprising features and things to love.
Here's a quick summary of the provincial park before we dive deeper into the details. 
Long Point Provincial Park Summary Table
Long Point Provincial Park Dog Beach Summary Table
About Long Point Provincial Park
Situated in the southernmost tip of Norfolk County in Southwestern Ontario, this popular provincial park has a lot to offer in its long and narrow lands.
This 1.4 square kilometre features:
One of

North America's top bird-watching destinations

, with over 300 different species of migrating birds and 80+ birds nesting on the Point annually. The surrounding land hosts more endangered species per capita than the rest of Canada. It is also home to the greatest number of plants and animals and the highest densities of wildlife in all of Canada

1.5 KM+ of sandy beaches

with a

designated off-leash dog beach

One of the

finest bass fisheries in Ontario

Amazing views of sunsets over lakes and wetlands

Four campgrounds

with:

RV electric hookups (select areas)
Radio-free grounds (select areas)
Long Point Provincial Park Water Temperature
Did you know that Lake Erie has some of the warmest waters in all of Ontario? That means you can look forward to comfortable swimming temperatures all summer long!
Here are the average water temperatures you can expect depending on the month you're visiting. You can also check the current temperature of the water by visiting the Sea Temperature website.
| Month | Average Temperature (Degrees Celsius) |
| --- | --- |
| May | 9.9°C |
| June | 17°C |
| July | 22.4°C |
| August | 23.1°C |
| September | 21.2°C |
| October | 16.1°C |
Long Point Provincial Park Water Quality
Long Point Provincial Park's water quality is monitored weekly from June to August every year.
For the entirety of 2021, Long Point Provincial Park's waters have been great for swimming and have passed all of its water quality tests.
If you'd like to learn how water quality and test sampling is done, you can check out Swim Guide's Long Point Provincial Park's Page for more information.
Parking
As you may have guessed, Long Point Provincial Park's beaches are a highly popular tourist location. Thankfully this provincial park has accounted for this popularity. Its day-use parking lot can host a LOT of guests. 
The day-use area alone offers space for over 450 cars per day. Including the campgrounds, the provincial park can house up to 600 cars at any given time. 
Much like the surrounding geography, the day-use parking lot is a fairly long and narrow parking lot that stretches for minutes from end to end. With 4 rows of parking, and multiple access points to the beach, there isn't any particular 'bad spot to park' within the lot. 
Most visitors will be able to access the beach in less than a 5-minute walk from any particular parking.
However, if you're visiting the dog beach, you will want to park on the far west end of the day-use parking lot. This will give you direct access to the dog beach. You'll know you've reached the end of the parking lot when you see
a small dog beach sign 
you can no longer continue driving straight in the parking lot (you'll either have the option to turn left towards more parking lot rows or to turn right to exit the provincial park)
Before You Go – Make a Reservation for your Visit
Head on over to Ontario Parks Reservations before you load your pooch and yourself into the car! Due to surging summer popularity, all provincial parks are strongly encouraging you to book your vehicle permit pass prior to visiting to secure a spot and prevent yourself from being turned away.
How far in advance can I book my Vehicle Permit Pass?
Reservation spots are open for booking 5 days before the selected date at 7:00 AM each day. E.g. if you'd like to visit on August 6, you obtain a vehicle permit pass as early as 7:00 AM on August 1.
How do I use the reservation system on Ontario Parks Reservation?
Head to Ontario Parks Reservation
Select the Day Use tab to book your Daily Vehicle Permit
On the Day Use tab, filter for the provincial park you are looking for
Select the date you would look to visit the park
If timeslot is available, a green 'Reserve' button will appear on the right-hand details column
Confirm your reservation
At 'checkout' you will need to create an account on Ontario Parks Reservation or sign-in with an existing one
Add your vehicle details such as your license plate and the provincial jurisidation location (where the license plate is registered) / Confirm your license details
Confirm your booking
3 Things to Expect When Taking Your Dog to Long Point Provincial Park's Dog Beach
There's a number of things that you can expect when you bring any dog to a dog beach including – sheer utter joy, big leaps into the water, and lots of barking play. But here are a few specific things you might want to know when planning your dog beach visit at Long Point Provincial Park:
1. The Pet Exercise Area is the Dog Beach
I can't imagine there would be anyone else here that would make the same weird assumptions as me, but JUST IN CASE… the pet exercise area IS the dog beach.
Don't be like me and assume that since the main website has both the Pet Exercise Area and the Dog Beach area highlighted, that there will be two separate facilities. 
I mean their park map literally lists the pet exercise area and the dog park in the SAME SPOT with a slash. Clearly, they meant it was the same thing??? Why did I even think that there would still be two separate areas is beyond me.
Even worse, I read reviews before coming here and no one mentioned a second area. But for whatever reason, I was SO CONVINCED that there'd be some off-leash field in addition to the dog beach. 
So… repeat after me! There is only one off-leash area at Long Point Provincial Park and it is the designated dog beach zone. There are no additional fields or off-leash trails to explore at this park. 
2. Plan When, How, and Where to Eat Before Visiting
2a. Barbequing at Long Point Provincial Park
There are 12 upright barbeques in the picnic area for guests to use during their stay at Long Point Provincial Park. 
These barbeques operate on a first-come-first-serve basis. If you're planning to visit Long Point Provincial Park during the weekend, expect most of them to be in use by the other guests unless you plan on eating at odd hours.
2b. Restaurants near the Dog Beach at Long Point Provincial Park
There aren't too many restaurants near the provincial park where you can purchase lunch or dinner. 
Most nearby options will take you into Port Rowan (a 15-minute drive away). But if you need to eat near the provincial park itself here are a couple of options (in YELLOW on the map) that are 5-10 minutes away.
Stubs Grub and Market
You can easily reach Stubs Grub by walking 2 KM west past the dog beach at Long Point Provincial Park. The restaurant/market serves diner beach food.
Recommended Food to Try:
Personally, if you don't plan on barbecuing at the provincial park, I'd recommend buying food here before making your way to the provincial park.
Stubs Grub is on the way to the day-use area of Long Point Provincial Park, they serve delicious food, and the food totally fits the beach vibes.
I wish we took photos of our food since we ordered some lunch here but we were so hungry and it was so good that we devoured everything without thinking about taking photos!
The Chip Ship
If you're looking for a simple hamburger or poutine with huge portions, there are a LOT of google reviews online that recommend The Chip Ship as a worthy detour before heading over to Long Point Provincial Park. Look forward to huge portions for affordable prices. 
Recommend Food to Try:
Hamburgers and fries
Poutines
Lake Erie Perch
Pulled Pork
3. If you're coming with a dog, know that you might not be able to stay around for sunset because… stable flies
Long Point Provincial Park is known for absolutely breathtaking sunset views over the nearby marshes and wetlands so many visitors want to stay until sundown to enjoy the scenery before leaving.
Unfortunately, if you're planning on spending time at the dog beach, the reality is you likely won't' be able to hang around and stay for sunset. No. It's not because you and your dog will be too tired to stay for so long. Oh, how I wish that was the case!
You'll likely be driven out of Long Point Provincial Park long before the sun sets thanks to the presence of Stable Flies AKA the wretched biting flies. 
These little suckers are perhaps more annoying than mosquitoes. Unlike mosquitoes that leave itchy red welts after stealing your blood, biting flies will bite repeatedly in attempts to steal your blood.
Infuriatingly, most bites aren't successful. So while you spend minutes swatting them away from you and wincing in pain, you'll have nothing to show to anyone for your suffering. 
What's worse is that as more people leave the park, more biting flies will crowd around the remaining living animals on the beach… namely you and your dog. 
There are a couple of options to stave off the flies from biting you:
Stay in Lake Erie – the flies can't bite you when you're in the water!
Physically Cover-Up  – wearing pants can help control the number of bites you get around your lower limbs
Cover yourself with DEET or Picardin (20% + concentration) insect repellent – both DEET and Picardin types of insect repellents are highly effective at keeping biting flies away. Unfortunately, both of these insect repellents are highly toxic to dogs. There are currently no dog-friendly insect repellents that keep these flies away
We ourselves were willing to bear the pain if it meant watching an epic sunset.
However, we immediately called it quits and headed home before the sunset when we watched poor Limone twisting, snapping, and growling on the beach as the stable flies swarmed her.
We just didn't have it in us to put our dog through the ordeal of fending off all those flies for a sunset view. 
What to Bring For Your Dog When Going to a Dog Beach
Here is a list of useful things that you should pack  for your dog before heading off to a dog beach to ensure that you and your dog have the best time:
LOTS of Fresh Water – for hydration or for rinsing off your sandy dog before loading them back into the car. Also really great for flushing sand out your dog's eyes and ears
Leash and collar/harness
Silicone Collapsible Dog Bowls – easy to clean and keep sand off, also easy to dispense any treats or drinking water your dog needs
Dog-Friendly Sunscreen
Dog Poop Bags
Towels  – I'd recommend 3 towels for your dog. One to line your car on your way back. Another to dry your dog and finally a third towel to really loosen up as much sand and dirt from your dog prior to heading home
Floating Dog Toys
Dog Personal Flotation Device / Life Jacket
Dog Booties – if the sand is too hot for your feet, it is definitely way too hot for your dog. Bring dog booties to use on extra hot summer days
Dry Bag / Garbage Bag – to throw all your wet dog gear into
Dog Treats  – Dog beaches can be a lot of fun but always make sure to bring extra-high-value treats with you. Super useful to break unexpected fights at the beach or to convince your dog to head back home with you if they haven't had enough fun yet
Our Experience at Long Point Provincial Park's Dog Beach
We were able to reserve a parking spot on the same day
We visited Long Point Provincial Park's Dog Beach after we spent a few hours at the nearby Hounds of Erie Winery – a dog-friendly winery that serves dog-themed hard cider and wines. 
Long Point Provincial Park was a last-minute addition thanks to the beautiful weather that day. 
Here's a quick preview of our entire day in the Norfolk area!
Thankfully we were able to secure a Vehicle Permit Pass on the same day after we found out that the weather was going to be AMAZING for the weekend. 
To be honest given how popular this beach area was I was really surprised there were reservations open for a sunny summer Saturday, but…the weather *did* originally call for a rainy weekend so I'll just count our blessings that everything worked out!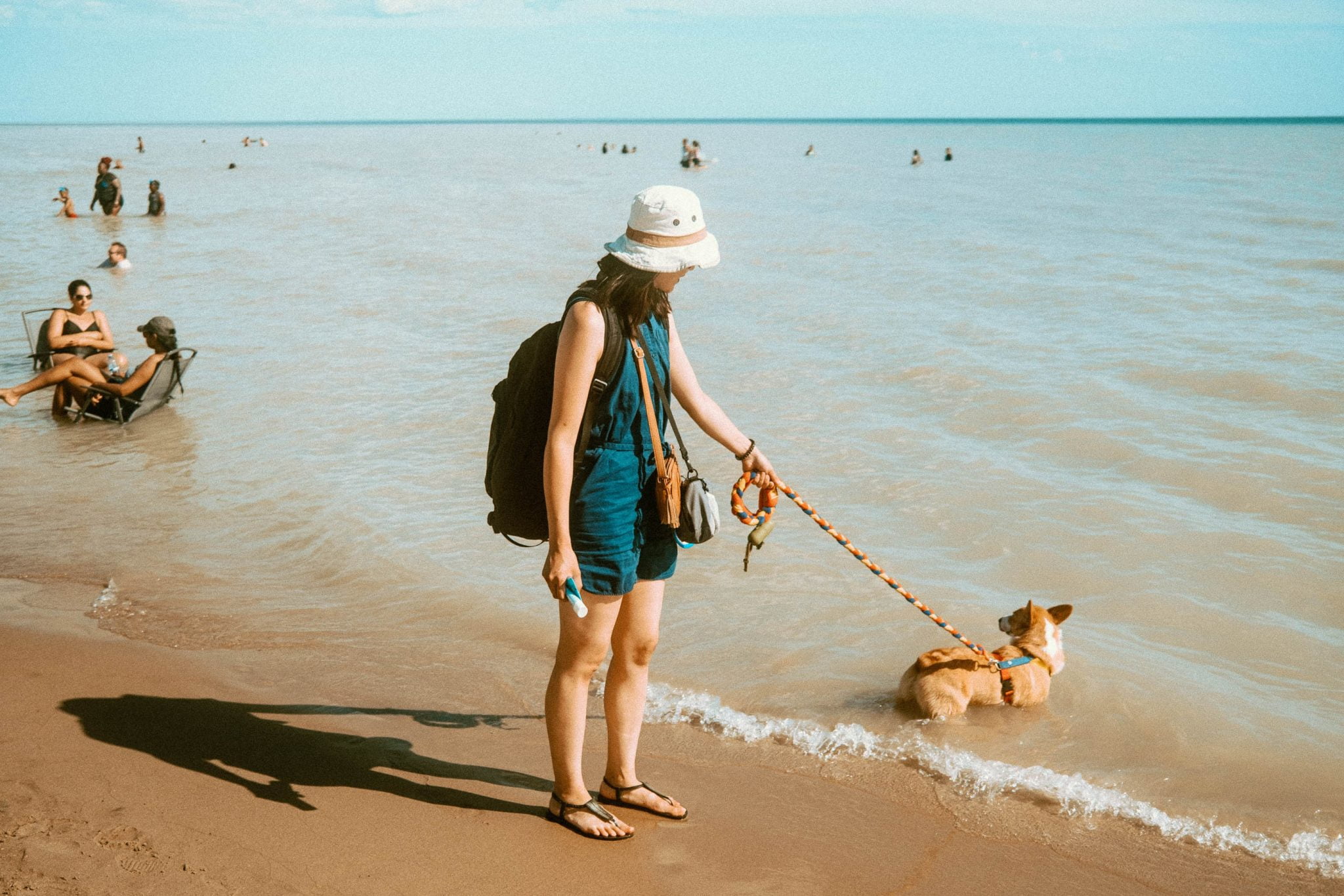 Limone was leash-free almost as soon as we entered the beach
Remember my parking tip from earlier? We made it a point to park as close to the dog beach as possible. After climbing up a small hill, we only needed to walk about 10-15 steps to the right towards the dog beach sign before we saw quite a few dogs frolicking on the beach and in the water off-leash.
We didn't see a sign marking when the off-leash portion of the beach started so ended up asking other beachgoers what their thoughts were. 
Turns out no one really knew. It was everyone's best guess! Most dog owners we asked set their dogs free after walking 20 m to the right of the entrance area. When we asked beachgoers who were visiting without a dog, they all just shrugged and said that dogs were okay off-leash as long as they kept around there. Whereby the beachgoers all just proceed to *wave in the general area to the right of the entrance*
So verdict?
We figured that as long as we walked several meters right/further West on the beach, Limone would be fine to have some off-leash play.
When we arrived, we saw dogs of all sizes, energies, and ages enjoying the beach. We saw a 5-month-old puppy zooming down the sandy beach asking every dog to play with her. Immediately afterwards we saw a regal 8-year-old dog casually sunbathing on the sandbanks.
It was also extra nice to see a large husky gently playing with 3 chihuahuas nearby.
What we loved about Long Point Provincial Park's Dog Beach
Here are some of the things that we loved about this particular dog beach that really worked for us:
Disposal bins are very easily accessible near the parking lots so it was very easy to keep the dog beach area clean
The water is shallow and very easy to enter – Limone is a wader and less of a swimmer so this was IDEAL for her to cool off, run, frolic and just enjoy the water
There are shallow sandbanks near the shore – these are great resting spots in the 'middle of the lake' where dogs and people could just relax without complete leaving the water
All the off-leash dogs we met were super friendly
The dog beach portion is the entire west end of the beach from the entrance onwards. This gives you and your dog more than 500 m of sandy beaches and shorelines to enjoy. 
To be honest, I think the provincial park have done their best effort to keep Long Point Provincial Park clean and to keep the dog beach experience a positive experience for all the guests. 
I'd also like to think that most visitors who bring their dogs to these dog beaches strive to be responsible dog owners and strive to ensure that every dog has a pleasant experience. 
Story Time – An Encounter at the Dog Beach
Okay! So random story time!!! We did have a minor kerfuffle while we stayed at the beach that I thought was worth sharing. Thankfully no dog or person was injured, so it's not too terrible of a story to read!
So whenever I'm out and about with Limone, I'm painfully aware that Limone can:
Lunge and bark at dogs who approach her too quickly when she's on a leash
Snarl at other dogs when she's drinking water (resource guarding) in public
We found that the best way to mitigate these is to avoid the situations entirely.
We make sure Limone is off-leash when other dogs greet her (if we can) OR we cross the road or move to the side when we see other dogs walking towards us
We remove any water from her bowl when other dogs are nearby and only give water to her when there are no dogs nearby
I thought we were doing such an amazing job when we were spending our time at the dog beach. We actively made sure none of those situations happened. BUT alas, no dog mom can be perfect right? It's ALWAYS a work in progress, and there's ALWAYS an unexpected situation that can pop up. 
This time, Limone managed to bark and snarl at a small dog on the beach. The snarl and bark scared the LIVING DAYLIGHTS out of the woman holding the leash, Not to mention the poor woman was so frightened she yanked her small dog (who was on a collared leash by the way) and sent it flying in circles while hanging it hung in mid-air by its neck 🙁 I am so sorry small dog!!
Could we have avoided a flying dog moment? Yes. 100% it could have been avoided if both dog owners did a better job advocating for our dogs and actively noticing warning signs. 
I will be the first to admit that I did not do enough and the snarl/snap that Limone did could have been better avoided.  
Let's break down what happened:
Limone is resting off-leash beside me. A woman walking her dog on a leash is about to pass by. She sees Limone resting and starts walking towards us with her dog
Limone's body visibly tenses. I recognize the warning signs. Her stiff body means she will likely growl and bark at the other dog if it gets too close
I immediately get up, backing away several steps away from the approaching dog and any other major foot traffic on the beach. I call Limone towards me, and she follows, but her eyes don't leave the other dog.
The woman and the dog continue walking towards us. They're pretty determined to meet Limone
I call Limone and ask her to continue walking away from the dog. We can't continue heading towards the hill, so we make our way towards the water
The woman and dog follow our path and continue walking towards us, closing the distance
I try to pick Limone up to avoid a confrontation, but it's too late, she wriggled out of my arms and let out a big bark and snarl
So where did I go wrong? I thought that my actions were clear enough to the other woman that we were not interested in meeting with them. Unfortunately, the other party wasn't able to read my dog's body language or our actions and just kept coming towards us.
I should have verbalized our intent but I didn't.
The interaction could have been avoided if:
The other woman didn't try to force her dog to meet mine
I told her that we weren't interested in meeting her dog
I didn't verbalize it. I didn't voice out that Limone was not comfortable and that it would probably be best if they did not meet. 
Thankfully nothing else happened afterwards. The woman was scolded by a man she knew and we were stared at by the other beachgoers for a couple of seconds. I'm just really glad that no one was hurt, the other party wasn't angry at the interaction, and that Limone  
"Why'd you keep walking towards them! They clearly didn't want to meet!" 
"I thought they would be friendly!!"
ah… famous last words :'( unfortunately, not all dogs are friendly to every dog and my Limone can definitely be grouch to some strangers! I'm still feeling pretty bummed that the other dog was snarled at but I do wish that the woman didn't keep trying to push them to meet 🙁
Long Point Provincial Park Dog Beach Summary
Overall Long Point Provincial Park is a great afternoon spot for some dog-friendly off-leash beach fun. 
With:
500m+ dog-friendly shoreline
Warm waters
Shallow water entry
Multiple wading sandbanks near the shore
This dog beach is a great dog beach to introduce your younger dogs and senior dogs too. The shallow areas make it a great place for dogs to wade around, and are suitable for even the smallest of dogs to join in on the shoreline fun.
Long Point Provincial Park's dog beach may not be right for you if:
You're looking for a bug-free beach experience
Are looking for a quiet, uncrowded dog beach
You are a new puppy owner
Even though we had a mishap during our time here at Long Point Provincial Park, I think that this park is worth visiting. The warm waters and long shoreline definitely make it one of the better dog beaches for dogs who love to run up and down long stretches of sand.
Much like visiting a dog park, a dog beach is a public space used by a variety of dog owners. It's very possible to run into inexperienced or irresponsible dog owners, just like in any other public off-leash space. But I don't think that should deter you from visiting this beautiful place.
With its warm, shallow waters, I think Long Point Provincial Park is definitely a must-visit for any dog owner in Ontario who wants to visit a dog beach.
If the possibility of running into inexperienced or irresponsible dog owners is still keeping you away from visiting, I'd definitely recommend visiting during the weekday when there is significantly less traffic at all provincial parks.
Other Dog-Friendly Activities near Long Point Provincial Park
Interested in extending your visit to the Norfolk County area with other dog-friendly activities? Consider some of these other nearby locations to add to your day.
Go Beach Hopping
Go beach hopping with your dog at any of these nearby dog-friendly beaches:
Stroll through one of Ontario's Beach Towns
Enjoy a nice easy boardwalk at one of Ontario's classic summer beach towns: Port Dover
Visit a Dog-Friendly Winery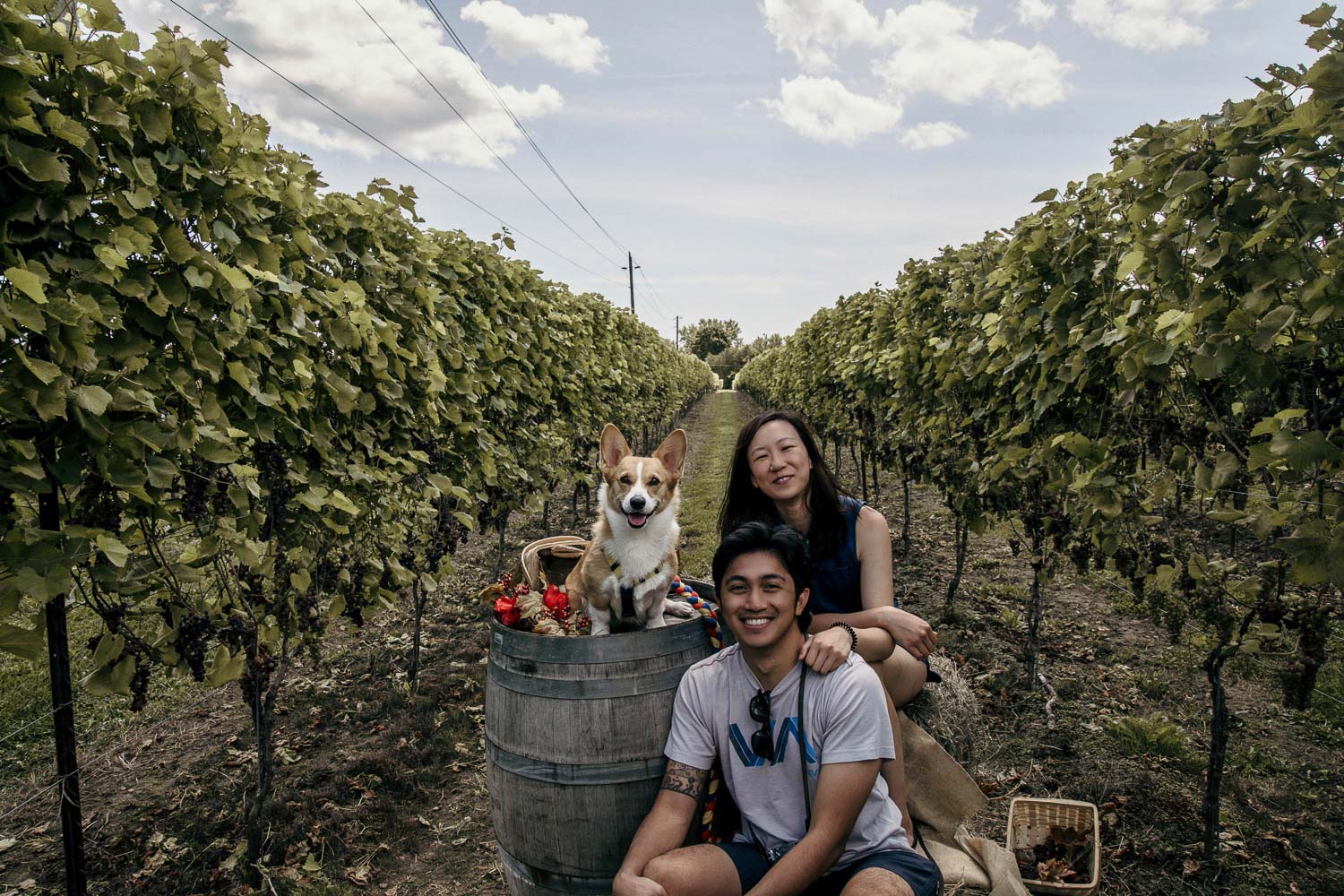 Enjoy a nice glass of hard cider or wine at this dog-friendly winery: Hounds of the Erie Winery.
Started by a young family, they make every possible accommodation to ensure that their winery is as dog-friendly as possible. Shop for doggie treats while sipping some dog-themed wines or hard ciders.
Sources
Long Point Park Management Plan