Where should dogs sit in the car?
In today's post, I will be answering some of the most commonly asked questions about where dogs should be in a car. Now – as you might already know – your girl and Limone live in Ontario, so this post will have a heavy dose of Ontario laws and the fines associated with breaking them – but the same general rules should apply to anyone wondering where their dogs should sit in the car – no matter where you live.
If you've ever had any questions like:
Where should dogs sit in the car?
Can a dog travel while sitting at the front of the car?
Can a dog rest at the bottom of the front passenger's seat safely?
How do I keep my dog safe in the car?
How safe would it be for people and for the dogs if they aren't properly restrained in the car?
How do I place more than one dog in a car safely?
Are there specific laws in Ontario about animals riding in a vehicle that I'm not aware of?
then you've come to the right place!
---
Best places to put your dog in a car
This post contains affiliate links to products. We may receive a commission for purchases made through some of the links on this post.
After several hours of going through some rabbit holes about crash-tested harnesses, crates, and Ontario rules and regulations, I have come up with this handy diagram to help you determine where the ideal place to put your dog should be based on your car type:
As a general rule of thumb, keeping your dog restrained/secured in the backseat is the best place to put your dog in a car to minimize distractions and injuries. If you have a larger car like an SUV or minivan, the trunk and rear seats keep your passenger seats free for your family and friends.
So you might be wondering – how did we come to this conclusion?
Beyond just basic safety concerns, there are also some places in the car that are less than ideal because… well they're illegal here in Ontario! That's right, depending on where you put your dog in the car you can actually get fined a pretty hefty sum in Ontario!
The next section will cover all these different places. Afterwards, we'll be doing a deep dive into:
why restraining your dog in the car is important 
why every pet restraint product is safe, and 
what pet restraints you should consider if you really want to keep your dog safe in the event of a crash
Illegal places to put your dog in a car in Ontario
1. On the driver's lap
In Ontario, it is illegal to drive with a dog on your lap. Doing so may result in a charge (like this woman who was charged CAD 110 for driving with a parrot on her shoulder) or a 3 demerit point policy (which will stay on your driving record for two years) under the Highway Traffic Act.
According to the Highway Traffic Act, Section 162 – Crowding driver's seat:
No person shall drive a motor vehicle with persons or property in the front or driver's seat so placed as to interfere with the proper management or control of the motor vehicle.
This can encompass a number of things including:
bags of groceries on your lap
boxes on your lap
newspapers on your lap
and yes – even carrying your dog on your lap
Did you know that British Columbia has hefty fines for pets that travel in cars unrestrained? You can pay up to $75,000, serve jail time for two years, or both if your pet is injured in the car!
2. Unrestrained on the open trunk of a pickup truck
Dog owners in Ontario with animals riding in the back of a pickup truck unrestrained / not secured can face several penalties including:
up to CAD 200 fine
driver's license or permit suspended for up to 60 days
If a dog is riding in a pickup truck, the best place for a dog to sit in the car would be either
secured in the passenger's seat beside the driver or
in an anchored kennel in the back of the pickup truck
3. In an enclosed trunk
I feel like this one just makes sense, but it is worth mentioning that it is illegal (and also very cruel!) to place a dog inside an enclosed trunk (i.e. the trunk of a sedan, a trunk that is not open to the passenger seats)
According to the Provincial Animal Welfare Services (PAWS) Act, placing a dog in an enclosed trunk goes against the basic standards of care. An enclosed trunk does not provide the basic requirement for an animal: ventilation, light and protection from the elements, including harmful temperatures.
Ontario has the strongest penalties in Canada against animal cruelty. Putting a dog in an enclosed trunk can result in:
Fined up to CAD 75,000
Imprisonment of up to 6 months
both
…and this is for the first offence. Repeat offenders will be fined up to CAD 100,000 and/or imprisonment for up to one year for every subsequent offence.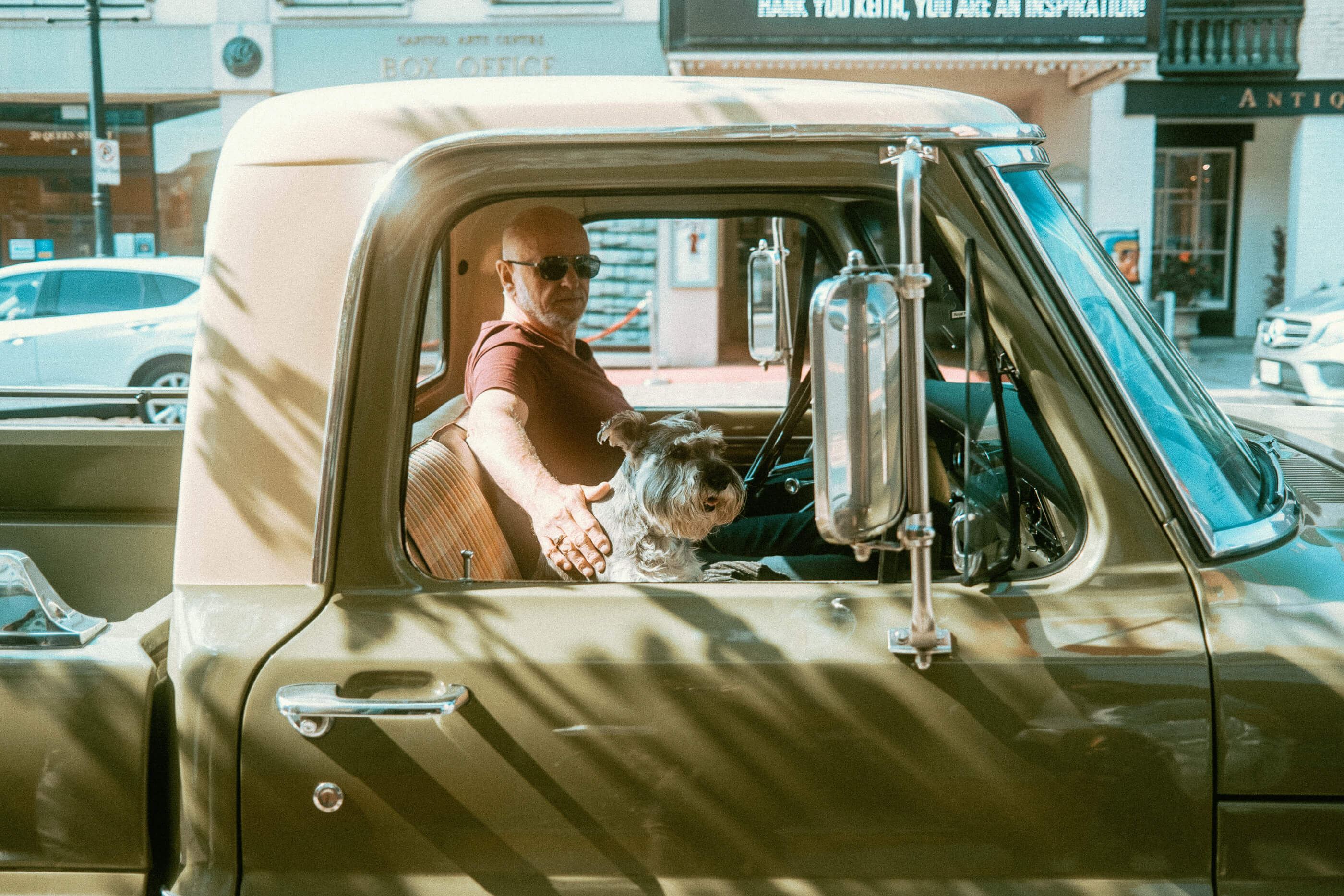 Places you can put your dog in the car
1. The passenger seat in the front of a car
There is no law stating that it is illegal for dogs to sit in the passenger's seat beside the driver in Ontario.
It is possible, but not recommended, for a dog to sit in the passenger's seat (i.e. a car that does not have any backseats or cargo space suitable for a dog).
Similar to the recommendation that children under the age of 13 should avoid sitting in the passenger's seat, dogs sitting in the front seat can be severely injured from an airbag deployment – even when the dog is restrained.
If you decide to seat your dog in the front, please make sure to turn the passenger airbag off before driving.
2. In the footwell of the car
Some of you might be wondering – what's a footwell? It's the official term for that leg space directly in front of you in the car.
There is no explicit law in Ontario stating that dogs cannot sit in the footwell of the car. It is possible, but not recommended.
If your dog is laying down or sitting in the footwell of any of the seats in your car, chances are your dog is not safely restrained in the car. An unrestrained dog can be a potential distraction to the driver.
3. In the backseat or open trunk
We're starting to run out of locations on where to place your dog in the car! At this point, there are only two places left in the car that we haven't touched upon – the back seat and for larger cars, the rear trunk
In the end, the back seats or the open trunk at the rear of the car are the best places to reduce driver distractions while also keeping your dog safe.
By placing your dog behind you, you reduce the number of visual and cognitive distractions of a moving dog placed in the front. You'll also avoid many of the potential fines and charges incurred too!
Securing your dog in the car
Beyond distractions though, the back seat and open trunk is also the safest place for your dog. Much like us, a properly restrained dog in the back will have a drastically higher chance of survival and lower chances of injury in a motor vehicle collision.
Here are some fast facts from Volvo Car USA and Harris Poll's joint study on how unrestrained pets impact the driving experience:
69% of the 1,433 pet owners surveyed drove with their dogs unrestrained
From an observational study conducted with 15 drivers on the road totalling 30 hours:

Unrestrained dogs in cars are more stressed – finishing the ride with 7 beats per minute faster than dogs riding restrained
the number of unsafe driving behaviors more than doubled when a dog rode unrestrained vs restrained
the amount of time the driver spent distracted by their dogs doubled when their dog rode unrestrained – more than half of this time was caused because the pups were moving from seat to seat
Pretty intense findings right?
Considering the importance of restraining your pet in the car, the pet industry also offers hundreds of pet restraint products on the market. Learning about the different types and selecting the best one for your pet can be a tricky choice – but I've got you here too!
Pet restraints in the car – Your dog's size matters
Any preliminary research about how to secure your dog in a car will likely point you to 4 different types of pet restraints. The type you choose is highly dependent on the size of your dog.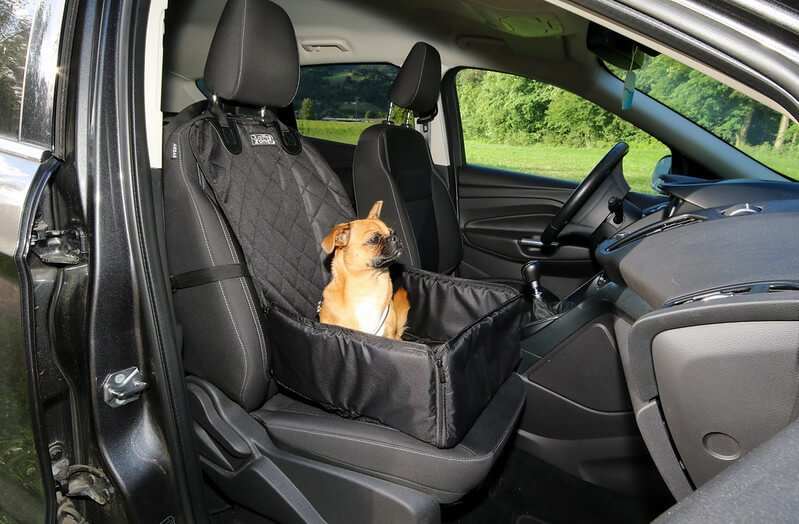 1. Dog Booster Seat
Best for: small dogs under 18 lbs
Owners of smaller dogs may select a dog booster seat to allow their dogs a better view of their surroundings. Most of these dog booster seats will look like an elevated pet bed, and many come with seat belts or harnesses to help secure your dog and prevent them from falling off the booster seat.
2. Seatbelt Harness and Tether
Best for: dogs between 18 lbs to 90 lbs
Seatbelt harnesses are a popular choice for most dog owners as they :
work for a much wider array of dogs as harnesses can be made to for different sized dogs in mind
add flexibility on where to place your dog in the car
While there are manufacturers that sell a seatbelt tether or clip that can be attached to your own dog's harness or collar, stay away from these types of products if you really care about the safety of your dog. (More on this later in the post!)
Regular harnesses and collars are not made to withstand and protect your dog from the impact of a potential vehicle accident. In many cases, the use of regular harnesses and collars with a seatbelt clip can cause more injuries to your dog instead.
3. Travel Crate / Pet Carriers
Best for: dogs of all sizes when crates are sized properly
In general, most articles will say that a travel crate or pet carrier is the absolute best way for dogs to travel in a car. A travel crate can:
work for all dog sizes as long as your car has enough space to store a crate
works for owners with multiple dogs or for families with young children (everyone gets their own separate space)
help with keeping your car clean – especially for dogs who may have incontinence issues, motion sickness, or other items – many crates come with an elevated bottom with a well for collecting liquids and other fluid
prevent larger dogs from making distracting or destructive movements in the car
can free passenger seat space in larger cars
Properly sized travel crates will provide enough space for a dog to stand and lie down in the crate comfortably.
4. Dog Barriers
Best for: Houdini dogs and drivers who want distraction-free driving
Finally, the last option available to minimize distracted driving is to place a dog barrier in the car.
Setting up a dog barrier can prevent dogs from jumping to the front of the car.
Dog barriers are best used in conjunction with the other three pet restraint options to limit your dog's access in the car and reduce whiplash-related injuries on impact.
Pet Restraint Research
Before you start shopping for a pet restraint based on price, aesthetics, and what can fit in your car…. stop!! I have several more important things to say!
Unlike child seats, pet restraints in Canada and in the USA are unregulated. Few are thoroughly tested for actual safety.
This means that most manufacturers can:
claim their products are crash-tested without any formal oversight

'pass' a crash test using dog dummies that do not best mimic a dog's center of gravity and impact behaviour – resulting in dubious 'passes' on their tests

test with a higher quality product and then label all their products as crash-tested, including their untested lower quality products
sell products claiming to protect your dog without performing any safety tests at all
all without being held accountable for any injuries or deaths that may occur.
In fact, the more you start to dig into the world of pet restraints, the more you'll find out that many products are misleading. Products that put the label "crash-tested" on their pet restraints might even keep that label without disclosing that the product failed the test!
With so few standards in the pet safety industry, finding safe, reliable, pet restraints that are actually worth purchasing can be difficult.
If you're looking for reliable pet restraints tested by a third party using a well-documented standard, look for the CPS Certificate provided by the Center for Pet Safety, a third-party, independent, non-profit organization dedicated to protecting pets.
Since 2011, CPS has put hundreds of harnesses, travel crates, and pet carrier products through extensive impact tests. Right now, only 12 products have passed their stringent tests and are officially certified by the organization.
On their site, you can find videos of their successful products keeping dummy dogs secure,. You can also find videos of how other big-box retail products 'crash tested to industry standards' have failed – resulting in projectile dummy dogs, undone harnesses, and other scary-looking results! Seriously, don't waste money spending it on 'pet safety gear' if they're not going to work!
As of 2023, these are the products that have been CPS-Certified to keep your dog reliable and safe in a car. No matter the size of your dog and the size of your car, I'd really recommend selecting and using one of the CPS-certified products in the backseat or trunk of your larger car to keep your dog extra safe.
Reliable Pet Carriers (for dogs less than 17-18 lbs)
The below pet carriers are the only carriers that are CPS-certified for small dogs:
Away Pet Carrier – also airline approved! Meets: FAA (Federal Aviation Administration) requirements
Gunner Kennel G1 Small with Strength Rated Anchor Straps
Sleepypod Carriers (all models)
Reliable Safety Harnesses
Although there are hundreds of seat belt buckles in the market, only two are CPS-certified and they are both from Sleepypod!
Sleepypod Clickit Sport Plus (for dogs between 18 – 90 lbs) – comes with instructional videos
Sleepypod Clickit Terrain (designed for working/service dogs 18 – 100 lbs with removable velcro patches)
Reliable Travel Crates
Note: CPS has only tested travel crates that cost less than 1,000 USD – so there are definitely some more expensive ones that are likely to be crash-tested and reliably safe than just the ones listed below.
Gunner Kennel G1 Small/Medium/Intermediate with Strength Rated Anchor Straps
Note; the large size is not listed on CPS's website.
Lucky Kennel Intermediate/Large with Lucky Strength Rated Anchor Straps
Rock Creek Crate's Medium Aluminum with Strength Rated Anchor Straps
Other Products / More Information
If you'd like more information on how other industry-standard carriers and tests compare to the CPS certification, Happy Natural Dog created a really great and comprehensive article about Crash Tested Dog Seat Belts and Crates – I highly recommend giving it a read if you're interested in learning about other crash-tested certifications!
Conclusion: Where should dogs sit in the car?
In conclusion, if you're looking to reduce driving distractions, avoid fines, or are just looking for the safest place to put your dog, the best place to do so is to secure your dog in the backseat of most cars with CPS-certified pet restraints that best fits your car's size and your dog's needs.
Sources
While researching for this post, these are the resources that I found the most valuable as references. Happy fact-checking and reading!