30+ Yurts in Ontario You Can Rent
Did you know that there are over 30 unique yurt rentals in Ontario? That's a whole lot of yurts!
In today's post, you'll find a range of yurts to rent in Ontario that best suit your needs. We'll be covering yurt rentals in Ontario's provincial parks, private yurts, basic yurt camping tips, glamping yurts, winterized yurts, dog-friendly yurts and everything in between!
To save you some time, I highly recommend using the Table of Contents (collapsed below) to help you find the type of yurts you're looking for.
---
---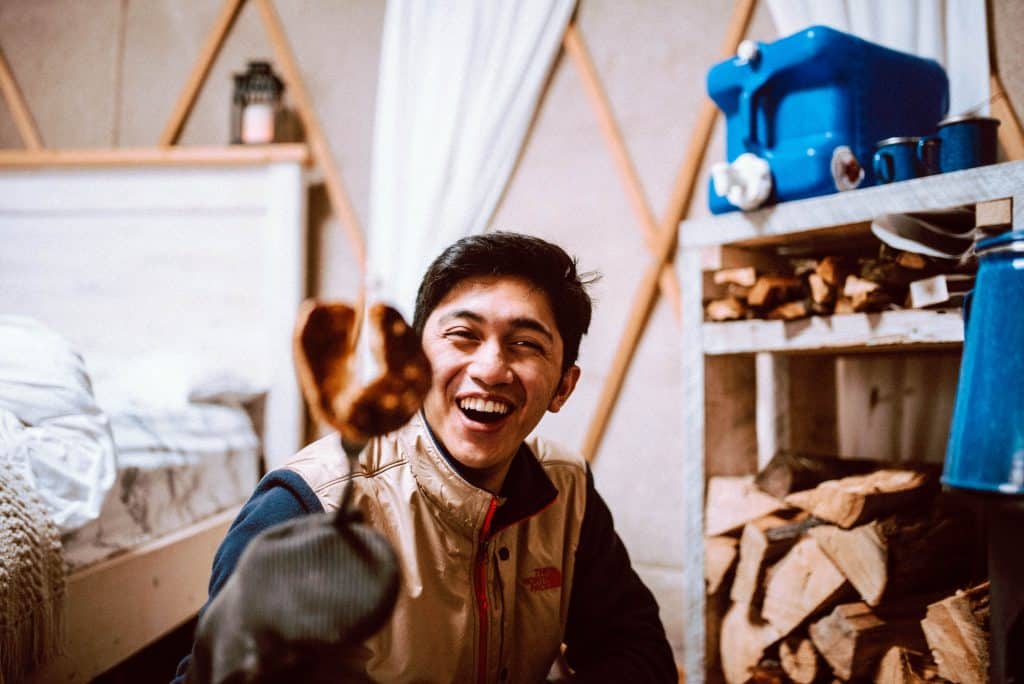 [Originally published April 19, 2019 – Last updated July 18, 2022]
This post contains affiliate links to products. We may receive a commission for purchases made through some of the links on this post.
What is a Yurt?
A yurt is a portable, large and circular tent traditionally used by nomadic groups in Central Asia (particularly in Mongolia) and other areas of North Asia as their primary form of shelter.
Nowadays, modern yurts have multiple purposes and are used as:
temporary housing
guest lodging
spaces for meditation
for glamping
What Is the Difference Between a Yurt and a Traditional Tent?
In general, a yurt has more room than a traditional tent and can take a bit longer to erect than a normal tent. Most yurts, especially yurts in Ontario are semi-permanent, waterproof structures that often come equipped with basic amenities to set you up for a more comfortable stay.
Overall when compared to a tent, yurts in Ontario are aimed to help campers reduce the amount of bulky gear you need to bring for your stay.
What Kind of Amenities Do Yurts in Ontario Have?
In Ontario, you'll find a variety of amenity ranges in yurts.
Basic yurts, like the yurts available for rent at Provincial Parks or National Parks, typically offer a few beds (typically bunk beds), a small table and a few chairs.
Privately owned yurts can offer a wide range of luxury amenities including but not limited to:
Luxury linens, beddings, and mattresses
Electrical lighting, WiFi, and Charging Outlets
Kitchenettes / BBQs
Electrical heaters, fans, and portable air conditioners
Entertainment (i.e. board games, sports equipment etc.)
As private yurts can vary in amenities, always be sure to check exactly what amenities are available in the yurt and if any supplies are included before booking and packing for your stay.
---
Where Can I Find Yurt Rentals in Ontario?
Since yurts are offered as either vacation or camping accommodations, you'll see these yurt rentals available on both provincial parks websites and on private lodging websites like Glamping Hub, Airbnb and HipCamp. If you're resourceful with your search keywords, you might also be able to find some private, standalone yurt listings as well.
What Can I Expect When I Rent A Yurt?
If you're renting a yurt for your next glamping vacation in Ontario here are a few things you can expect:
Not every yurt is available year-round, some rentals don't operate in the winter – so be sure to check availability!
Winter yurts often come with an electric space heater, a gas stove, or a wood stove to keep you warm – you won't freeze, but you may also find it a bit chilly at times, so be sure to pack extra layers (like warm socks and slippers) if you're thinking of trying a winter yurt
Most do not offer lights, electrical outlets or WiFi – many of these rentals will be listed as an 'off-the-grid' experience
The number of amenities/features provided can vary a lot – be sure to read each listing's fine print so you know exactly what you need to pack
Provincial Park Yurts are cheaper to rent but have significantly fewer amenities than private-hosted yurts. Conversely, provincial parks tend to offer more exciting trails, hikes and better outdoor activity amenities than private yurts.
Curious to know what it's like to camp in a yurt with a wood stove to keep you warm? Then be sure to check out my post on everything you need to know before camping in a yurt in the winter.
---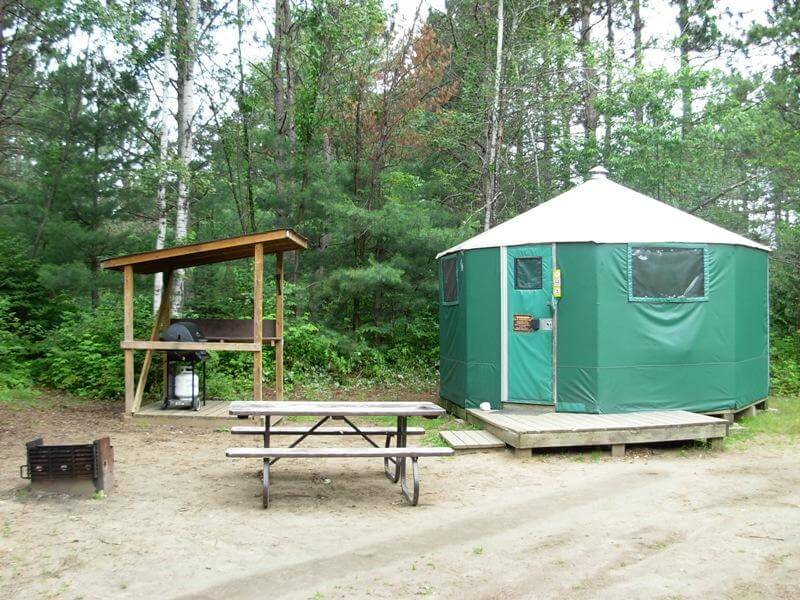 Yurts in Ontario Provincial Parks
Provincial Park yurts offer the most basic amenities of all yurt rentals in Ontario. However, staying at these rentals grants you access to everything the provincial park has to offer including its amazing trails, designated off-leash areas, wildlife, and most importantly running water / hot water comfort stations.
Which Provincial Parks in Ontario Have Yurts?
There are 11 provincial parks in Ontario that have yurts available for rent.
Here is a table of all the provincial parks and the number of yurts they have for rent:
Bookings for provincial park yurts are extraordinarily popular so try to book as early as you can (during the winter or early spring).
Provincial park yurt rentals typically sleep between 2 – 6 people in bunk bed-style sleeping arrangements and typically include a propane BBQ, broom, and dustpan too.
Yurt rental prices range between $99 CAD to $150 CAD.
Every provincial park yurt requires a minimum 2-night stay, and 3-night stay for long weekends.
Which Provincial Parks in Ontario Have Dog-Friendly Yurts?
8 of the Provincial Parks offer dog-friendly yurt rentals:
Note: Every provincial park roofed accommodation limits you to 2 dogs – this policy also applies to the above yurts too.
Which Provincial Parks Are Available in the Winter?
Only a few provincial parks offer yurts for rent in the winter (end of October to mid-May).
* includes the dog-friendly yurts available at these locations as well
How Do I Book a Provincial Park Yurt?

All provincial park yurts can be booked online via their Parks Reservation System. Make sure to navigate to the 'Roofed Accommodations' which will help narrow the search results to yurts and cabins.
---
National Parks with Yurts in Ontario
There is only 1 National Park in Ontario where you can rent yurts – Bruce Peninsula National Park.
Bruce Peninsula National Park has 10 yurts for rent. Similar to the provincial park yurts, bookings for the Bruce Peninsula yurts are incredibly popular.
Booking a National Park Yurt:
Parks Canada's Reservation System opens every January and February for booking reservations from April to March of next year. Popular summer days tend to get booked out before spring, so definitely plan early!
What Amenities to Expect in a Bruce Peninsula Yurt
Provincial park yurt rentals typically sleep between 2 – 6 people in bunk bed-style sleeping arrangements and typically include a propane BBQ, broom, and dustpan too.
Bruce Peninsula's yurts offer more amenities than the basic yurts found at Provincial Parks. A minimum 2-night stay typically costs about $256 CAD or $128 CAD per night.
Here are some of the amenities you can expect when staying at one of these yurts:
Sofa, chairs, and tables
Murphy beds
Shelving for storage
Woodstove
Large Patio Deck
Flushable comfort stations nearby
Propane BBQ and additional perks
Bruce Peninsula Yurt Restrictions
Unlike some of the provincial parks that are open year-round and allow dogs, the Bruce Peninsula yurts are only available during the summer camping season (mid-May to the end of October) and do not allow pets.
Do other National Parks other than Bruce Peninsula Park Have Yurts?
While the other national parks in Ontario do not have yurts like the Bruce Peninsula National Park, other national parks offer a similar experience via their A-frame semi-permanent structures known as "oTENTiks". These structures come with an indoor table, chairs set, and indoor lighting.
Here is a table of national parks in Ontario that offer oTENTiks:
Private Yurts for Rent in Ontario
Over the years I have compiled a list of over 25+ private yurts in Ontario that you can rent.
Often found on private farmlands, and other large properties, private yurts offer the most luxurious overnight experience.
In addition, private yurts also offer the opportunity for campers to pack light. Many private yurts in Ontario are only a short drive away from town centres and cities so for campers looking to pack ultra-minimally, you might not even need to pack food since you have plenty of takeout options nearby!
At a minimum, every private yurt on this list is outfitted with higher-quality bedding linen and upgraded seating and table arrangements. In many cases, you'll also find optional experiential additions to your stay (like farm tours, alpacas stays, and other unique activities available on the property).
So without further ado, here is the list of all the private yurts I've found online – if you'd like to see where the yurts are located in the province, feel free to jump to the map of yurt locations just below this list.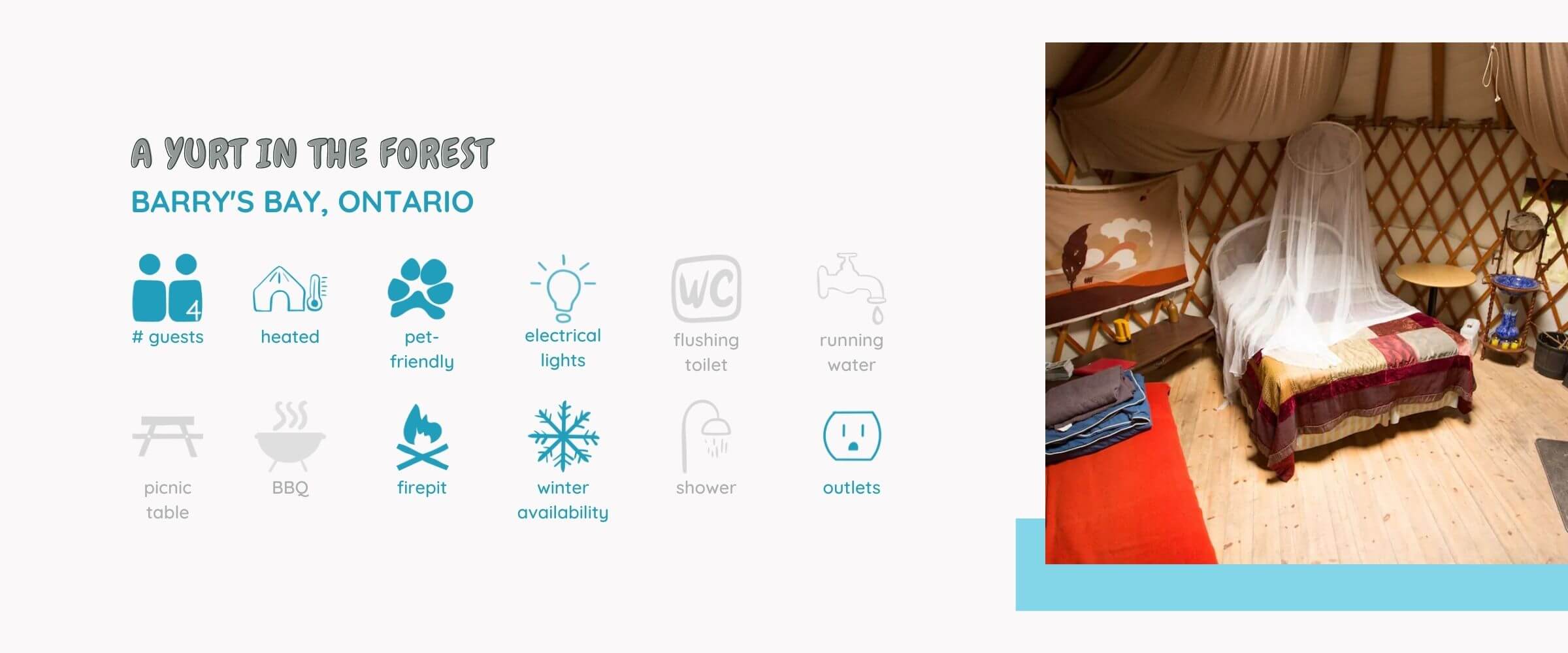 Where: Barry's Bay, Ontario
This old yurt has kept people cozy year-round for a decade. Located just 30 minutes drive from the Algonquin Provincial Park, this pet-friendly retreat is available for rent year-round.
This yurt can accommodate up to 4 guests – there is 1 double bed and 1 sofa futon available inside the yurt. Firewood and kindling are provided and a wood stove is available inside to keep the yurt warm in the cooler months.
WiFi is accessible from the driveway if needed. There is one electric light and phones can be charged in the yurt. Please note that there is no running water available onsite.
Outside there is an outhouse and a firepit nearby.
---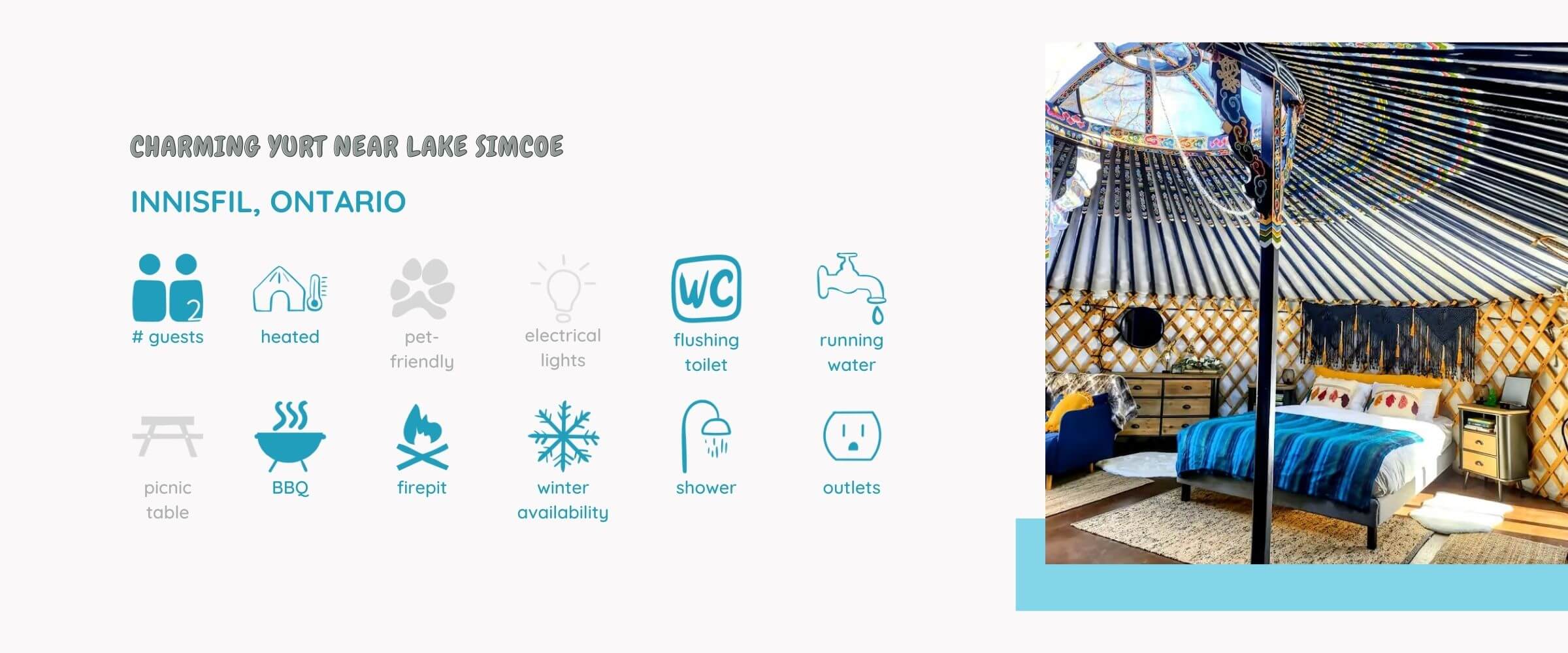 Where: Innisfil, Ontario
This charming yurt accommodation is located in Innisfil, Ontario, and is perfect for a weekend spent camping near Lake Simcoe. The yurt features a spacious yet cozy interior with a queen-size bed and can accommodate two glampers comfortably.
Inside the yurt is a composting toilet, but guests also have access to a full bathroom (flushing toilet, running water, and a shower) in the main house. A pellet stove is available to heat the yurt in the cooler months.
You'll also find a kitchenette inside the yurt that provides everything needed to whip up a quick meal, including an electric hot plate, a kettle, a French press, and basic cooking essentials. Outlets are available inside the yurt to power the various appliances.
Outside, you can enjoy a deck, a BBQ, and a firepit as well.
---
Where: Mattawa, Ontario
This massive and extraordinarily well-furnished yurt in Mattawa is for peak glamping visitors. Inside you can find 1 double bed, 1 futon, and two twin-size air mattresses along with plenty of sitting and lounging room.
Glampers staying in the yurt will be supplied with all necessary cookware, dishes, and utensils, along with jugs of water sourced from the local, natural spring. Wood is provided for the small wood stove located inside the yurt as well.
Guests will have access to an outdoor composting toilet during their stay.
Outside, guests can enjoy the fresh air and serenity of an outdoor fire pit.
Along with a private septic system, this eco-friendly property also features eight 120-watt solar panels and a 1,000-watt wind turbine mounted on a 65-foot tower.
---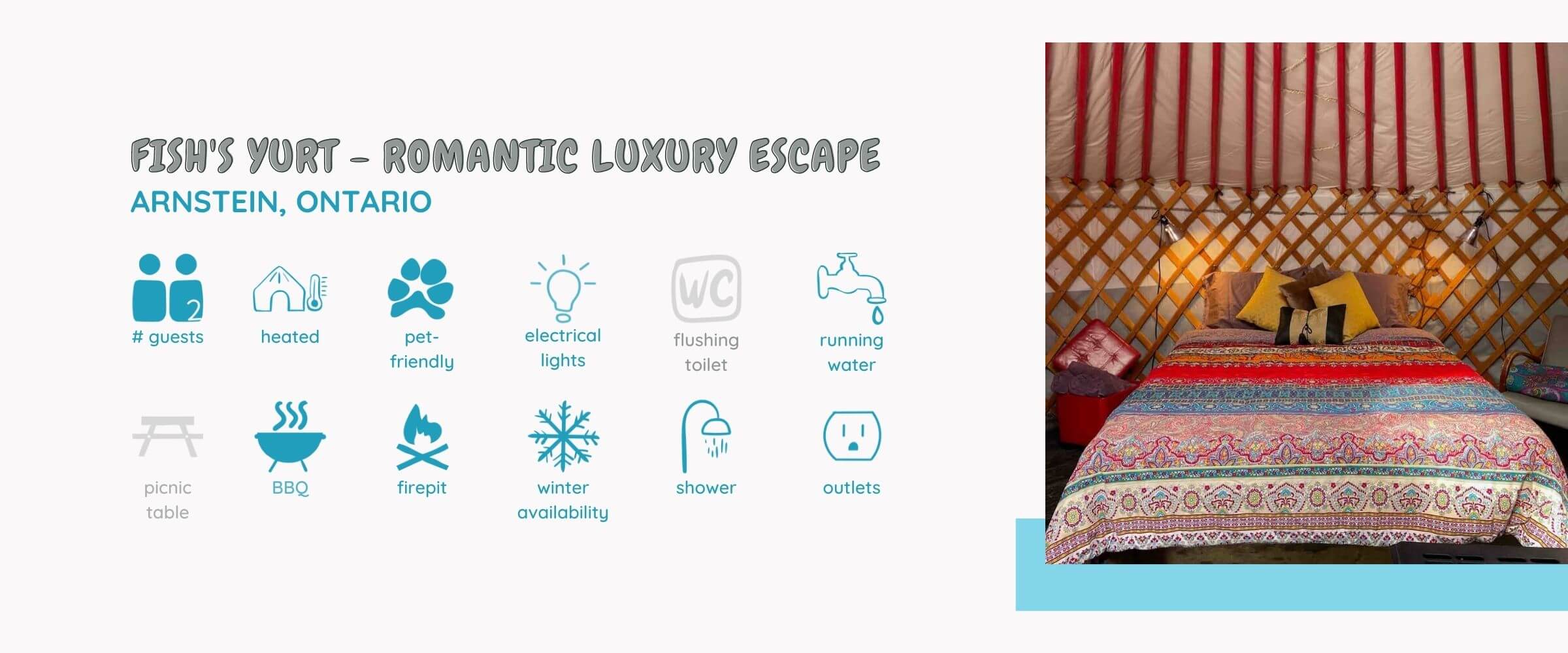 Where: Arnstein, Ontario
This pet-friendly traditional four-season Mongolian Yurt features its own bathroom, kitchen, living area and queen-size bed. It is heated with a thermostatically controlled fireplace.
One of the defining features of this yurt that no other listing has is the claw foot tub inside the yurt. You'll also find a fridge with a freezer and a 4-stove burner too.
The yurt is a traditional yurt or Ger imported directly from Mongolia.
---
Where: Blackstock, Ontario
One of the closest yurts to downtown Toronto, this is perfect for city dwellers looking for a nearby romantic getaway. This custom-built yurt is built on a 100-acre property and sits on a platform in a small clearing in the forest.
Inside you can find a wood stove (wood included), an indoor composting toilet, kitchenette, 12V lighting & USB power included.
Outside you can enjoy a charcoal BBQ, firepit and a screened picnic table.
Guests staying on this property can also explore various sculptors created by inventor, sculptor, and filmmaker, Bill Lishman.
---
Map of Yurts in Ontario
Here is a map of all the Provincial Park yurts, National Park yurts, as well as the general location of all the private yurts listed in today's post.
Conclusion
Phew! This was a lot of info! Hopefully, this post has helped you choose where to rent your next yurt experience!
Thanks for going through and exploring the entire 30+ yurts in Ontario list! If you'd like to know more about what it is like to stay in a yurt before choosing your own, feel free to read up on our personal experience of staying in a yurt for the first time in winter!
As the camping/glamping landscape evolves, I know that this list will get shorter or longer. If there's any yurt listing you know of that we might have missed, please don't hesitate to send me an email. If you're one of the yurt owners and we got your data wrong, send us a message and we'll correct it right away!