Hiking Tiffany Falls with a Dog in the Winter
Tiffany Falls is one of the most popular waterfalls for tourists to visit in Hamilton. Come spring and summer, this ribbon-like waterfall becomes a bustling hub of tourist activity as people flock to view this easy to access majestic 21 metre waterfall.
But beyond the spring and summer, the Tiffany Falls Conservation area has seen a growing popularity in the winter too, and for good reason too.
In the winter, Tiffany Falls transforms into a beautiful frosting-like layered frozen waterfall. It is truly a sight to behold and well worth a visit.
The best part? It's dog-friendly too! But before you head out with your four-legged friend to visit this icy wonder, be sure to read the rest of this post for some VERY important tips and hard lessons learned from my own experience hiking Tiffany Falls with a dog in the winter.
---
---
This post contains affiliate links to products. We may receive a commission for purchases made through some of the links on this post.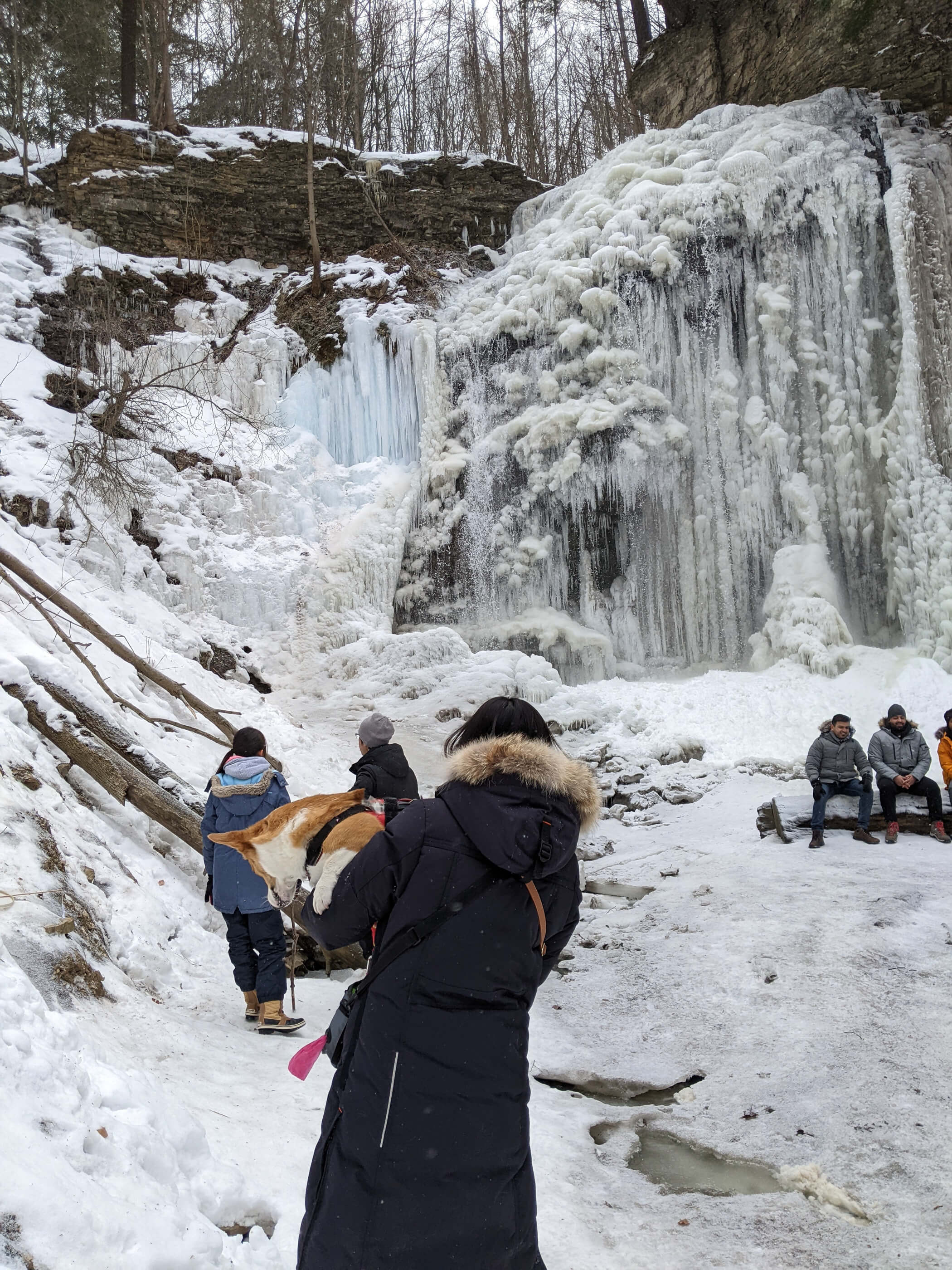 Tiffany Falls in Winter Overview 
Hours: Sunrise to Sunset
Address: Hamilton, Ontario South of Wilson St E and Lower Lions Club Rd
Parking: Limited paid 20 car parking lot on the side of Wilson St E in Ancaster, Ontario – currently $11 CAD
Restrictions: maximum 1-hour parking
Plan for: 
20-30 minutes hiking to and from the lot to the falls
15-20 minutes sightseeing at the waterfall (on 'warmer' days the lines to take a 'solo photo' can take several minutes
Directions to Tiffany Falls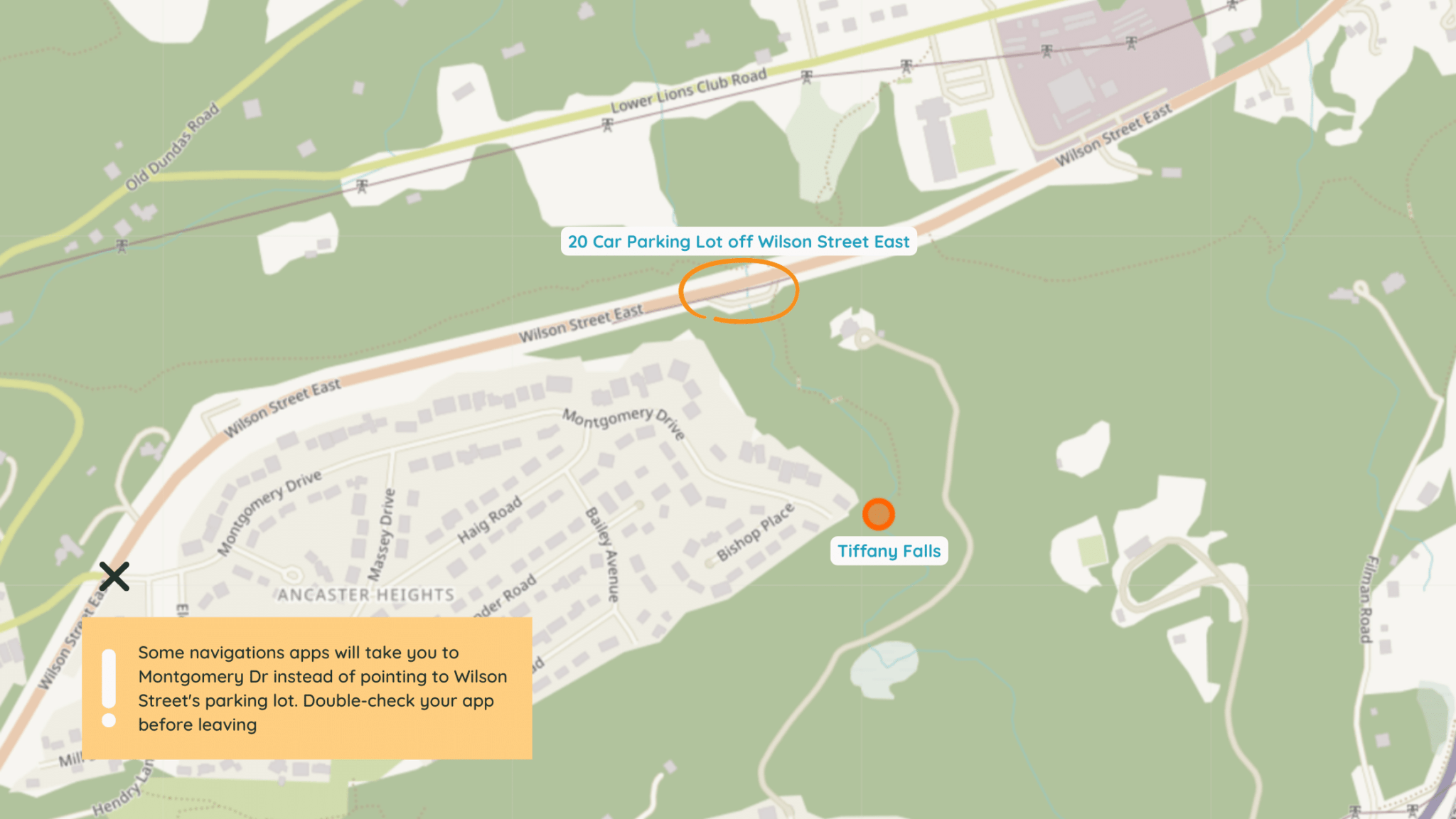 If you're planning to visit just Tiffany Falls, the best way to reach the falls is by car followed by a brief 10-minute hike from the parking lot to the falls.
There is a VERY limited parking lot located just off Wilson St E – if you're not careful, you can very easily miss it!
I recommend visiting the falls earlier in the day as this popular destination makes it especially difficult to secure a parking spot in the afternoon. Oftentimes, you'll see cars lined up or parked against the highway waiting for a spot to clear up.
Tip:

If you're using Waze or Google Maps to navigate your way to Tiffany Falls be sure to double-check your last steps – you want to make sure your last step is on Wilson St E.


Sometimes the navigation system will take you through the Montgomery Drive neighborhood where there are clear signs that there is no access to the falls.
Tiffany Falls Trail Map
Once parked, you only need to walk about 360 – 400 metre along the Tiffany Falls Side Trail before you reach your destination.
During the summer this trail is rated as an easy to moderate nature trail that most people can complete within 5 to 10 minutes.
However, during the winter, the trail is not maintained by Hamilton Conservation Area and can become quite icy – easily doubling the trek time if you're trying to avoid slipping and falling.
Near the end of the trail, there is a wooden view platform where you can get a better view of the waterfall. You can also walk quite near the waterfall as – but there are clear signs cautioning people from advancing too far into the waterfall due to the dangers of falling ice.
3 Tips You Need to Know Before Hiking Tiffany Falls With a Dog in the Winter
When I visited the falls in February, the trail had transformed into a complete skating rink, and walking on the trail with an excited and hard-pulling corgi resulted in plenty of 'almost slips'.
Save yourself the painful slips and read these tips before you go:
1. Have Your Dog Wear a Harness
While collars are simple and quick to fasten to your dog, I highly recommend that dogs wear a harness when you're planning to hike Tiffany Falls with a dog in the winter. Jerky movements on the leash caused by accidental slips or recoveries can compromise your dog's neck and can compromise your dog's safety and result in tracheal or spinal injuries. 
Harnesses are better at managing sudden movements and distributing any pulling and tension across a dog's shoulder and chest – which can handle a lot more stress than their necks. 
Our recommendation is the Julius K-9 IDC Longwalk harness. The harness easily conforms to any dog shape and comfortably distributes tension without significant impacts on the dog's walking gait. In addition, this harness was specifically designed to lessen the impact of sudden jerks and pulling movements too. 
2. Wear Crampons Over Your Boots or Shoes or Face Forging Your Own Trail
This was a very very hard lesson I learned as soon as I stepped onto the icy trail. I, along with many others who were simply wearing 'regular' boots immediately knew it was a bad idea. 
The 10-minute walk turned into a 20-minute agonizing ideal. The trail was so slippery that many of us ended up falling and slipping on the trail, using our hands to scrabble and keep ourselves steady, and many of us resorted to climbing the hills and forging our path to even make our way to the falls. 
Other, more prepared hikers, wearing their lovely crampons or ice grips easily breezed through the icy trails without any issues.
At one point, another hiker and I ended up exchanging words of envy as we watched a well-equipped lady with crampons and hiking sticks march through the icy trails like she was hiking a summer trail. 
3. Bring Treats and Slowly Ease Your Way to the Frozen Waterfall
If this is your pup's first time seeing a waterfall – seeing and hearing the waterfall can be a scary experience for them! Bring plenty of treats and be sure to periodically feed your dog treats for quiet, calm behavior as you make your way to the falls.
Make sure to treat generously for occasional curious looks at the frozen waterfall and stop at a distance that is comfortable for your dog. If your dog has never encountered a frozen waterfall, you may get some unexpected barking and growling – meaning you're probably too close to the falls for their comfort.
Tip: Ice can occasionally fall from the waterfall, resulting in loud unexpected noises as the ice comes crashing down – always be ready for this and keep your dog on a shorter leash as you approach the falls in case your dog is startled.
Frequently Asked Questions about Hiking Tiffany Falls with a Dog in the Winter
Is Tiffany Falls Dog-Friendly?
Yes, Tiffany Falls allows dogs on its hiking trails. However, dogs must be kept on a leash at all times.
When Is Tiffany Falls Frozen?
Tiffany Falls will likely be frozen after prolonged periods well below freezing. Unlike stationary water which starts to freeze at 0 degrees Celsius, moving water will require a colder ambient temperature to freeze. For an in-depth explanation, check out Science ABC's article: "How waterfalls freeze mid-flow"
A good rule of thumb to use to ensure that Tiffany Falls is frozen for your next visit to visit the falls after several consecutive days of sub -6 degrees Celsius weather. 
In general, I'd recommend visiting in late January to see Tiffany Falls frozen in the winter. 
How Long Does It Take To Walk to Tiffany Falls From the Parking Lot?
In most weather, most folks can easily walk to Tiffany Falls from the highway parking lot in 5-10 minutes. However, if you visit Tiffany Falls in the winter without the proper footwear, you can easily take up to 20 minutes to get to the falls.
If you're hiking in the wintertime, I highly recommend buying a pair of crampons or ice grips for your boots and shoes.
When Is the Best Time to Visit Tiffany Falls?
From personal experience, the best time to visit Tiffany Falls is during the spring or the dead of winter. While there is water in the falls year-round, you might only see a small trickle at the falls during an especially warm and dry summer.
To see the most water flowing down the falls, the best time to visit is to view Tiffany Falls in the spring.
However, I might be biased, but I think that Tiffany Falls looks the most splendid when it is frozen.
Can I Visit Tiffany Falls at Night?
Unless otherwise posted, Tiffany Falls is closed at night. In previous years, Tiffany Falls was lit up at night and open to the public. 
Unfortunately, the last illumination event at Tiffany Falls was back in 2013. Chances are we're going to have to wait a long long while before Tiffany Falls is re-open for night visits!
How to Support Preservation Efforts and Maintenance of Tiffany Falls
Disclaimer: I am not being paid or earning a commission for the below. I just really like supporting our local parks!
Hamilton Conservation Authority
The Hamilton Conservation Authority (HCA) is the largest environmental management agency for the western end of Lake Ontario. They are an agency dedicated to the conservation and enjoyment of watershed lands and water resources.
Today, HCA protects more than 1,200 hectares (3,000 acres) of Dundas Valley (including the Tiffany Falls, and my favorite trail: McCormack Trail) – one of Southern Ontario's most spectacular natural areas. Dundas Valley Conservation areas rely entirely on donations and fees to operate and maintain the area. These collections pay for trail construction and maintenance, emergency services, property taxes, and insurance. They also assist with education programs.
Here are some other links to help support and maintain Tiffany Falls::
Donate to the Hamilton Conservation Authority
Obtain an HCA Annual Membership Pass

Members enjoy year-round access to HCA conservation areas for 12 months from the date of purchase
Trail access (i.e. bike or walk-in access) are also available for a discounted rate
The pass allows you and your vehicle (up to 6 people total) into HCA conservation areas including:
Christie Lake
Crooks Hollow
Devil's Punchbowl
Dundas Valley
Eramosa Karst
Fifty Point
Spencer Gorge
Tiffany Falls
Valens Lake
Bruce Trail Conservancy
The Bruce Trail Conservancy (BTC) is a member-driven, volunteer-based charitable organization, governed by a 19-member Board of Directors. It is both a trail association and one of Ontario's largest land trusts, committed to caring for the Bruce Trail and to preserving land along its route – including part of the McCormack Trail.
Did you know that the Bruce Trail is Canada's oldest and longest marked footpath? It stretches 900 km from Niagara to Tobermory in Southern Ontario and provides the only continuous public access to the Niagara Escarpment.
However, what many people don't realize is that the Bruce Trail is not permanently secure and that roughly one-third of the Bruce Trail corridor (that's 300km of footpaths!) is vulnerable to development.
The BTC is working to fill in the gaps, secure a home for the Bruce Trail, and preserve a ribbon of wilderness along the Niagara Escarpment through the acquisition of land and the creation of BTC-managed protected natural areas.
You can support the Bruce Trail Conservancy by becoming a member of BTC or volunteering your time with one of its 9 member chapters to maintain and preserve the thousands of acres of land owned by the conservancy.
Have you visited frozen waterfalls in the winter? If so, what's your favorite fall? Let me know in the comments below!