Bell Tent Glamping Experience in Ontario
One of my favourite ways to go camping is to enjoy camping without the hassle of packing – especially when it comes to camping with two dogs. Did anyone say luxury glamping? This bell tent Hilltop Glamorous Camping site in the South Frontenac region of Ontario is one of the best comfort-first bell tent glamping experiences in Ontario.
In today's post, I will do a deep dive into what is offered at this accommodation, review our stay, and share our experience staying at this beautiful bell tent glamping site.
---
Preparing for your next camping trip? Driving a long distance to your next glamping site? Here are some articles that you may also find helpful as well!
Long-Distance Driving Tips
Camping with a Dog
---
Bell Tent Glamping Experience in Ontario – Contents
This accommodation review is lengthy! Here are some links for you to jump to the content you're looking for. Enjoy!
---
Disclaimer: SYDE Road was not sponsored or commissioned to create this post – we bought the service on our own and we're giving our honest review of our own experience.
Hilltop Glamorous Camping – Sibo's Private Oasis for Glamping Guests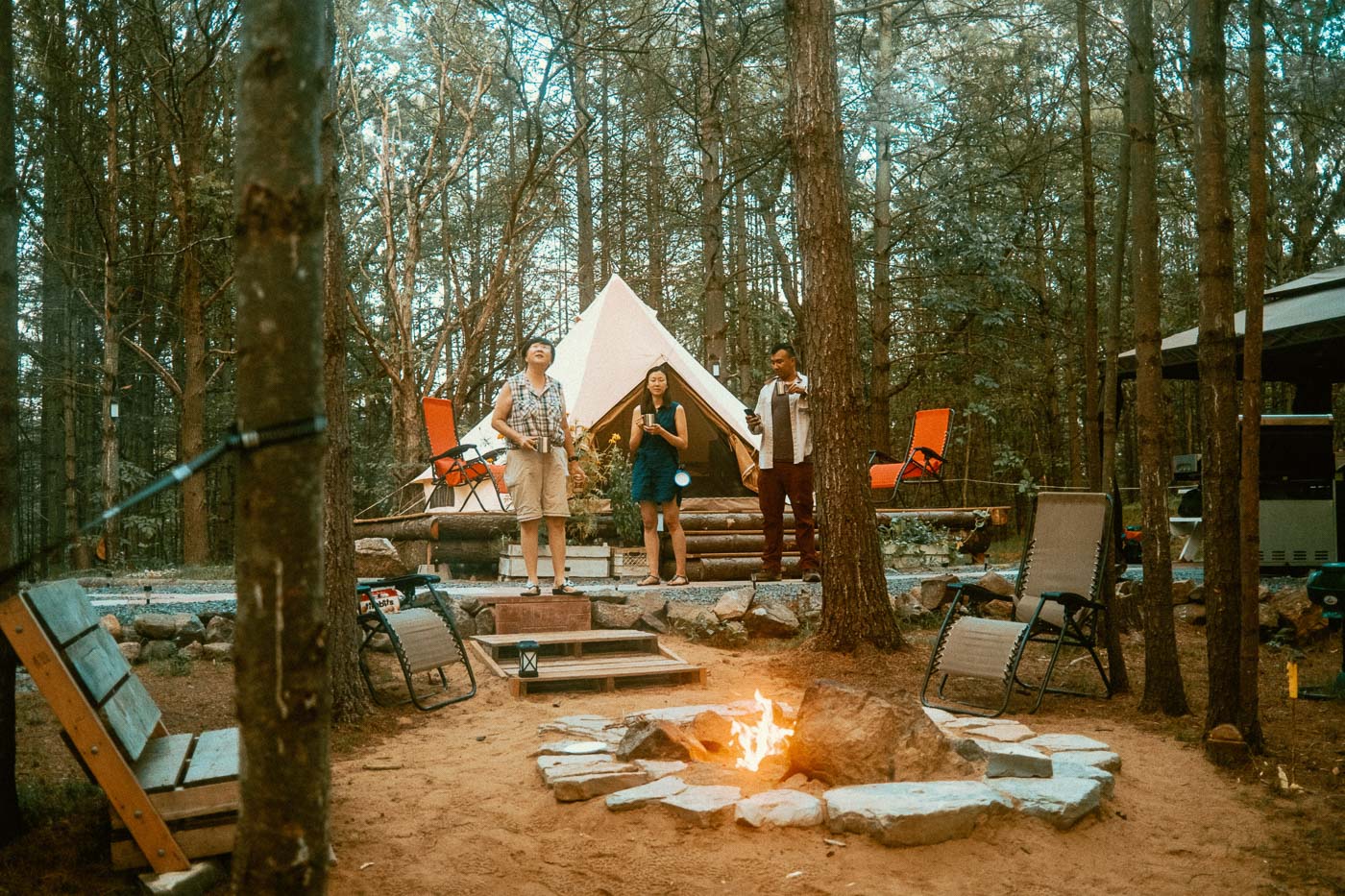 Let's take a look at what this thoughtfully designed Bell Tent-style glamping listing has to offer.
Sibo, the owner of this listing has aptly named her listing as 'Hilltop Glamorous Camping in quiet secluded woods'. This succinctly and accurately delivers on its description.
However, you really need to dig deeper to really understand the fine details that make this a listing that should be highly sought out by families, couples, and dog lovers looking for an elevated glamping experience.
Here is a quick list of what you need to know about the accommodation.
Details
Booking and Check-in Process
Booking Process
There are many methods you can book this particular listing under different list names including:
Each booking method has a different booking, service, and cleaning fees. You may want to compare the options before settling with one.
We booked our stay with Hipcamp as it opened in Canada just this summer (2021) and we're curious to see what unique listings we can find on this site compared to other booking websites.
Note: If you don't have an account with Hipcamp – feel free to sign up here and get a $10 credit that goes towards your next booking. It's entirely optional to sign up with this link, and if you do – thank you! I get a $10 credit with Hipcamp as well to help towards our future adventures as well 
Check-in Process
The check-in process that I'm describing was made through Hipcamp. Since I made the full payment via Hipcamp, Sibo corresponded with us inside the booking sites' app. 
Regardless of which booking method you choose you can expect to be provided with thorough instructions on what is available on site, where to park, how to check-in and how to check out. 
The instructions were very clear and laid out in a very easy-to-understand way. 
After arriving and driving up to their property, you'll see a small sign pointing you towards the gravel road that leads you to the hilltop campgrounds beside their home. During our stay, our method of 'check-in' was to honk our horn as we passed by Sibo's home, but when we arrived on the site Sibo was already outside on her deck so we just waved and headed straight to the site.
The check-in and check-out times allow ample time for guests to arrive later and leave later.
Check-in time is at 4:00 PM. Check-out time is at 11:00 AM.
It is strongly recommended to park the car at the base of the hill rather than on the road up. I'd also recommend this well as the pathway is less paved and more narrow than the gravel path.
Once you arrive at the campsite, you'll find a list of very thorough instructions, helpful tips, and guides within your tent. Everything from how to operate the hot water tank shower, to potential nearby areas of interest, where to buy firewood, etc. are all clearly written out in the binder. Also, if you have any questions, Sibo and the rest of her family are nearby and can answer any questions via text through the Hipcamp app.
Site Overview
Here is what you can expect when staying at this Hilltop Glamorous Camping site.
A Fully Stocked Outdoor Kitchen (excluding a refrigerator)
I'm not going to lie – Sibo and her family have really outdone themselves in so many aspects of this site. The outdoor kitchen is practically a fully stocked kitchen just placed outside.
When you first see the kitchen you'll immediately notice that this enclosed kitchen tent is equipped with:
A propane BBQ
2 stove gas stovetop
2 stainless steel sinks equipped with running water
A distilled water cooler that dispenses refrigerated-like cold water
Electrical Lighting
Family picnic table
Beside the water cooler is a spacious locker that provides:
Dinnerware galore – sets of 4 small, medium, large plates
Mugs, glasses, martini glasses, teacups
Basic condiments and tea bags
A microwave
2 kettles (which can heat water over the gas stovetops)
A knife block
Cutting boards of various sizes
Paper Towels
Extra shelving and storage for your food
Then, as if that wasn't enough, the locker also houses a small kitchen cabinet with:
Cutlery for 4-5 guests (spoons, forks, knives of all shapes and sizes)
Tongs, skewers, can opener, whisk, and many other smaller kitchen accessories
Even more shelving space for storing your items
From the list itself, you'd almost think you were renting out a fully equipped cottage instead of a tent site! As if that wasn't enough, Sibo is also happily on standby with any additional items that you may need. I doubt you'll need to though since the family has seriously thought of all the smallest details!
An additional plus that I didn't expect we would enjoy was the open view across the sink. It was a very pleasant dishwashing view. Considering it's not something I enjoyed doing – the forest view made dishwashing almost enjoyable.
Aesthetically Pleasing Luxurious Outdoor Shower Experience
Did you catch all the small details that decorate this outdoor shower? This is one aesthetically pleasing luxurious outdoor shower with:
Running water from the pump
A sleek handheld rain shower head
Built-in toiletry ledge
Luxurious tankless water heater
Multiple sturdy fish hook hangers for your clothes and towels
Tiny succulents decorating the ledges
Mirrored entryway
Rubberized mats at the entryway and shower area
These outdoor shower details are things I would expect from luxury retreats in Bali! The attention to detail is certainly amazing. My entire group viewed the bathroom on separate occasions and each time one of us saw the showers for the first time you would hear a gasp of "oh my goodness, how luxurious!!"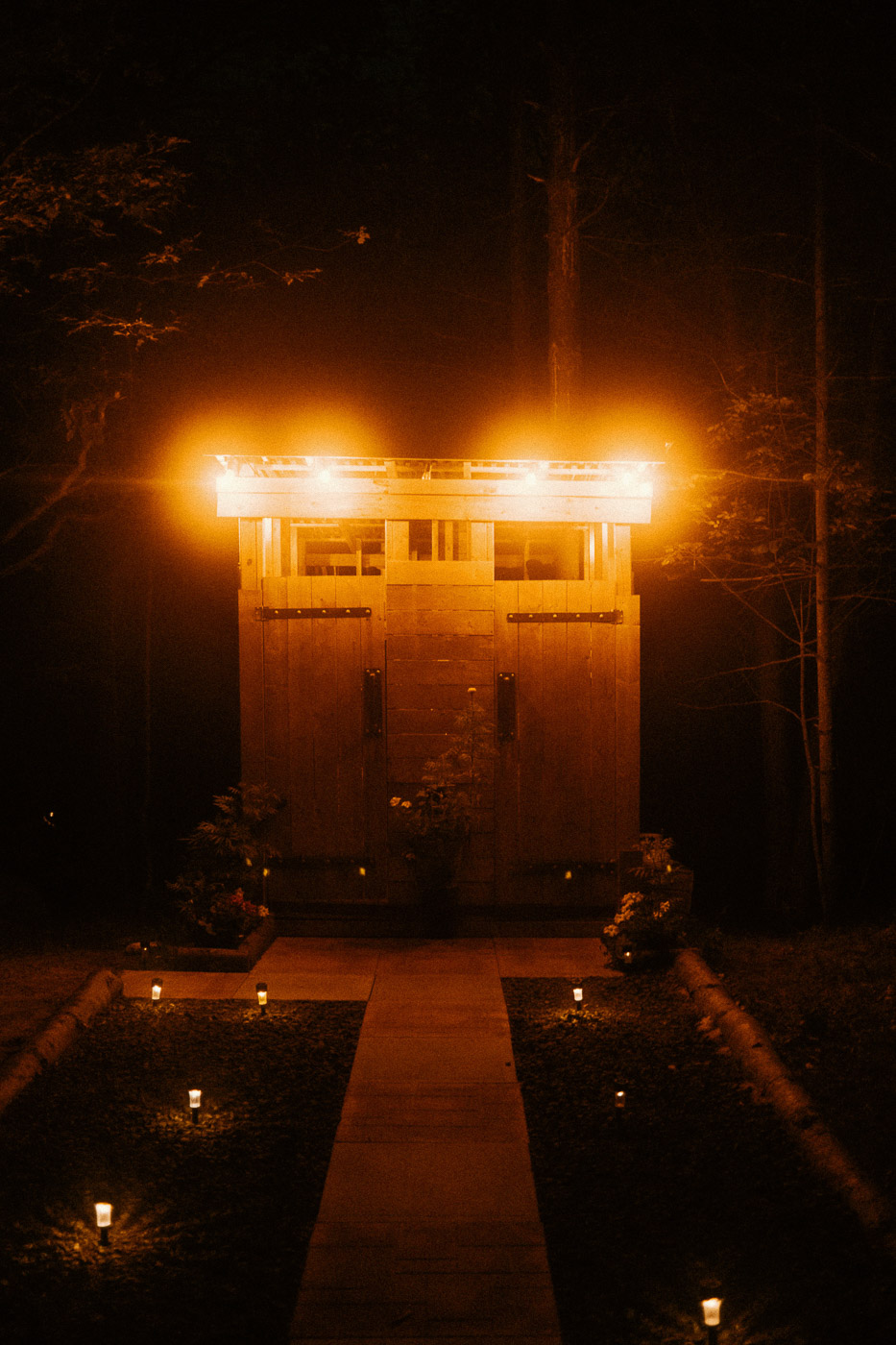 You can even shower at night if you'd like thanks to the cute fairy lighting decorating the cabin.
Instructions on how to operate the shower are posted beside the black shower head behind the hot water tank. The first few times we entered the shower we couldn't find the instructions because we didn't step past the entryway – but they're there!
Note: Adjust your water pressure and hot water expectations to campground levels. The water pressure is low so don't expect a strong jet of water to come out. It comes out more of a light trickle that's enough to get the body wet after several maneuvers under the showerhead. The hot water tank is set to provide tepid water that many may feel is not really 'hot water'. 
An Elevated Compost Toilet Experience
Do you need some Poo-Pourri to go with your toilet experience? How about some nice smelling hand soap, or some air freshener to go with your translucent sink washing experience?
Situated to the right of the outdoor shower, the literally 'elevated' compost toilet experience is, like the rest of the campsite, thoughtfully designed and filled with the comforts of your own home.
The beautiful and partial translucent sink and the fresh wooden planks of the space itself will you feel like you are yet again transported to a tropical country's resort outdoor washroom experience.
Sibo and her family have thoughtfully added additional cleaning products, wipes, toothpaste, and a hairdryer in the baskets directly below your experience to make your washroom experience as comfortable as possible. 
The toilet itself is an electric compost toilet. Instructions on how often you should add bulking agents to the toilet are posted on the back wall of the washroom as well. 
In case you were wondering, an electric compost toilet is a waterless toilet that uses electricity and bulking materials like peat moss to biologically break down human waste into compost or fertilizer.
A Thoughtfully Designed Firepit
To be honest I didn't expect myself to be writing about a campground's firepit. Most firepits are all the same, with a set of stones inlaid in the ground in a circle, indicating where the fire pits should be built.
However, in this particular listing, I can't help but applaud its design again. Look at this firepit carefully. Do you notice anything that stands out? It may just look like a regular circle of stones to mark the firepit but did you notice these thoughtful additions?
A tall rock placed directly opposite to the glamping tent –  This tall rock acts like a windbreaker, preventing the wind from carrying smoke towards the elevated tent
The sand extending past the firepit into the surrounding perimeter –  For added safety and protection, the sand extends several feet outwards from the fire pit itself. Fire safety was a priority in firepit design. The added sand will help smother any stray embers that fly out of the pit. 
(not pictured) The designated fire log pallet – rather than just pile the firewood on the ground somewhere, this site has a designated firelog pallet. A simple touch but helps with keeping things looking nice at
A Retreat-Worthy Bell Tent
If you're looking for a well-decorated, pet-friendly bell tent for glamping, I almost feel compelled to dare you to find me a better-looking bell tent than this one. Sibo and her family have furnished the bell tent equivalent to other glamping or retreat glamping tents that charge $200 or more. 
The bell tent includes:
2 double beds equipped with pillowcases, a fitted sheet, a standard sheet, comforters, and extra blankets
Bedside table with a table lamp
Chest with extra blankets and electric space heater for added warmth for the cooler nights
A tower fan for hot summer days
A small shelf stocked with clean towels, and other bathing supplies in case you forget anything
A basket of board games including chess, mini billiards, and a pack of cards, and a flashlight
A space heater/stove
A doggy chest that houses a dog bed and additional dog accessories like a water and food bowl
Fresh herb planters located at the base of the tent are all free for guests to pick and use to enhance your cooking
I know that there are many bell tents on the various booking websites that are listed as "pet-friendly". However, this is the only listing that I've come across that provides a dog bed and dog accessories. Truly a pet-friendly glamping experience!
In case you don't believe me, I did some research to cross-check with other bell tent listings on Glampinghub.com, Airbnb, and Hipcamp. Feel free to take a look at the other dog-friendly bell tent listings for your comparisons as well:
I even did a quick comparison against the luxury glamping retreat – Whispering Springs' Bell Tents, and to be honest Sibo's tent decor and attention to detail is on equal footing if not better. I know the vibes and purposes of these bell tents are different, so it isn't a true one-to-one comparison, but hopefully, I've helped provide some additional insight into how this particular bell tent compares with other bell tent listings. 
Propane-powered Mosquito Trap
This was something new that I have yet to see at any other glamping listing I've reviewed. This location offers a dedicated propane-powered mosquito trap. When turned on, the propane-powered mosquito trap mimics the breath, scent, and body heat of humans to attract biting insects like mosquitos, black flies, and other insects towards the trap and away from people.
Over time running a mosquito trap near a campsite can help reduce the number of biting insects around the area.
Mosquito season in Ontario starts in early May and tends to dissipate by the end of August. As our stay was the last weekend of August, we didn't notice too many mosquitos in Verona. However, I can't say if that is because of season changes or the existence of the mosquito trap on site.
I'd still strongly recommend bringing insect repellent and other insect repelling tools like the Thermacell Patio Shield Mosquito Repeller Lantern XL with you as added protection. 
Plan Your Stay
Visit one of Sibo's Recommended Locations and Eats
If you aren't already familiar with Verona, Sibo has written up a travel guide of things to do near Verona, Ontario.
The guide includes:
Sightseeing activities
Hiking nearby provincial parks
Food recommendations
Canoe and kayak rental locations
I'd recommend you check out her travel guide before deciding how many days you'd like to stay at this accommodation. 
Stock up on Food and Drinks (6 min drive away)
This glamping site is surprisingly near many convenient locations so if you're aiming to pack lightly, you can pick up your groceries or alcohol from the nearby Foodland and LCBO plaza instead of packing it in with you.
Purchase Firewood Onsite
It's always recommended to use firewood from the region instead of bringing your own to reduce the spread of spreading diseases and vegetation-killing insects. Sibo offers firewood in $5.00 bundles. 
Each bundle is more than enough to keep a fire going for a couple of hours. For our 2 night stay, we purchased 3 bundles and were able to use the firewood for almost 5 hours of fire spread across our two nights. 
I'd recommend purchasing firewood from Sibo – you get a lot for the amount you pay for – and it was super awesome to see an ATV lug the firewood up to the campsite 🙂
Explore the Property
This hilltop glamping site is located on 20 acres of private property that connects with Sibo's home. You have full access to explore the deer trails and forests that make up the property. While you can completely explore the property limits in less than 10 minutes, there's a lot of interesting sights and sounds to hear on their property.
From the well-decorated garden and mini cornfield at the front of the house to the curiously set wagon on the field to the half-constructed treehouse structure, the short walk around the property affords many interesting views. 
The varied texture and elevation make the property a stimulating walk for dogs who love to sniff and explore on-leash. 
Relax on the Property
Like all the other folks who stayed at this property, one of the best things to do is to just enjoy the property itself. 
With 4 reclining lawn chairs situated across the property, two cozy double beds, a sheltered family picnic table, and a hammock with bug netting, this accommodation was made for guests looking to relax and lounge around for several days. 
As the sun sets the property is transformed from daytime lounge to intimate campsite thanks to the plethora of mood lights around the kitchen, washroom, and tent. The solar lights on the pathway gently light your path from the kitchen to the tent, to the firepit, to the bathroom. Everything feels intimately closer with the warm lights. 
Once dusk falls, it's really hard to not want to light a fire and lounge on the chairs around the site while waiting for the stars to come out. 
Sabo's hilltop glamping site is an ideal place to just relax and lounge around. 
Go stargazing
Given its relatively rural location in Ontario, Verona is a great location to go stargazing when you have a clear sky. While you could potentially drive 10 minutes to Desert Lake to enjoy an uninterrupted view of the night sky for stargazing, the campsite has several clear patches for you to enjoy the night sky. 
The reclining chairs located on the elevated tent deck, in particular, make for great star gazing seats. These seats are situated in the most open sky spaces of the campsite. In addition, these reclining chairs can recline completely flat, making it ideal for you to rest and stargaze upwards from the comforts of your campground.
What to Pack
For People
Because of how luxurious this campsite is there are significantly fewer things you need to worry about bringing to enjoy your stay here. Here are the essentials that we brought with us – we left most things at home thanks to the fully stocked site!
Essentials
Food and Drinks
Garbage Bags – while Sibo provides kitchen-sized garbage bags, we found it helpful to bring multiple large black plastic bags to better manage our trash
Cooler with ice
Clothing:

Underwear
T-Shirts
Shorts
Long-sleeved shirts and pants (at night for mosquito protection)
Socks
Pyjamas

Footwear:

Day shoes (closed-toed or sandals)
Shower sandals

Soap – while Sibo does provide shampoo and soap for guests to use, we have our preferences so we brought those with us
Hairbrush
Toothbrush and Toothpaste – Sibo also provides some toothpaste if you forgot any
Mosquito / Insect Repellent – We brought a standalone mosquito repellent because we can never be too sure about how effective other insect repellents work. Our favourite camp item so far has been the Patio Shield Mosquito Repeller Lantern XL by Thermacell (affiliate link alert)
Electronics and Entertainment
Cameras
Phone charger
Books
Headphones
Battery Pack – while there are electrical outlets, we try to keep our electricity usage to a minimum as we know most campsites have limited electricity so we try to charge as much of our electronics with our items first to prevent overloading the grid 🙂
Hammock – yes, I did mention that there was one already there, but the trees in this forest are sturdy and there are plenty of other locations you can set up a second hammock if you like
…. And honestly, that was it! We didn't need to bring anything else on our trip because everything was already covered by the host.
In terms of packing, this is hands down one of the lightest we've ever packed for a camping trip. 
For Dogs
Normally I would recommend that you refer to my Ultimate Guide to Camping with Dogs – Camping Essentials and Tips to help you decide on what you need to pack when camping with dogs. However, if you're just planning on staying at this glamping site you don't need all the items on the list. Here is my recommended list of what you need to pack for your dog:
Food and Drinks
Water isn't needed as you have access to running water. Technically you don't even need to bring a doggy bowl as Sibo provides one for you too!
Dog Food / Meals 
Treats
Collapsible Measuring Cup 
Dog Treat Pouch – I'm always looking for opportunities to train Limone so whenever she and I are out, you can be certain that I have a dog treat pouch slung on my body with treats and clickers at hand. This is the one that I use everywhere. Some might hate the bright interior colour, but I love it as it makes it very easy for me to see what kind of treats I have in the bag. I also love that it's large, has space to carry multiple poop bag rolls, and is easily washable. 
Dog Gear
Identification Tags 
Leashes – at a minimum, you should bring one leash with you.
Reflective Collar and Harness – Many travellers also advise packing an extra set in case of breakage. For our trip, we brought both Limone's reflective collar and her reflective harness.
Doggy / Poop Bags
Dog-friendly Insect Repellant – DEET and Picaridin – common ingredients used for human insect repellants are toxic to dogs and can cause vomiting and diarrhea when ingested. You can protect your dog from the dangerous effects of insect bites by using an oral medication prescribed by the vet like Simparica Trio which protects against ticks, fleas, and heartworms caused by mosquito bites. While they protect from the illnesses, this does not prevent your dog from getting bit in the first place. As such, you may also want to consider an insect repellant that uses essential oils such as tea tree, neem, lemon eucalyptus, and citronella to repel the insects. However, please ensure that any DIY repellants are using diluted concentrations of the essential oils to prevent potential skin irritations. Note: If you are camping with cats as well do some additional research! While some essential oils are safe for dogs, others can be toxic for cats! You'll need to do additional research to find an insect repellant that is both dog- and cat-friendly.
Dog Grooming
Baby Wipes – We like to do a quick wipe down of our dogs before bringing them inside the tent to keep things clean
Campsite
Dog Bed – While Sibo offers a dog bed in the glamping tent, we brought our own from home to help decrease Limone's anxiety about being away from home
Doggy Zipline / Tie-out / Portable Pet Pen – Dogs need to be leashed at all times while on the property, so a doggy zipline was invaluable for us while we stayed on the site
Carabiners – super useful to secure your dog onto the zipline or to make a temporary stake with your dog's leash and a tree
Hilltop Glamorous Camping Review
Beyond just providing an in-depth look at what this hilltop glamorous camping site has to offer, we'd like to provide you with a peek into how we spent our 2 nights at this site.
For some context, I visited this site with my mother, my older brother, my partner, and two dogs. It was a full house experience. Below you'll find our honest opinion of what we loved, what we didn't like so much, and what our honest thoughts were after visiting Sibo's property.
All our time was spent relaxing onsite.
Before we arrived at the campsite, my family and I were looking forward to exploring the nearby provincial parks.
Unfortunately, we were faced with a thunderstorm warning the first night. Combining the fear of being soaked somewhere without shelter and the inviting campgrounds, all sense of adventuring was erased as soon as we settled in. 
The campground is spacious enough and the trees are set apart far enough that we could comfortably set up a second hammock beside the first one. We also had enough space by the tent to set up a fairly long doggy zipline for our two dogs – Limone the corgi, and Chu the beagle to relax too.
We were happy to just pass our time enjoying slow meals, playing chess, mini pool, and reading on our phones. 
The kitchen was used for every single meal and it was awesome
I am truly blessed with a great mother. Even though my brother and I are well into our adulthood years, my mother did most of the meal planning. If it was my brother or I planning, we would have had crappy meals. 
Thanks to the stovetops and BBQ we were able to enjoy my mom's luxuriously planned meals that included:
Sauteed peppers, lettuce, and mushrooms
Skewered squid
Lamb Skewers
Lamb Cutlets
Steak
Chicken Wings
Curried hot dog with macaroni and peppers
We took advantage of almost all the kitchen accessories that were provided. We used the toaster to toast our bread for breakfast, the microwave to reheat the extra food we couldn't finish, and the kettle to make our instant coffee and tea.
Our Experience Camping with Two Dogs
This was the first time we (entire family included) ever camped with two dogs. The secluded location atop this hill made it the perfect opportunity to see how my brother's dog and my dog would fare on their first camping trip together.
So how did the two girls fare? I'm happy to report that this was a surprisingly pleasant experience and may have been even better than our previous attempt to bring Limone glamping with us last month at the Pine Falls Lodge. 
I will attribute this to several factors including:
This campsite was secluded. You'd need to walk several minutes towards the neighbouring property before you see another campsite.
The two dogs kept each other grounded and kept each other company. 
For leash-reactive dogs like Limone, seclusion was a huge plus. Seeing other dogs or other people while staying in an unfamiliar place was stressful for Limone. In the past, she would lunge and bark at strangers that passed by our tent areas. Since we had the property all to ourselves, Limone only needed to interact with familiar members. 
Bringing my brother's dog, Chu along turned out to be a major boon for us. My brother's dog is turning 7 this month and has relaxed a lot over the years. She does however suffer from separation anxiety when she notices bags getting packed up. 
Limone, on the other hand, is 2. She is still relatively high-energy and hasn't quite learned the art of settling down. The smallest noises in an unfamiliar space can easily set her off into guard dog barking mode. When left on her own, she'll often start whining for attention and play. This made it difficult to cook or settle into camp.
By pairing the two together, the two dogs learned to rely on each other. Limone taking notes on how to relax and settle down beside Chu. Conversely, Chu was visibly less tense and anxious when it was time for us to clean up and leave the campgrounds. 
Overall, we ended up using fewer treats and had a much more pleasant time this time around after bringing in a second family dog. 
About the Water Pressure
While I have had mostly nothing but great things to say about this accommodation, I do feel the need to set some expectations regarding the water pressure and volume of water that you can expect to go through the taps.
Expect very light water pressure and less water output than your home. There is a well water pump at the base of the hill that pumps the water up to the pipes used by the washroom, shower, and kitchen taps.
Realistically, expect to run only one water source at a time. The water pressure is just enough to start a small stream in one pipe, but it is not nearly enough to supply water to multiple pipes at the campsite.
One time I needed to use the washroom while we were washing dishes in the kitchen. Unfortunately for me, I did not receive any water until the kitchen tap was closed.
Suggested Improvements
If there was anywhere that I would have like to see an improvement, it would be stickers on the pump switches that indicate whether it is 'on' or 'off'. My family and I struggled to check and make sure that each pump switch was turned off after using the shower, bathroom, or kitchen. 
During our stay, we had to make several rounds to check the shower, bathroom, and kitchen pumps to see which pump was left 'on' so that we could direct water flow elsewhere to the campsite.
Now you might be thinking that the switches should be fairly intuitive. A standard light switch is in the 'off' position when. In North America, I believe the standard convention for a light switch to be 'on' is when the toggle is depressed at the top (see picture below for example).
Unfortunately for us, I think we confused ourselves a whole bunch as most toggles on the campsite were set to that, except the shower switches, which were opposite. Somehow that seemed to confuse our entire party and we kept leaving things 'on' when we thought we turned them 'off'. 
Bell Tent Hilltop Glamorous Camping in Ontario Summary
Overall, this was another absolute gem of a stay that we found on Hipcamp. While our previous Hipcamp experience gave us a relaxing waterfront-filled glamping tent experience in the Markstay-Warren township, this Verona-based bell tent glamping experience delivers a relaxed forest experience.
Considering what is offered at this campsite, this is truly a hidden gem of accommodations. The luxuries and attention to detail provided at this site are equal to if not exceed other luxury bell tent accommodations and glamping listings around Ontario. 
This space is an ideal location for luxury glampers looking for a secluded and relaxing stay while keeping many of the comforts of staying in a home. 
Sibo and her family have gone above and beyond to add many home comforts and amenities to their property. A lot of hard work, attention to detail, and striving to deliver the 'most comfortable glamping experience ever' was put into this lovely bell tent. 
By aiming to provide as much of the comforts of home as possible, this accommodation allows you to start your stress-free attitude well before you arrive at the campsite. 
You can rest assured that you can prep and pack minimally. You only need to worry about what to wear and what to eat. With a few items that you need to bring, you can focus on just looking forward to your stay. 
As a recap for prospective campers this is what you can look forward to when staying at Sibo's Hilltop Glamorous Camping:
A fully stocked outdoor kitchen (everything you need excluding a refrigerator) 
An aesthetically pleasing and luxurious outdoor shower experience
An elevated compost toilet experience
A thoughtfully designed firepit
A retreat-worthy bell tent accommodation
Things to watch out for:
Make sure to turn off all water pumps after each use or face low water pressure / no running water in the pipes where you need it
Check out all the pump switches around the campsite before turning anything 'on' so you know which orientation the switches should be
Hopefully, after reading this in-depth review, you'll give this glamping bell tent in Verona a stay! Sibo's family has truly thought up almost every single detail and need and this site is truly an excellent glamping site for anyone looking to spend some time relaxing in the forest with their dogs. 
Do you prefer glamping or all-out camping? Let me know in the comments below!