Cedarvale Dog Park – A hidden gem nestled in midtown Toronto
Wow, I think Cedarvale dog park was an unexpected hidden gem find. 
If you search for 'Best Toronto Dog Parks' you *might* see this dog park on a listicle after scouring multiple sites (last I checked it was only mentioned on *one* article). 
If you consider what Cedarvale offers, this is an underrated dog park that more people in Toronto should know about! Located less than 30 minutes drive from downtown Toronto, this is a reasonably nearby dog park for many city folks too! 
That's not to say that this is a perfect dog park for everyone's needs though. Cedarvale dog park may not be the right dog park for you if:
You're looking for a public transportation friendly dog-park – the nearest subway station (Eglinton West) is a 20-minute walk
You require a dedicated small dog off-leash area
You visit early or late in the day – there are no additional lighting fixtures in the off-leash area
You have dogs that can and want to jump low fences
---
Looking for more dog-friendly related content? You might enjoy these posts too:
Dog Park Reviews
Dog-Friendly Day Trips from Toronto
---
This review is lengthy! Here are some links for you to jump to the content you're looking for:
---
Cedarvale Dog Park Overview
Directions to Cedarvale Dog Park
Address: 443 Arlington Ave, York, ON M6C 3A2
The Cedarvale off-leash dog areas are located just east of the Phil White Arena's Parking Lot. 
The closest main intersections are:
Bathurst St. and St. Clair W.
Bathurst St. and Eglinton Ave. W.
The address points to Phil White Arena's parking lot as it serves as the main parking lot for the entire Cedarvale Park area which includes:
Cedarvale Park's Cricket Field / Toboggan Hill
Outdoor Skating Rink
Baseball Diamond
Tennis Courts
Sport Field
Playgrounds and Splash Pad
Cedarvale Ravine Walking and Biking Trail
Parking at Cedarvale Park
Parking at the Phil White Arena to access the off-leash dog parks is free. 
Based on a quick estimation the parking lot can fit about 50 cars in its lot. 
Please note that this estimate includes parking lots that may be reserved for staff.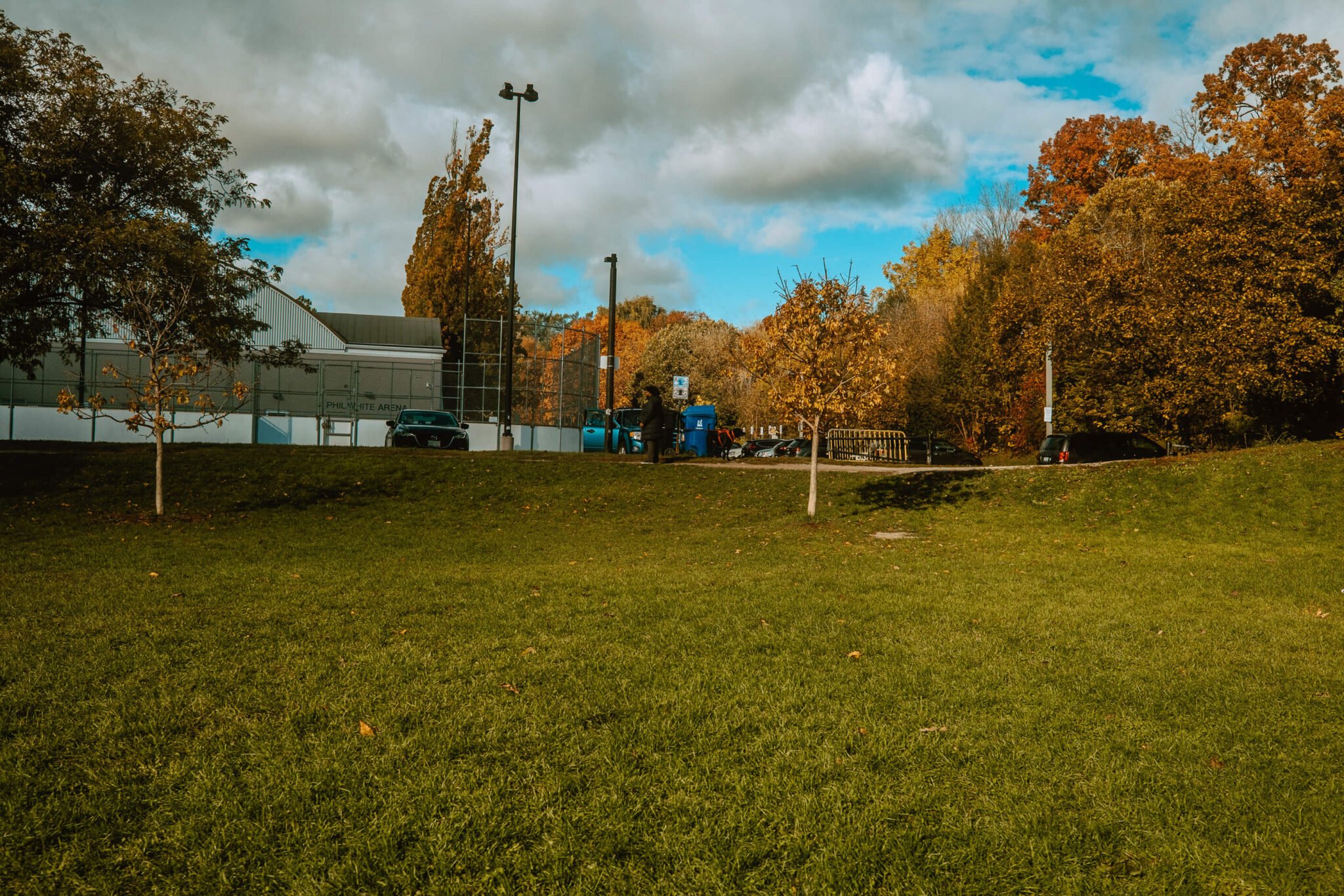 9 Key Features of Cedarvale Dog Park
Here is what Cedarvale dog park offers. Given its many key features, this Toronto dog park located in East York is a Toronto dog park hidden gem that more people should be aware of. 
1. Multiple off-leash areas – there are 2 off-leash areas. One large fenced off-leash area, and one that is partially fenced directly adjacent to the fenced area.
2. Terrain options: Woodchips or grassy. 
The main off-leash area offers a woodchip terrain which greatly reduces mud puddles and slippery muddy areas after periods of rain.  It will still be muddy but there is significantly less puddle formation with this type of terrain. 
The partially fenced off-leash area offers a standard field with grassy terrain.  
3. Dedicated dog fountain. Inside the main off-leash area is a dedicated dog fountain set at the height to allow dogs easy access to water. However, I'd highly recommend using the fountain and filling up your own bottle or silicone collapsible bowl as the dog fountain can get pretty dirty.
4. Sheltered and shaded seating area – in the main off-leash area there is a large, central shaded seating area. The seating area can comfortably sit and provide shade to most dog owners even at the peak busy hours and provides a central location to the entire dog park as well. 
This spot also doubles as a great area for shaded rest for the dogs as well as the rest of the dog park does not offer any shade. 
5. 25-minute drive to Toronto's downtown core – did you know that Cedarvale dog park is only a 10 KM drive away from Eaton's Centre? This surprisingly large and relaxing community park is actually a lot closer to the core downtown Toronto area than I had initially thought!
6. Free, nearby parking – As a car-owning dog-owner in Toronto, free and nearby parking is surprisingly difficult to find. This is a major PLUS in my books when it comes to deciding how often I'll visit a dog park (I mean I love Limone and all but I can't imagine paying $10 in parking and walking 10+ minutes to visit a dog park all the time..)
7. 7.2 KM on-leash ravine trails – What makes Cedarvale dog park a hidden gem is its direct connection to a 7.2 KM tranquil forest-sheltered ravine trail. Great for all seasons, the ravine trail easily connects to the off-leash areas on a paved road. 
8. Versatile outdoor hub – great for dog owners of all ages – The entire Cedarvale park is considered a popular family-friendly outdoor activity hub in the neighbourhood. With available amenities for:
Tennis courts
Indoor hockey rink
Outdoor skating rink
Children's playground and splash pads
Baseball diamonds
Cricket area / Toboggan hill area
Dedicated sports field
A simple outing with your dog at Cedarvale park can easily transform into an afternoon spent outdoors with the entire family. 
9. Public washrooms are available from 10:00 AM – 10:00 PM – the public washrooms are located inside the Phil White Arena.
Missing Features You Should Know Before Visiting Cedarvale Dog Park
1. There is no dedicated small dog area. 
2. Single gated entryways and partial entryways. The main off-leash area is enclosed with a single gated entryway. 
The secondary off-leash area is completely open, using a natural barrier system with its fencing to create a division between the off-leash area and the rest of the park. 
3. There are no poop bag dispensers. Make sure to bring extra poop bags to this park. If you're looking for great value – If you're looking for the cheapest poop bags and don't mind scented bags, I recommend buying your poop bags from Costco. These are the cheapest per poop bag (2.9 cents per bag), come with 720 bags, don't rip easily, and come with extra dispensers. 
4. No lighting in the off-leash area – Currently, there is no additional lighting in the off-leash areas. If you're visiting in the winter months, or tend to visit dog parks early or late in the day, it may be difficult to see the area until the sun is out. 
5. Not as public transit-friendly – As mentioned earlier, Cedarvale Park is relatively far from nearby public transit stops. The closest subway stations are Eglinton West or St. Clair West.
Getting off from Eglinton West requires you to walk an additional 20 minutes from the subway station to reach the park itself. 
If you get off at St. Clair West, you can take the 90 bus northbound to Vaughan Rd at Kenwood Ave, and walk another 5 minutes to reach the park itself. 
6. Low fences in the main off-leash area and partially high-fenced secondary off-leash area. Normally I wouldn't comment on the fencing provided at a dog park as they're generally high enough that *most* dogs (unless they're part rabbit) won't be able to easily jump out fenced area. However, Cedarvale's main off-leash area definitely leaves something to be desired.
To start off, the fencing height, in general, is relatively low compared to other dog parks I have visited. Then, to make it worse, there are certain areas of the dog park that slopes downwards – like the area facing the toboggan hill. In this area, long-legged or above-average leapers can easily clear the fence. 
In contrast, the second off-leash area does have taller fences. However, the area is only partially fenced with open (non-gated) entryways on opposite ends of the area. 
Unfortunately, neither of the two off-leash dog areas are suited for dogs that tend to escape or jump. 
Review of Cedarvale Dog Park (1.5-hour visit)
As someone who picked this Toronto dog park based on proximity to my home and my partner's office, I really do feel like I stumbled into a hidden gem of a dog park. 
I was expecting this dog park to be like most neighbourhood dog parks – a fairly small off-leash area that Limone and I would visit and leave within half an hour. 
First Impressions (Weekday Experience) – So big! So many dogs!
Cedarvale Park is a huge space. With gentle slopes and enclosed by the ravine forests, this large outdoor area was surprisingly relaxing and tranquil despite its midtown location. 
I expected to stay for half an hour but we ended up staying for 1.5 hours in the off-leash area and surrounding area. 
Who would have thought that such a large natural space existed on Eglinton? When I first arrived, I was seriously surprised by its size. Considering how the rest of midtown Eglinton is made up of compact streets and buildings, I was really surprised that such a large neighbourhood park was even available.
Seriously. I thought I'd be visiting a parkette when I punched this address into my navigation system. 
Limone and I visited Cedarvale dog park on a Monday morning around 10:00 AM. Let me tell you… this is THE PLACE for neighbourhood dog walkers.
I counted at least 5-7 dog walkers make their way into the main off-leash area in the first hour alone.
At one point there were almost 20 large dogs in the main off-leash area! Limone was more than happy to meet and greet the rotating groups of dogs during our stay. However, I noticed that there weren't many small dogs in the off-leash area. During our visit, I noticed that most small dogs were walking on a leash around the park instead of entering the off-leash area.
A slick and muddy morning
Limone and I visited Cedarvale's dog park after an unexpected rainfall in Toronto, so it was a great time for us to evaluate just how muddy Cedarvale's dog park would be.
Thankfully, as the other Google Reviews had promised, the wood chips in the main off-leash area took care of most of the mud pools you'd typically find at other grassy off-leash dog parks.
As we walked closer to the center of the off-leash dog area, (towards the sheltered pavilion), the ground became very soft and slippery – even with the added friction provided by the wood chips.
Several dog walkers noticed the condition of the main off-leash area too. So although 5-7 groups of dogs visited the main area, several other groups of dogs actually went to the second off-leash area instead.
In the last half of our visit, Limone and I took a walk around the park and I noticed at least 3 dog groups went to the secondary off-leash area instead.
Clean and well maintained
Overall Cedarvale Park is a well maintained and clean park. The off-leash area itself was recently renovated as well. Most of its features (like the sheltered pavilion and the dedicated dog fountain) are under 5 years old.
While some google reviews mentioned complaints of dog owners not picking up after their dogs, I didn't see this issue on my visit. The dog walkers were attentive with their dogs and every poop was picked up by their corresponding dog walker or owner.
Several off-leash dogs around the neighbouring area
One of the first things that we noticed during our stroll through Cedarvale park was how many off-leash dogs were walking around the park in the on-leash area.
Thankfully all the dogs we met were friendly and kept close to their owner, but this is something to watch out for.
Note: as a reminder – for the safety of yourself and others, you should keep your dog on a 6-ft leash unless you're in the designated off-leash area.
Leashing dogs in Cedarvale Park when outside the designated off-leash areas is very important! According to Wikipedia, Cedarvale Park has increased the presence of by-law officers around the park to enforce this rule due to increased complaints in the neighbourhood about off-leash dogs. If caught, you can face up to a CAD 365 fine and additional charges if other parties are injured.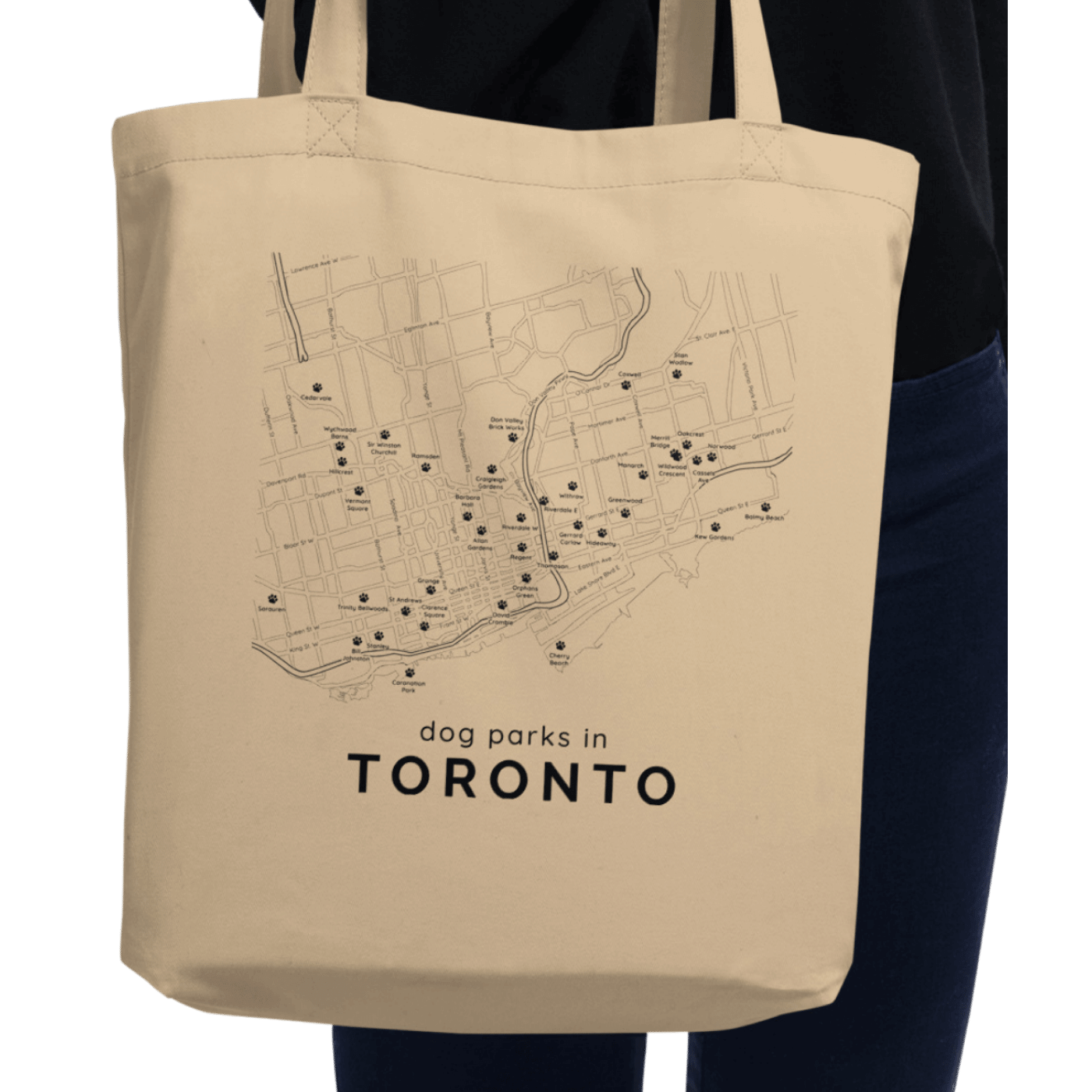 The Perfect Companion for Toronto Dog Owners
Carrying gear AND finding the nearest dog park on your next adventure?
How perfect.
P.S. Did you know a portion of every purchase made on the SYDE Road Store goes towards donating to Vets without Borders? They're a not-for-profit Canadian volunteer association dedicated to improving the health of animals, people and the environment around the world.
Seasonal Details
When I write my dog park reviews, I try to include seasonal details – even if I've only visited the dog park location a few times. After reviewing about 700+ Google Reviews though, here are some key points to note depending on which season you are visiting this dog park.
Spring – Be prepared to wash your dog if you visit Cedarvale dog park after rainfall. While the wood chips prevent mud pools from forming, the main area is muddy and your dog will get dirty.
Summer – A great time to visit! With the addition of the shaded central pavilion and the dedicated dog fountain, this is a great place for dogs to visit even on hot summer days. 
Fall – Much like spring, you may want to make sure that there have been several days of sun or cloudy days to visit to avoid the mud. Alternatively, fall is a great time to walk your dog on a leash on the 7.2 KM ravine trail instead. 
Winter – A great time to visit for winter-loving dogs. They'll have an exciting time watching kids go down the toboggan hill too.
What other reviewers are saying
With almost 800 Google reviews over 4 years, and averaging 4.6 stars out of 5 stars, Cedarvale dog park is a mostly positive experience. Here are the recurring positive comments:
Expansive off-leash area
Lots of space
Well maintained
Covered in cedar
Nice shelter
The water fountain is great
In terms of negative or low-rated reviews, this is what most dissatisfied visitors have to say:
Too many off-leash dogs outside of the off-leash area
Muddy
Aggressive dogs
Too many dogs (25-30 at a time)
No separation for small and large dogs
Cedarvale Dog Park Summary
Cedarvale dog park is a hidden gem for Toronto dog owners. If you happen to be in the west midtown area, or if you're looking for another off-leash dog park a reasonable drive away from downtown Toronto, this is a dog park you should consider.
If you're looking for:
A new dog park less than 30 min from downtown Toronto
Beautiful walking trails in a peaceful ravine neighbourhood
A Toronto dog park with free parking
This is a great choice! As someone who just stumbled upon this dog park, I will be making a point to visit this dog park again with Limone in the future. Personally – I'm looking forward to watching her play in the dog park and watching children play on the toboggan hill nearby!
What We Always Bring With Us to Dog Parks
What's on Limone:
Depending on the situation we rotate Limone through various harnesses and collars:
Similarly, we rotate Limone's leash based on our needs. These are the three leashes we use regularly:
Have a specific dog park you'd like to see reviewed? Let us know in the comments below! We (Limone included) would love to explore new places and share our thoughts with you!