Visiting the Surprisingly Quiet Liberty Village Dog Park – Bill Johnston Dog Park
After spending four hours exploring the Liberty Village and Fort York area with Limone over a weekend, I understand why I've seen so many dog owners around this neighbourhood.
Liberty Village has so many nearby dog parks and dog-friendly patios in the area (like Mildred's Temple Kitchen – still one of our favourite brunch spots in the area)
In this area, there are four dog parks within a 25-minute walking distance including:
Bill Johnston Dog Park
Stanley Dog Park
Coronation Dog Park
Trinity Bellwoods Dog Bowl
In today's post, we'll be looking at the Bill Johnston Dog Park – the nearest Liberty Village Dog Park – located conveniently in the North-East corner of the neighbourhood.
---
---
Bill Johnston Dog Park Overview
Here's a quick summary of the park:
Hours of Operation: 7:00 AM –  10:00 PM
Address: 65 Western Battery Street Toronto, ON, Canada
Directions and Parking Instructions at This Liberty Village Dog Park
Bill Johnston Dog Park has paid street parking nearby. The street can comfortably accommodate up to twenty cars.
By Public Transit: 
From Union Station – take the Exhibition Go Train to Exhibition. Head north via the underpass to Atlantic Ave. Head East on Liberty St and head north on Hanna Ave, until you reach E Liberty St. Head East on E Liberty St and cross on Lynn Williams St., continue north onto Western Battery Rd, the park will be on your left
Via King St West  – Take the 504 to King St W at Sudbury St intersection. Head south via Douro St, crossing the King Liberty Pedestrian Bridge south onto Western Battery Rd. The dog park will be to your left
Did you know?
While dogs are allowed onboard the TTC and the Go Train – they aren't allowed during specific hours – check out the specific rules here! You'll also find the rules for other public transit services around the Greater Toronto Area too!
Review of Bill Johnston Dog Park
Bill Johnston Dog Park is more of a dog run than a dog park. With a long narrow rectangular strip of dirt, this fully fenced dog park is well suited for dogs who need to get their zoomies out and less suited for dogs who like to sniff and explore off-leash.
We visited at 1 PM on a cool Saturday afternoon and I was really surprised to see only a few dogs in the dog park. 
I'd chalk that up to the nice weather – and I'd like to imagine that most dog owners are either enjoying themselves out on a patio or visiting one of the roomier dog parks nearby (like Stanley Dog park or Coronation Dog Park).
The space has a fenced tree in the centre of the dog run that serves as a partial natural barrier between the west and east side of the dog park. 
While there isn't a dedicated small dog area, we noticed that small dogs tend to stick around the east side of the dog park, and the larger dogs on the west side of the fenced tree.
When we visited, there were a couple of rambunctious large dogs that chased Limone on the West end. We ended up spending most of our time on the east side and thankfully the dog owners recognized that Limone wasn't interested in that type of high-energy play. 
Based on our visits, here are our overall views of Bill Johnston Dog Park / Liberty Village Dog Park:
❤️ What we loved about Bill Johnston Dog Park
Working dog fountain inside the park
Double-gated fencing
Artificial Lighting available
Nice view of the CN Tower
Not a busy park on the weekends – great to drop in if planning a dog-friendly brunch day around Liberty Village and just need a nearby space to play with your dog
? Things to Note about Bill Johnston Dog Park
No dedicated small dog area
Narrow and small dog park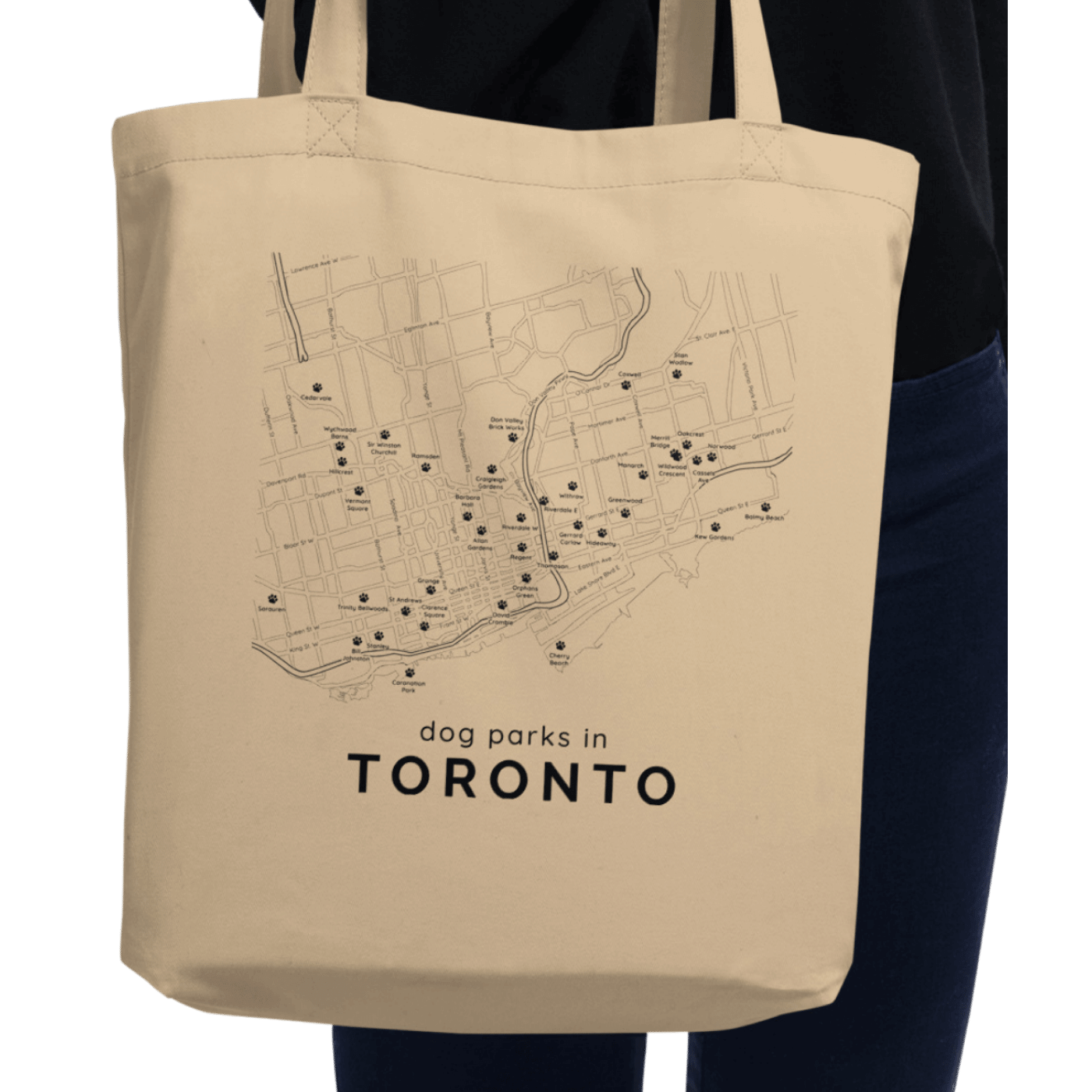 The Perfect Companion for Toronto Dog Owners
Carrying gear AND finding the nearest dog park on your next adventure?
How perfect.
P.S. Did you know a portion of every purchase made on the SYDE Road Store goes towards donating to Vets without Borders? They're a not-for-profit Canadian volunteer association dedicated to improving the health of animals, people and the environment around the world.
Seasonal Details
When I write my dog park reviews, I try to include seasonal details – even if I've only visited the dog park location a few times. I refer to Google Reviews for some additional seasonal information if I've only visited a few times to fill out the other seasonal information as much as possible.
If you have any tips or additional comments, feel free to send me an email, message me on Twitter, or slide me a DM on Instagram!
Here are some key points to note depending on which season you are visiting this dog park.
Spring – I would not recommend visiting this dog park on a rainy day or after a rainy day – while there are some pebbles, most of the dog park is dirt and looks like it could churn up a ton of mud on wet days.
Summer – There isn't a lot of shade at this dog park so I imagine that the dog park fountain is a huge plus to help cool off on the hot summer days – I'm really glad to see that the fountain is located inside the park instead of out.
Fall – N/A
Winter – N/A – unfortunately there aren't a lot of reviews online for this dog park
What Other Reviewers Are Saying
So far Google Reviews only has 8 reviews with an average rating of 3.5 stars. This Liberty Village Dog Park is an average experience for most dog owners. 
Unfortunately, there are only 3 comments on the reviews. Here is what they had to say:
Small dog park
Not great for small dogs 
Bill Johnston Dog Park / Liberty Village Dog Park Summary
Overall, although Bill Johnston Dog Park was one of the smallest dog parks that we've visited so far, I think this dog park does a decent job at serving the immediate needs of dog owners that live in the Liberty Village area. 
Sure, there isn't a LOT of space, but the fact that the dog park is 
well lit
has a dog fountain within the dog park, AND 
has high fences 
Makes Bill Johnston Dog Park a convenient space to take dogs out for a quick stretch for dog owners nearby.
If the size of this dog park simply doesn't cut it for you, and you're willing to make the trek over to other dog parks, then I'd definitely recommend checking out Stanley Dog Park or even Coronation Dog Park nearby. Both are significantly larger dog parks that also offer artificial lighting, high fences, and dog fountains. 
P.S.
For an even larger dog park with beautiful city views, I highly recommend visiting Cherry Beach Dog Park. Limone and I rate it as a cottage country walk with city views 🙂 – off-leash trails with pretty city views at the end!
Ultimately, I would not recommend making a trek all the way to Liberty Village just to visit this dog park. 
HOWEVER, if I'm ever in the area for a brunch at Mildred's Temple Kitchen, or planning a dog-friendly patio outing in the area, I definitely appreciate that there is a dog park nearby for me to use!
If you live around the Liberty Village area – which dog park do you normally frequent? Let me know in the comments below!
What We Always Bring With Us to Dog Parks
What's on Limone:
Depending on the situation we rotate Limone through various harnesses and collars:
Similarly, we rotate Limone's leash based on our needs. These are the three leashes we use regularly: