Coronation Dog Park Review – A Dog Park with Luxury Waterfront Views
I LOVE to walk by the waterfront. There's something so soothing and relaxing about spending time with loved ones near water.
While on-leash waterfront trails are already a great source of joy for us, seeing Limone (my dog!) run happily off-leash by the waterfront adds… an extra oomph happiness factor to our day.
So when I was compiling a list of all the dog parks in Toronto, imagine my excitement when I found out there were several designated off-leash areas by Lake Ontario (like Cherry Beach Dog Park)!
I'm so excited to share yet another dog park by the shoreline in today's post. Let's take a look into Coronation Dog Park – a large designated off-leash dog park in downtown Toronto tucked right up against Lake Ontario.
---
---
Coronation Dog Park Overview
Here's a quick summary of the park:
Hours of Operation: 24 hours
Address: 711 Lakeshore Blvd W, Toronto, ON M5V 1A7
Directions to Coronation Dog Park
This park is best reached by public transit and/or walking from another location as parking in this area tends to fill up very quickly.
By Public Transit:
Via Queens Quay and Fleet St: Take the 509 Streetcar to Fleet St @ Bathurst St West Side
Head East on King St W and turn right onto Stanley Terrace
By Car: 
Review of Coronation Dog Park
As a suburbanite, there's nothing quite like enjoying lakeside views at every opportunity and Coronation Dog Park is yet another dog park that delivers on beauty and enjoyment.
Part of me actually feels like I should start writing a blog post about the most beautiful dog parks I've visited in Ontario! Coronation Park will definitely be up there as a top contender for peaceful views! I have a feeling *any* dog park with a city skyline, waterfront views, or forested canopies would make it though!
Unlike other shoreline off-leash areas in the city, Coronation Dog Park is completely fenced – waterfront-side included. 
This park features plenty of mature well established trees located within and surrounding the dog park and large, well-maintained green space and waterfront trails too.
Despite living in a suburban area, I've found myself heading downtown to visit this space again and again to enjoy the beauty and the waterfront trails. 
Coronation Dog Park is considered a large dog park by Toronto standards. Thanks to its space and where trees inside the park, you'll find that the dog park is split into several 'zones' where dogs and dog owners tend to hang out. 
The Entrance Zone = Chase and Play: Located right in the centre of the park by the main entrance, you'll find most dogs that like to chase will start here and end up on the south side of the park (away from the waterfront). 
The North Picnic Table = Dog Owners Scrolling On Their Phones: The dog park has a couple of picnic tables located around the park but for some reason, the picnic table by the dog fountain is a hot spot for dog owners who tend to sit and scroll on their phones.
On my visits to the park, I noticed that dogs that like to play a little rougher also tend to stick around this side more too.
The South Waterfront Side = Older Dogs, Sniffers & Lone Dogs: As you head closer to the waterfront and towards the marina, you'll find that this space tends to have the least amount of dogs and most like to sniff the space or hang out by themselves. There are also several picnic tables and Muskoka chairs facing the shoreline for the dog owner's enjoyment here too. 
Coronation Dog Park is a large enough space that 30 minutes is more than enough for most dogs to tire themselves out. However, we've often found ourselves spending up to an hour here and taking several hours walking around the waterfront trail.
If you have several hours to spare, I highly recommend starting at Coronation Dog Park and walking all the way to Ontario Place via the connecting waterfront trail. The views are amazing!
Coronation Dog Park Features Worth Noting
Based on our visits, here are the overall features of Coronation Dog Park that are worth noting:
❤️ Muskoka Seats with Quiet Lake Views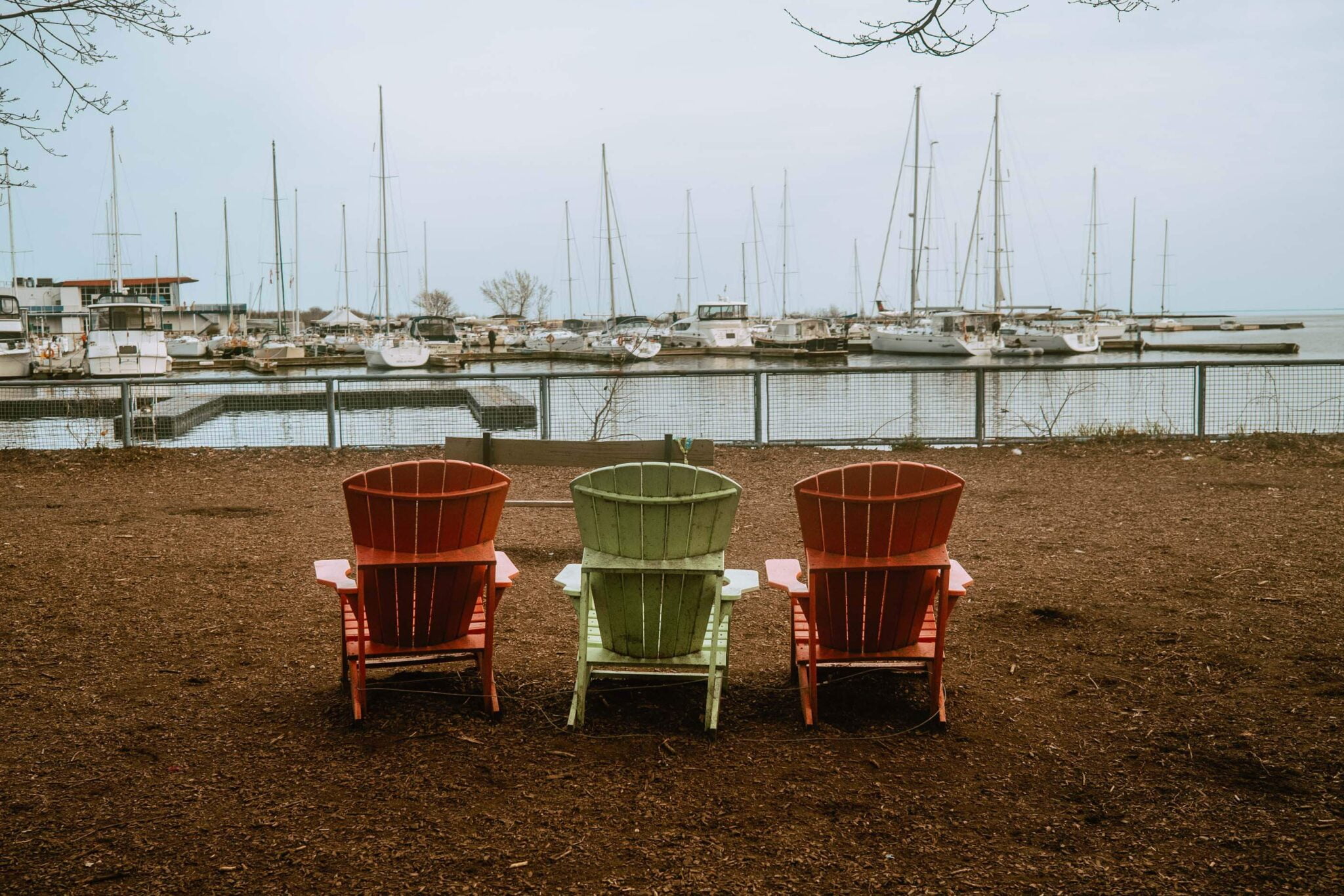 ❤️ Plenty of Shade
There are enough mature trees in the park to provide shade but not SO many within the off-leash area that it obstructs chase and playtime.
❤️ Great On-Leash Shoreline Trail
❤️ Artificial Lighting for Extended Play
There are two artificial lights near the entrance that turn on once evening sets. If you're planning on visiting this dog park later in the evening or early in the morning, you may find yourself sticking close to the entrance as the lights don't reach very far into the dog park.
Having said that, I always appreciate a dog park that has extra lights 🙂
❤️/? Dedicated Dog Water Fountain Within the Park
Great that there is a dedicated water fountain with a dog bowl height fountain
Dog Bowl is almost always dirty/muddy and doesn't look to be cleaned regularly – best to bring a water bowl/water bottle when visiting the park
? Sparse Woodchips
In past years Coronation Park was a dog park that had its woodchips refreshed on a yearly basis. Unfortunately, this last year I haven't heard of any woodchip updates so you'll often find your dog running on dirt instead. 
? Some deep holes are located throughout the park
As you head towards the shoreline side of the park you'll notice that there are several deep holes that have not been filled. 
For any dogs that like to run – try to keep them closer to the north side (away from the shoreline) where there are fewer deep holes that could cause potential injuries.
? Low Fences
The fences facing the rest of Coronation Park are relatively low. Unfortunately, unlike the nearby South Stanley Dog Park which has reinforced its lower fences, these are not reinforced.
Any medium-sized or large dog can quite easily clear the fence height. While I haven't witnessed this happen during my visits to this dog park, one Google Review mentioned that it was possible for their 40-lb dog to jump over the fences. 
? No Dedicated Small Dog Area
? Limited Street Parking
As mentioned in the Directions section of the post, parking is limited and almost always full most days.
I highly recommend walking to this park from somewhere else if you can.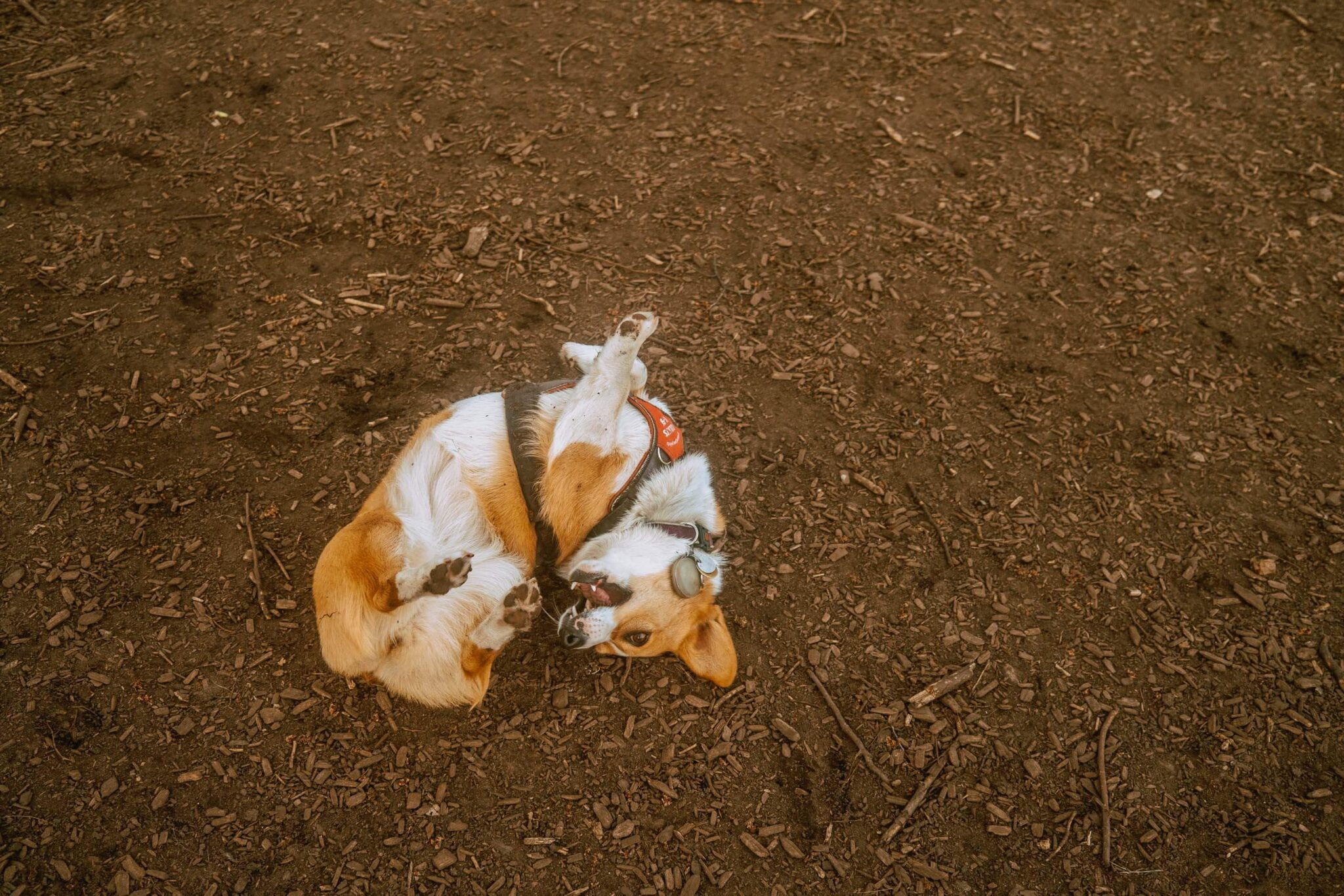 Seasonal Details
When I write my dog park reviews, I try to include seasonal details – even if I've only visited the dog park location a few times. I refer to Google Reviews for some additional seasonal information if I've only visited a few times to fill out the other seasonal information as much as possible.
If you have any tips or additional comments, feel free to send me an email, message me on Twitter, or slide me a DM on Instagram!
Here are some key points to note depending on which season you are visiting this dog park.
Spring – Due to the lack of woodchip refills at this dog park you'll want to avoid visiting this dog park as parts of this area can turn into shallow mud pits. 
Summer – Great space with lots of shade and water source. This dog park is a very popular location on the weekends and during usual commercial dog walker times (10:00 AM – 11:30 AM and 2:00 PM – 3:00 PM during the weekdays) so if you're looking for a parking spot on the street I'd recommend visiting earlier in the day or much later in the evening.
Fall – Great fun as the trees surrounding the area offer plenty of leaf running fun in the dog park. However, be prepared for your dog to get a bit muddy as the leaves and water tend to stay in the park for a longer period of time
Winter – N/A
What Other Reviewers Are Saying
With over 180+ Google Reviews, and averaging 4.6 stars out of 5 stars, Coronation Park Off-Leash Dog Park is an overall very positive experience for most dog owners. Here are the recurring positive comments:
Large space
Beautiful view of Lake Ontario / Water
Plenty of large trees and shade
A great park overall for a walk or jog
Here are the recurring negative comments:
Parking is not easy
Deep holes around the park
Coronation Dog Park Summary
Overall, Coronation Dog Park is an absolute must-visit dog park if you enjoy:
Spending off-leash time with beautiful shoreline views
Are looking for an off-leash space near downtown Toronto
Available in the early mornings and late evenings thanks to additional lighting
Has ample seating area
Dedicated water source
Connected to beautiful waterfront trails
Nearby Dog Parks:
Ready to visit more dog parks? Be sure to check my review of the neighbouring dog parks:
1.5 KM West – The Surprisingly Quiet Bill Johnston Dog Park in Liberty Village
1.5 KM Northwest – The Popular South Stanley Dog Park on Wellington St.
2.1 KM North – The ever-popular dog bowl at Trinity Bellwoods Park
Similar Dog Park Experiences:
If you're looking to expand your dog park repertoire and you're looking for a similar experience to Coronation Dog Park, then I'd recommend checking out:
Cherry Beach Dog Park – Cottage Country Walks with City Views
Cedarvale Dog Park – another fenced, large woodchip-based dog park with a dedicated dog fountain and nicely paved trails through a multi-use community recreational park area
Have you visited Coronation Park Dog Park? Let us know what you think of the park in the comments below!
What We Always Bring With Us to Dog Parks
What's on Limone:
Depending on the situation we rotate Limone through various harnesses and collars:
Similarly, we rotate Limone's leash based on our needs. These are the three leashes we use regularly: