Dusty Fun at the Popular South Stanely Dog Park in Toronto
A few weeks ago, Limone and I spent 4 hours exploring the dog parks and trails around the Liberty Village area and the Fort York area. 
From our adventures, we discovered that there were FOUR dog parks all within a 25-minute walking distance from Liberty Village:
The surprisingly quiet Bill Johnston Dog Park
South Stanley Dog Park
Coronation Dog Park
Trinity Bellwoods Dog Bowl
In today's post, we will be looking at the fenced South Stanley Park Off-Leash Area – a dog park widely favoured by Liberty Village and King West residents.
---
---
South Stanley Dog Park Toronto Overview
Here's a quick summary of the park:
Hours of Operation: 24 hours
Address: 700 Wellington St W, Toronto, ON M5V 1G7
Directions to South Stanley Off-Leash Area
The South Stanley Dog Park in Toronto is located on the southernmost edge of Stanely Park by Wellington St W and Stanley Terrace.
This dog park is best reached by public transit as there aren't many convenient parking locations nearby and limited paid parking nearby.
By Public Transit:
Via King St W: Take the 504A Streetcar to King Street W @ Strachan Ave
Head East on King St W and turn right onto Stanley Terrace
Did you know?
While dogs are allowed onboard the TTC and the Go Train – they aren't allowed during specific hours – check out the specific rules here! You'll also find the rules for other public transit services around the Greater Toronto Area too!
By Car: 
Review of South Stanley Dog Park Toronto
South Stanley Dog Park is a medium-sized, rectangular-shaped dog park on the West side of Toronto. The dog park is located on the southwest end of Stanley Park – a recreational park complete with a children's playground, an outdoor pool, picnic grounds, a baseball diamond, and a few tennis courts.
This is a fully fenced dog park with multiple entrances located around the perimeter of the dog park. 
We visited on a crisp weekend Saturday afternoon and I was pleasantly surprised to discover that this dog park was less packed than I thought it would be. 
While the park ground around us was buzzing with activity – with friend gatherings and family picnics, there were less than 10 dogs in the dog park during our visit. 
There was plenty of room for every dog in the park to run, fetch, and have a private corner of the park to sniff and unwind too.
Based on our visit, here are our overall views of South Stanley Dog Park:
❤️ What we loved
Thoughtfully placed mature trees located throughout the park
Multiple Artificial Lights are located in the park
Dedicated water fountain located within the park
Plenty of seats and tables located throughout
Close access to park trails
? Things to Note
Low fences (reinforced with additional height)
Many owners bring dog toys to the park
Proximity to high traffic green space with off-leash dogs
Some holes located throughout the park
East exit only accessible via stairs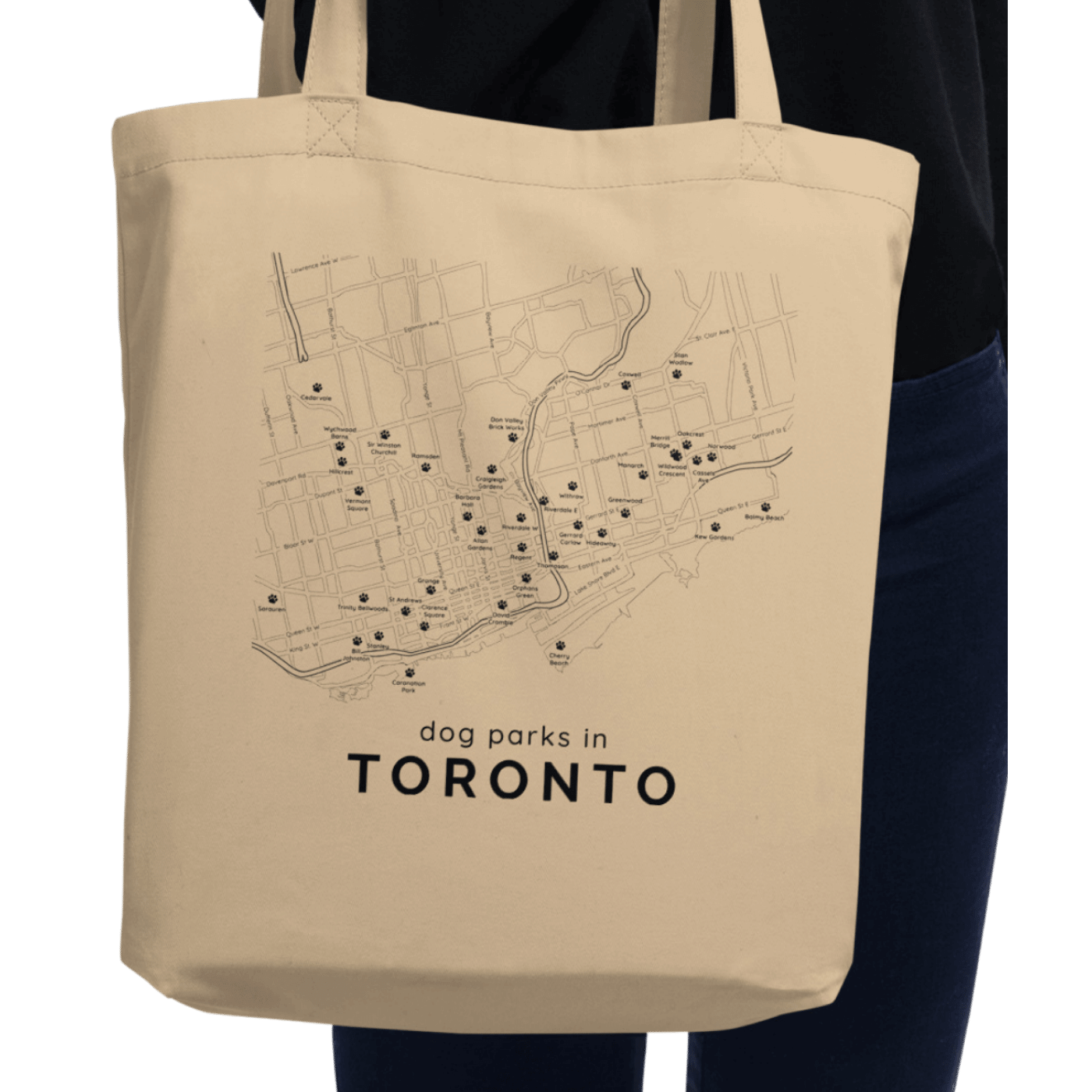 The Perfect Companion for Toronto Dog Owners
Carrying gear AND finding the nearest dog park on your next adventure?
How perfect.
P.S. Did you know a portion of every purchase made on the SYDE Road Store goes towards donating to Vets without Borders? They're a not-for-profit Canadian volunteer association dedicated to improving the health of animals, people and the environment around the world.
❤️ Thoughtfully Placed Trees in the Park
Once the trees leaf-out, the rows of mature trees provide ample shade during the hot summer months – a much welcome respite from the sun for dog owners and dogs alike.
Even without these trees planted within the park, there are plenty of tall, mature trees around the perimeter (excluding the north edge of the park) to provide shade throughout the park.
❤️ Multiple Artificial Lights Located in the Park
Hooray for another dog park with artificial lighting! South Stanley Dog Park has multiple artificial lights installed within the dog park.
Paired with plenty of lights around the entire Stanley Park area, this dog park is a well-lit space great for owners looking to take their dogs to an off-leash space early in the morning or later in the evening.
❤️ Dedicated Water Fountain Within the Park
A dog and human fountain located inside the dog park? Yes, please! While Limone and I normally tote our water in (yes we use a dedicated Toronto dog park tote), we know that plenty of dog owners love that water is provided to the dogs at the dog park.
❤️ Plenty of Seats at South Stanley Dog Park
The designers of South Stanley Dog Park put a lot of effort into making this dog park a pleasant place for us owners as well too.
Out of all the dog parks that we've reviewed so far, I think South Stanely Dog park has the most picnic tables and benches located per square metre.
No matter how busy this dog park will get, chances are you'll be able to comfortably find a space to sit and relax for a bit while your dog enjoys the space.
Note: While I believe that you should spend some time relaxing and enjoying the space around you, I just wanted to drop a gentle reminder to always keep a watchful eye while spending time in a dog park – we're our best advocates for our dogs but it only works when we're paying attention to our surroundings. Paying attention is the best way to reduce potential injuries and fights at the park.
❤️ Close Access to Park Trails
South Stanley Dog Park is just across the street from the Garrison Common – a beautiful pedestrian and cycling bridge that connects Stanley Park to the historic Fort York grounds – a 43-acre archaeological park where British soldiers, First Nations warriors, and Upper Canadian militiamen stood together against the United States and their mission to capture Toronto in the War of 1812.
? Low Fences (now reinforced with additional height)
South Stanley Dog Park is likely not the best dog park to visit if you have a dog that likes to jump out and explore. While the fences are a decent height for most dogs, they are not jump-proof either.
On the north side of the dog park, you'll find that most of the fencing is reinforced with extra metal tubes to boost fence height.
? Many Owners Bring Dog Toys to the Park
During my 1.5-hour stay at South Stanely Off-Leash Dog Park, I noticed that at least half the owners brought and used dog toys (mostly fetch toys) along with them. 
Thanks to the larger space at South Stanley Dog Park – none of the dogs during our visit broke into any fights because of this. 
However, dog toys tend to increase aggressive resource guarding tendencies and bickering at dog parks so I'd recommend only using dog toys at an empty dog park.
If you're looking for a quieter weekend dog park to play fetch with your dog, I'd recommend heading to the smaller Bill Johnston Dog Park (a ten-minute walk away) instead.
? Close Proximity to High Traffic Green Space with Off-leash Dogs
The public green space at Stanley Park is a very popular gathering location for family and friends to hang out.
Naturally, there were plenty of on-leash dogs enjoying the open space around us too. However, during our afternoon visit, we noticed at least three off-leash dogs in the green space area just on the other side of the fence near one of the dog park's entrances. 
While no major incidents occurred, we did see an on-leash dog give a warning bark and lunge at one of the off-leash dogs. 
? Some Holes In the Park
To all the dogs that move at the speed of light – watch out! There are a few holes here and there in the park that haven't been filled in. The holes aren't really deep – but could cause an injury if a dog is roughhousing nearby. 
? East Exit Only Accessible Via Stairs
South Stanley Dog Park is not a fully accessible dog park. While there are two double-gated fences available on the west side of the park, the quieter and less-used east entryway can only be accessed via stairs. 
Seasonal Details
When I write my dog park reviews, I try to include seasonal details – even if I've only visited the dog park location a few times. I refer to Google Reviews for some additional seasonal information if I've only visited a few times to fill out the other seasonal information as much as possible.
If you have any tips or additional comments, feel free to send me an email, message me on Twitter, or slide me a DM on Instagram!
Here are some key points to note depending on which season you are visiting this dog park.
Spring – The space can become muddy when it rains and there's no grass in the dog park so expect to have a muddy dog or dirty dog after visiting
Summer – Great space with lots of shade and water source. HOWEVER, this dog park tends to kick up a lot of dust – be prepared to exit this dog park with dust on your clothes too. 
Fall – N/A
Winter – N/A
What Other Reviewers Are Saying
With over 160 Google Reviews, and averaging 4.4 stars out of 5, South Stanley Dog Park is an overall very positive experience for most dog owners. Here are the recurring positive comments:
Convenient location
Good size
Dog Fountain and Shade
Dogs and owners are sweet
In terms of negative or low-rated reviews, this is what most dissatisfied visitors have to say:
Dusty
Inattentive dog owners
Some aggressive dogs w/ absent-minded dog owners
South Stanley Dog Park Toronto Summary
Overall, South Stanley Dog Park was a great first visit for Limone and me. 
Overall, we found our experience to be the perfect mix of busy but not overcrowded or overwhelming.
If you're looking for a dog park in the West-end of Toronto that:
Is relatively large
Fully fenced/enclosed space
Available in the early mornings and late evenings
Has ample seating area
Near on-leash park trails
Dedicated water source
Nearby Liberty Village or King West area
Then definitely consider visiting South Stanley Dog Park.
If you're looking to expand your dog park repertoire and you're looking for a similar experience to South Stanley Dog Park, then I'd recommend checking out these dog parks instead:
Cedarvale Dog Park – offers many of the same features and 'within-a-recreational-park' vibes – but offers a wood chip terrain instead
Earl Bales Dog Park – A similarly sized dog park in North York that offers many of the same features available at South Stanely Dog Park but in a much quieter park area with kilometres long trails
If, however, you're looking for a dog park with:
A dedicated (explicit signage) small dog park area
A quieter dog park experience
A dog park with higher fences
Then you may want to consider visiting one of the 11 dog parks in Toronto that have a dedicated small dog park area instead.
Have you visited South Stanley Dog Park in Toronto? Let us know what you think of the park in the comments below!
What We Always Bring With Us to Dog Parks
What's on Limone:
Depending on the situation we rotate Limone through various harnesses and collars:
Similarly, we rotate Limone's leash based on our needs. These are the three leashes we use regularly: