4 Dog Parks in Toronto Where You Can Avoid Spring Mud Puddles (According to Google Reviews)
For dog owners, spring in Ontario is a double-edged sword. On the one hand you have a TON more dog-friendly activities to do with the warmer weather like visiting a dog-friendly maple syrup farm, or going for a long walk to enjoy the wildflowers and tulips (might we recommend this Hamilton trail, or the Trillium Trail at Bronte Creek Provincial Park).
On the other hand, other dog owners view spring in Ontario with dread thanks to the mud puddles. As an owner of a low-riding corgi myself, spring is a season of mixed feelings. It is a season where Limone and I explore the most, but it's also the season of constant towel wiping, outfit swapping, and muddy paw prints and bellies. 
As fun as mud puddles may be for dogs, dogs can face various health hazards like leptospirosis and giardia if they drink or play in them. So this spring, I've made it my goal to look for dog parks with less puddles to bring Limone to. 
*March 17, 2022 – I have been kindly informed that one of the previously suggested dog parks – Coronation Dog Park, should be removed from the list due to a lack of woodchip maintenance resulting in floods at the park this spring.*
After researching around, here are 5 4 of the best dog parks in Toronto to avoid spring mud puddles (according to Google reviews).
---
---
Dog Park Map
Here is a map of all the dog parks mentioned in today's post: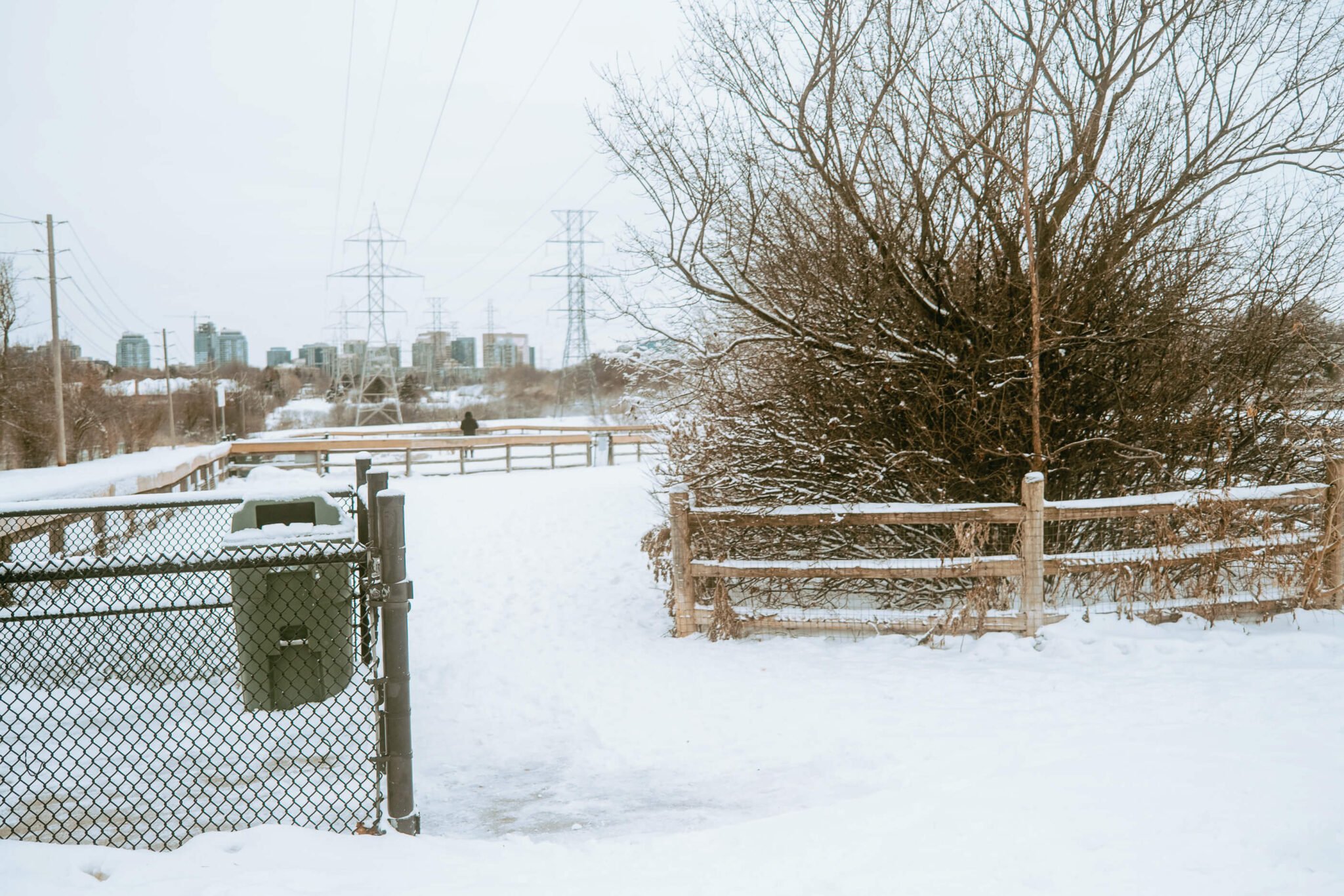 1. Bayview Arena Dog Park / Willowdale Off-Leash Dog Park
Address: 3230 Bayview Ave, North York, ON M2M 3R7
While not everyone will be a fan of the pebble gravel offered at this and other dog parks, pea gravel is by far one of the best terrains for drainage – meaning gravel-based dog parks like this will also be best for post-rain off-leash dog park visits.
Bayview Arena in particular was selected because of its deep pebble gravel layers. 
According to other Google Reviews, this was one of the few Toronto dog parks that had multiple reviews indicating that this was a great park to visit on wet days
2. Cedarvale Park Off-Leash Area
Address: 443 Arlington Ave, York, ON M6C 3A2
After visiting this dog park, I'm still surprised that Cedarvale Dog Park doesn't make it to more 'Best Dog Parks in Toronto' lists. Nestled in the heart of Cedarvale Park's community area, dog owners are sure to enjoy their visit in all seasons.
The main off-leash area is made up of woodchips, concrete, and a bit of sand. While you won't get any mud puddles thanks to the woodchips absorbing most of the water, be prepared for just a lot of plain old mud. 
We visited this park last fall after some rain, and Limone left the park muddy but very happy. 
According to Google reviews, reviewers found that this dog park is well maintained. The wood chips are regularly replenished and replaced to reduce mud puddles and that the space overall was a great space for most dogs.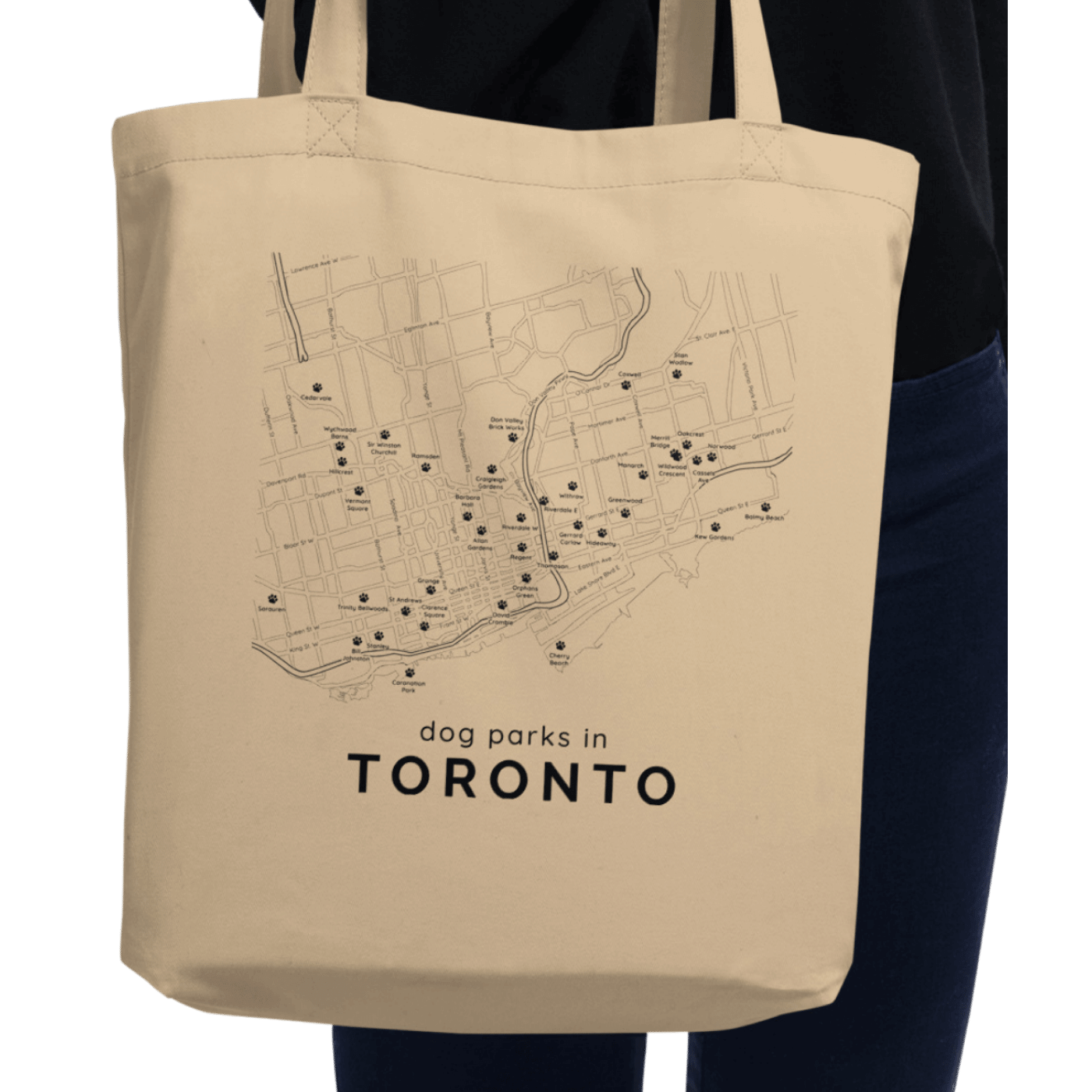 The Perfect Companion for Toronto Dog Owners
Carrying gear AND finding the nearest dog park on your next adventure?
How perfect.
P.S. Did you know a portion of every purchase made on the SYDE Road Store goes towards donating to Vets without Borders? They're a not-for-profit Canadian volunteer association dedicated to improving the health of animals, people and the environment around the world.
3. Grange Park Dog Off-Leash Area
Address: 26 Grange Rd. W.
Thanks to the Grange Park endowment fund, the entire park, including the dog off-leash area, benefits from enhanced annual park maintenance. With a small to mid-sized off-leash area, a dedicated water fountain, and plenty of shade thanks to the 180+ trees in the park and surrounding areas, Grange Park's Off-Leash Area is a great location regardless of season.
Another woodchip terrain park – this centrally located Toronto dog park is a great option if you live near the Art Gallery of Ontario and need a less muddy off-leash area to visit during the spring. 
4. Scarborough Heights Park Off-Leash Dog Park
Address: 27 Fishleigh Dr. Toronto M1N 1H1
As one of the dog-friendly listed parks in the Scarborough Bluffs, Scarborough Heights Off-Leash Dog Park is a great dog park to visit in the spring. Dog owners will not only appreciate its central location in the Bluffs, but will also appreciate the woodchip and grass terrain as well as the added water fountain at this park.
Since the dog park is also located at the top of the Bluffs, you can also look forward to nice views near the dog park too. In addition to the views, the park is located beside a service road that can provide unofficial partial access to the lake front too. While others have mentioned that the climb down and climb up may be challenging, it's well worth a visit if you're looking to add an interesting on leash walk to your regular dog park routine. 
Other reviewers on Google Reviews have indicated that this is a nice relatively quiet park to visit on the East side of Toronto and that it is a well maintained park too. 
How to Choose Which Dog Park to Go to in the Spring
As you may have noticed, most of the dog parks listed in today's post are mostly focused on woodchip or pebble gravel terrain. 
If you're looking for a dog park to visit that minimizes mud puddles near you, be sure to look for these types of terrain in your dog park as well.
Ultimately, gravel or pebble-type terrains are the best for drainage and will be the terrain that is most likely to reduce the amount of mud and pooling found at dog parks. However, many dog owners dislike this type of terrain as sharp rocks can tear at the nails and paw pads.
Woodchips on the other hand are the softer alternative to gravel-based terrain. This type of terrain helps to provide better drainage by absorbing some of the moisture into the wood – reducing the amount of pooling formed at parks. However, be aware that wood chips will not entirely remove the presence of mud or pooling at parks – so always be sure to prepare for a cleanup afterwards. 
If these parks are not located near where you live, be sure to check out my post: "How many dog parks are there in Toronto?" to help you find your next best dog park. The post provides a map of 70+ dog parks located in various parts of the city and I periodically update this post with new dog park reviews and photos too!
Do you have any favorite dog parks you like to visit in the Spring? Let me know in the comments below!
What We Always Bring With Us to Dog Parks
What's on Limone:
Depending on the situation we rotate Limone through various harnesses and collars:
Similarly, we rotate Limone's leash based on our needs. These are the three leashes we use regularly: