Bayview Arena Park – A Bayview Dog Park with Many Names
Random fact time –  can you guess which medium-sized Bayview dog park has the most name variations and like the most number of gated fences? If you guessed the Bayview Arena Dog Park because of the blog post title, then you're right!
With 5 different common dog park names, and 5 gated fence entryways, this Bayview dog park has almost as many gated entryways as the sprawling 22-Acre Jack Darling Dog Park!
Bayview Arena Off-Leash Dog Park Overview
This post contains affiliate links to products. We may receive a commission for purchases made through some of the links on this post.
Here's a quick summary of the park before we dive into the detailed overview:
Hours of Operation: Sunrise – Sundown
Address: 3230 Bayview Ave, North York, ON M2M 3R7

*No explicit signage indicated small dog area, but by convention the smaller area is more often used by owners with smaller dogs
If you're looking for:
A Commercial Dog Walker friendly off-leash park
A small dog area
A fully fenced dog park
Free and ample parking nearby
A paved 18 KM recreational trail nearby
This Bayview dog park may be the perfect place to spend an hour with your furry friend. If however, you're looking for a dog park with:
Varied terrain
Plenty of shade
Dedicated water source
Dedicated (explicit signage) small dog park area
Then perhaps you may want to visit Dogsview Park or Earl Bales Dog Park (no small dog area) instead (or feel free to browse our other North York Dog Parks to find the right one that suits your needs)
What Are the Other Names for This Dog Park?
Bayview Arena Dog Park is also known under several other names including:
Bayview Dog Park
Willowdale Off-Leash Dog Park
Bayview Avenue Off-Leash Dog Park
Bayview Arena Dog Park
Officially – the City of Toronto website refers to this dog park location as the "Bayview Arena Park", however if you plan on navigating here via Google Maps – it will be listed as "Willowdale Off-Leash Dog Park"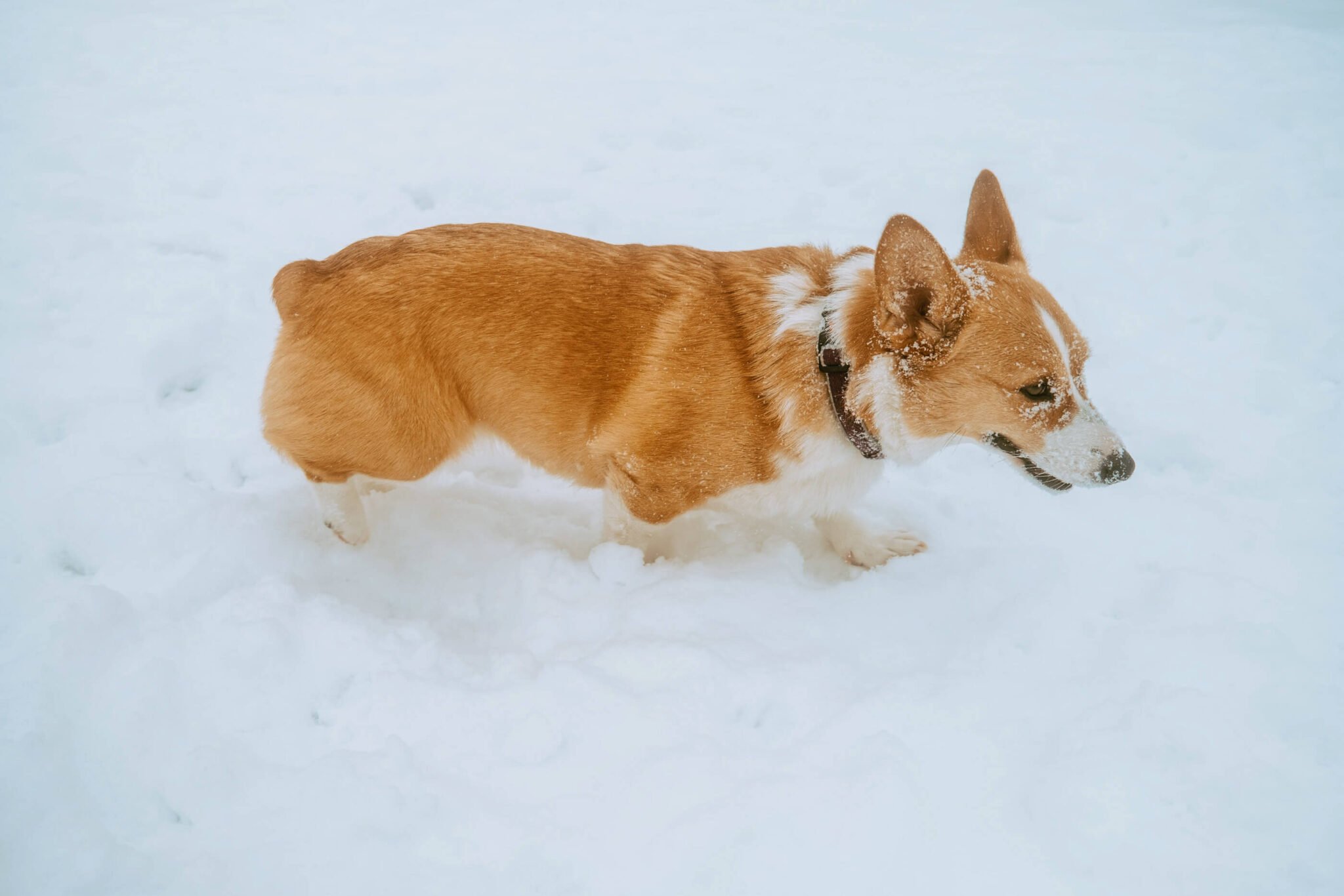 Bayview Dog Park Review
Bayview Arena Off-Leash Dog Park was an interesting visit for Limone and I. We visited this Bayview dog park after a snowstorm in February hit our city fully expecting to have this dog park completely to ourselves to frolic and play in the snow.
Crazily enough despite visiting the day after a snowstorm AND visiting on a Tuesday at 11 AM, this dog park still had other furry friend visitors. 
Honestly, this came as a surprise considering most dog owners openly dislike pea gravel terrain dog parks. Maybe my visit and presence of four other dogs was an exception rather than the norm because the pea gravel was entirely covered in snow? 
Based on our visit, our favourite aspects about this dog park were:
The ample parking available thanks to the Bayview Arena Parking Lot (easily fits 100+ cars)
The ring-shaped set up in the small dog area
The surprisingly calming scenery offered by the Finch Hydro Corridor Recreational Trail
Unfortunately during our visit, we were unable to explore the large dog area as one of the large dogs would 'barricade' any gated entryway with an approaching visitor with it's huge excited leaping jumps. 
While super adorable to watch, that kind of welcoming energy would have been too much for Limone to handle and would have resulted in plenty of snarling and warning snaps from her.
We decided to stay in the empty small dog park area and wait for the large dog to leave before visiting the larger off-leash area. Unfortunately, during our entire hour-long stay, the large dog remained and met every dog at the gated entryway with incredible enthusiasm.
While we were able to play with a small dog during our visit and the larger dog area had another 3 dogs drop by, we also noticed a couple of other dog owners would choose to skip the off-leash area entirely and walk a portion of the 18 KM long recreational trail beside the park. 
[irp posts="6719″]
Scenery and Recreational Trail
A pleasant and unexpected feature of this Bayview dog park is its view. Growing up in a suburban neighborhood near Toronto, transmission towers were a familiar view. Seeing the transmission tower at the Bayview Dog Park surrounded by a wide open field with trees bordering the sides of the plain was surprisingly nostalgic.
Now I know that there are plenty of people who think transmission towers are an eyesore, and a danger to one's health, but I personally don't hate the look of them and don't think there's a major issue being near them. 
The contrast between the metal structure with the expansive greenery is a nice change in pace from the usual midrise and high rise buildings you normally see in North York. 
The nearby recreational trail and the transmission towers are actually part of the 18km long Finch Hydro Corridor bike trail. During the warmer months, this trail is completely completely paved and can make for a great and easy hike to go on with your dog. 
This trail is not maintained in the winter though, which can make it difficult to walk on during the icier days.
Small Dog Area Review
Limone and I had a great time running around the ring-shaped small dog park area. Personally, I think the small dog area was a much better designed area than the larger area. 
The small fenced and wooded center looked like it contained enough mature trees and shrubbery that it could easily provide shade at any point in the day during the summer (except the afternoon when the sun is directly above us). 
There is a single gated entryway that connects the small dog area with the large dog area in the middle of the fence. This fence can be accessed from both the large dog park area and the small dog area. 
An important note for dog owners with small dogs visiting this park: While this ring-shaped area is considered the small dog area, there is no explicit signage at the park that indicates that this area is for small dogs only. As such, be prepared to potentially share this area with larger dogs too.
Large Dog Area Review
The larger off-leash area is a standard open area with a single boulder off the side for owners to sit and rest. 
There isn't any surrounding vegetation or any man made shelters in the area so I imagine that when combined with the pea gravel terrain, this area may become incredibly hot during the summer months for the larger dogs. 
However, there are some gazebos located just outside the off-leash area to provide some shaded relief. You'll definitely need to bring a large bottle of water or a large water bottle to refill at the Bayview Arena to keep your dog well hydrated during the warmer days.
Seasonal Details
When I write my dog park reviews, I try to include seasonal details – even if I've only visited the dog park location a few times. I refer to Google Reviews for some additional seasonal information if I've only visited a few times to fill out the other seasonal information as much as possible.
If you have any tips or additional comments, feel free to send me an email, message me on Twitter, or slide me a DM on Instagram!
Here are some key points to note depending on which season you are visiting this dog park.
Spring – Great for wet days to avoid the mud thanks to the pea gravel / pebble terrain. There will be a bit of mud on your dog but not a lot of mud puddles or wet areas in the dog park itself.
Summer – Avoid the park on especially hot days. The stone can burn your dog's paws. From personal experience, I'd go so far as to recommend only visiting this dog park in the early morning or late evenings and to bring a LOT of water for yourself and your dog. I'd also recommend a hat and sunglasses since there's really no shade anywhere.
Fall – No reviews mention this season. Winter – Make sure that it isn't too cold for your dog to go outside, otherwise from personal experience I think this is a great dog park to visit during the winter months. There's enough room to get some decent exercise in.
What Other Reviewers Are Saying
With over 290+ Google reviews, and averaging 4 stars out of 5, Bayview Arena Dog Park is a positive experience for most dog owners visiting this park. Here are the recurring positive comments:
Nice that there is a split section for small and large dogs
Stones are great for muddy days
Great spot for socializing with dogs and people
In terms of negative or low-rated reviews, this is what most dissatisfied visitors have to say:
Deep pea gravel – many people wish for additional terrain options
No shade and hot pebbles
People don't clean up after their dog
Not much etiquette amongst the newer dog owners (written within 2020-2022 reviews)
Final Thoughts
Overall, Bayview Arena Off-Leash is a good dog park to visit in North York if you live close by or just need a quick off-leash romp before heading for a long on-leash walk. 
This dog park offers a good amount of space for both large and small dogs to play off-leash and the additional 18 KM recreational trail nearby is a major plus. 
However, given its pea gravel terrain and the lack of water sources and shade in the large dog area, this Bayview dog park is best suited for wet day usage and cooler weather. 
If you're looking for a similarly-sized dog park in North York without the pea gravel terrain, then I'd definitely recommend checking out Dogsview park instead.
If you're intrigued by the racetrack area in the small dog area but you have a big dog, I highly recommend checking out the nearby G. Ross Lord Dog Park instead. It's a slightly larger dog park with grass terrain that offers a similar racetrack area for larger dogs.
What We Always Bring With Us to Dog Parks
What's on Limone:
Depending on the situation we rotate Limone through various harnesses and collars:
Similarly, we rotate Limone's leash based on our needs. These are the three leashes we use regularly:
Have a specific dog park you'd like to see reviewed? Let us know in the comments below! We (Limone included) would love to explore new places and share our thoughts with you!