G. Ross Lord Dog Park Review – A great choice for dogs new to off-leash trails
---
---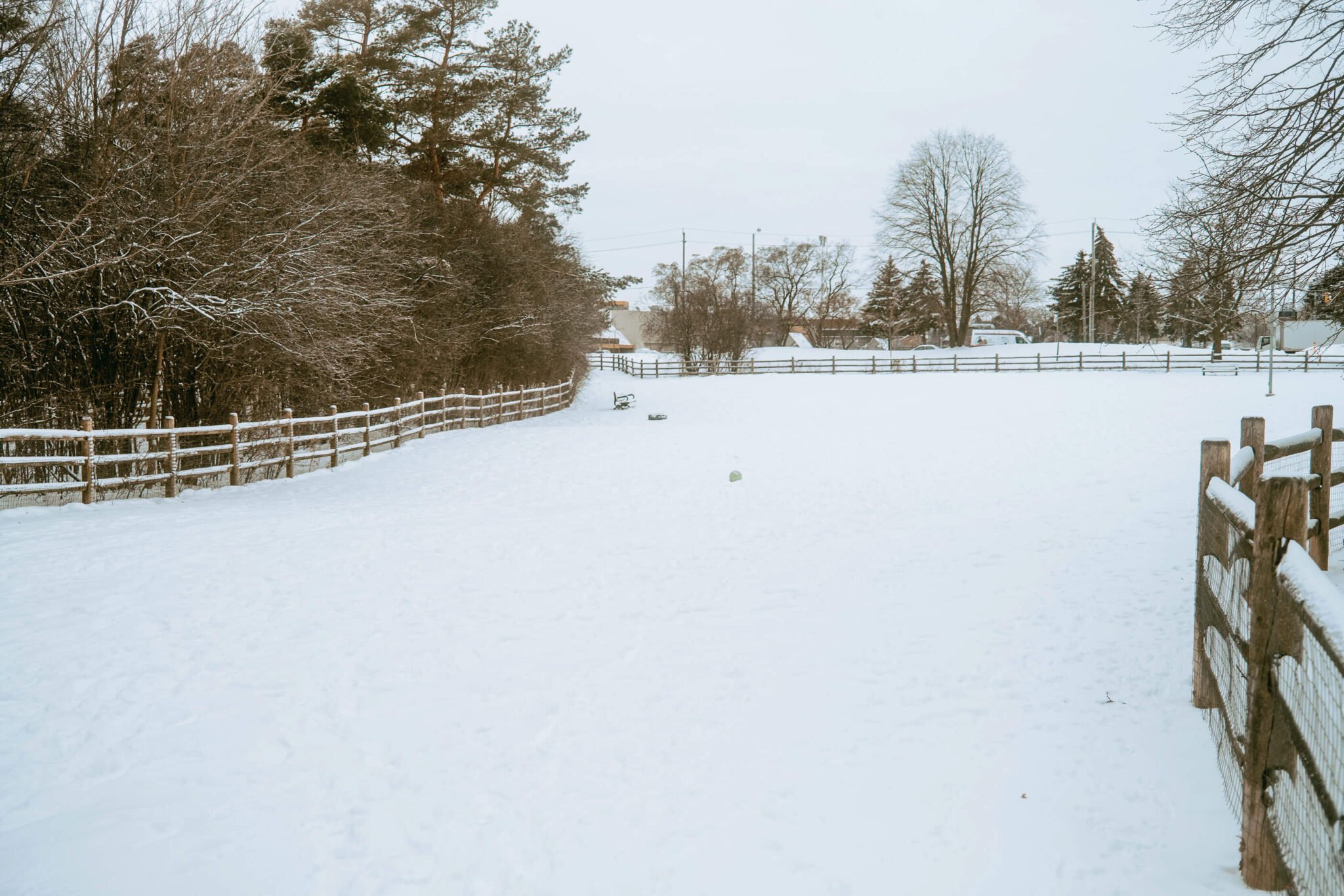 G. Ross Lord Dog Park Overview
Here's a quick summary of the park before we dive into the detailed review:
Hours of Operation: Sunrise – Sunset
Terrain: Grass
Address: 4777 Dufferin St, North York, ON M3H 5T4 
Plan for: 
30 minutes in the off-leash area
Additional 1-2 hours if you plan on walking the recreational trail end to end
Bringing your own water into the park – there are no water sources available
Key Features You'll Love
Fenced enclosure
High fenced made of wood and mesh overlay
2 Double-gated entryways
Garbage and Green Bins facing both inwards and outwards by dog park entrance
Dedicated solar light in the middle of the park
Wooded loop / mini off-leash trail available along with a  large open off-leash area
4 KM on-leash trails nearby
TTC-bus transit friendly
May not be ideal for:
Small dogs required a dedicated small dog area
Dogs looking for a quiet weekend off-leash dog area
Directions to G. Ross Lord Dog Park
G. Ross Lord off-leash park is located immediately on your right as soon as you enter the park from the main entrance. 
The park's entrance is also relatively easily accessible by subway and bus too:
From Sheppard West station:
head to the nearby Sheppard West and Allen Road intersection
take the 105 Dufferin North bus until your reach Dufferin St at Supertest Rd.  
Nearest Parking Lots to G. Ross Lord Park Dog Park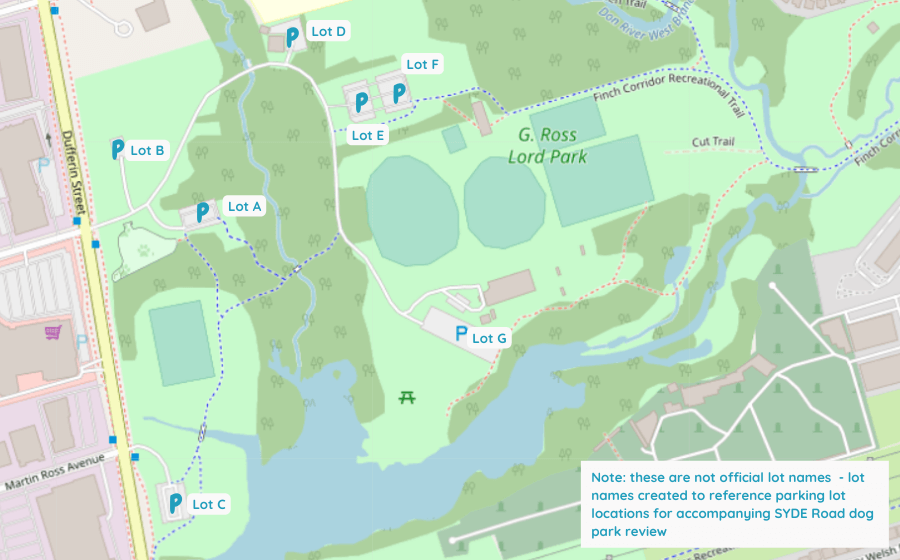 Thanks to its suburban location, G. Ross Lord Park is blessed with plentiful and free parking lots. 
In total there are 8 large parking lots available within the park itself. However, only a few of them are within a reasonable walking distance from the dog park.
These are the 3 best parking lot locations if you are only planning to visit the off leash dog park:
Parking Lot A – (0 min walk from dog park)

This parking lot can easily and comfortably fit 40+ cars on busy summer days and is right next to the dog park entrance. However, this parking lot can get quite crowded during busy season as it also serves as a trailhead for the nearby recreational trail. 

Parking Lot B – (3 min walk from dog park)

If Parking Lot A is ever full, then the next best parking lot to visit is the smaller Parking Lot B located across the street within the dog park. This parking lot fits about 22 cars and is less than 2 minute's walk away from the dog park

Parking Lot C – (15-20 min walk from dog park)

You'll need to exit the park to access this lot. This Parking Lot C is accessible from the Dufferin St and Martin Ross Avenue intersection. The lot that can fit more than 60+ cars. From this parking lot, you can make your way to the dog park via the recreational trail. Keep left as you walk on trail past the large open field. You'll see the dog park on your left.
7 Key Features of G. Ross Lord Dog Park
Here is an in-depth look at all the key features offered at G. Ross Lord Dog Park:
2 Double-Gated Entryways – There are two double-gated main entrances into the off-leash area. One is located at the northwest most end of the dog park and the other is beside the parking lot. Having two double-gated entrances is a great plus – many of the dogs tend to rest and play around the parking lot entrance so the additional entryway is a great way to help manage the entry and exit traffic on especially busy days.
Two distinct off-leash areas within – given its lopsided donut shape and fenced-off mini forest in the middle of the park, this dog park provides a shaded mini-track and a 'main' off-leash area. The two main areas are separated by a small fenced wooded area. 
Shaded space available – During the hot summer months, the narrow lane offers plenty of shade for dogs that need a break from playing in the open area
Benches in the off-leash area – There are several benches located around the perimeter of the 'main' off-leash area
Garbage and Recycling Bins Located at Both Entrances – There are SO MANY bins located by the entrances. Extra bonus is that there are bins with dedicated receptacles that face inwards so you don't need to leave the dog park when you need to garbage or poop out
Solar Lighting – In the middle of the dog park is what appears to be a single slower-powered lamp. I haven't had the chance to visit later in the day so I don't know how well-lit the space is. That said, it's nice to see another dog park that offers additional lighting for early morning or late evening goers.
4 KM of on-leash recreational trails – After visiting the off-leash area, consider extending your stay with a calmer stroll around G. Ross Lord Park's 4 KM of recreational trails. Below is one of the recommended G. Ross Lord Park Trail maps found on AllTrails to help you get started
4 Missing Features You Should Know Before Visiting G. Ross Lord Dog Park
There is no dedicated small dog area 
There are no poop bag dispensers – Make sure to bring extra poop bags to this park
Washrooms are in the park – but far away – You'll either need to drive to the sports fields or walk about 30 minutes on the recreational trail to reach the main washrooms
Running Water is unavailable – There are no nearby water fountains or water sources. Be sure to pack plenty of water when visiting the park with your dog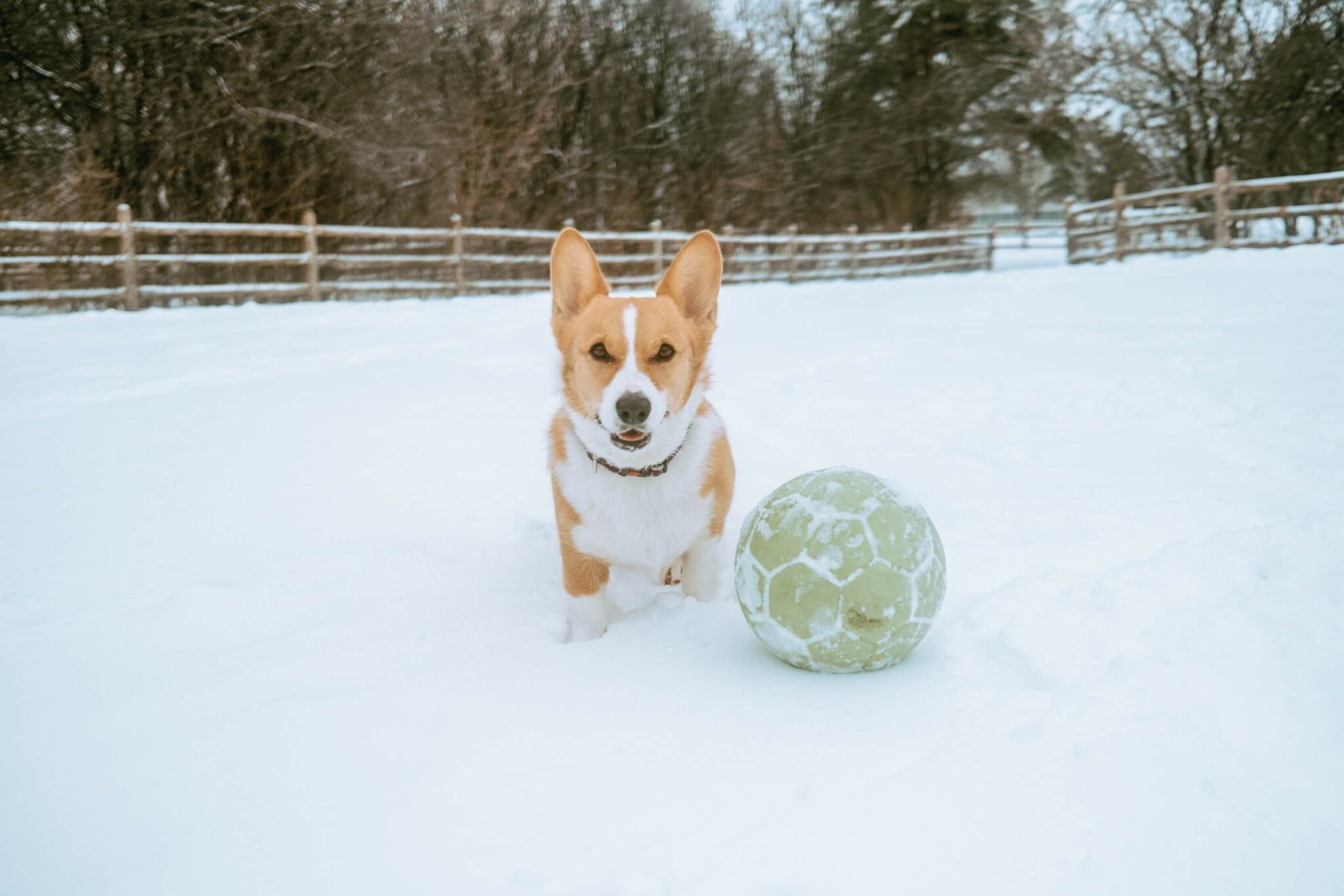 Review of G. Ross Lord Dog Park
G. Ross Lord Park's Off-Leash Dog Park is a medium-large Toronto dog park that's worth visiting if you're looking for a change of scenery or a drop-in visit after work. 
Although Limone and I visited on an empty morning (100% because we decided to go visit dog parks the day after a snowstorm), most reviews say that this off-leash dog park is a great place to find dog friends.
The best times to visit when looking for dog friends are:
During a weekday afternoon – when dog walkers frequent the space
Weekdays Immediately after work
Sunny Weekends
The first thing we noticed before entering the dog park was how NICE the fencing was. The fence is made of a wooden fence foundation and then covered with smaller mesh wire. We loved the additional reinforcement to help prevent any escape artists from squirming through. While the fences aren't the tallest fences we've seen – they're a good height and level across the entire dog park.
Even though we were on our own, we easily spent over half an hour here chasing her toy around the dog park, exploring the rubber tire, and investigating the mini wooded trail. 
This dog park is roomy enough to easily accommodate over 30 dogs and still have enough space for dogs to break away and take a break if they need to. 
One of our favorite aspects of this park was the shape of the dog park! As I mentioned in the key features above, thanks to a small fenced woodlot located inside the dog park itself, it created an 'off-leash hiking' trail directly inside the dog park.
I think that implementing this additional 'trail' was a fantastic design choice made by the city because while small, gives plenty of dog owners the opportunity to see how their dogs could potentially behave in an off-leash trail while still staying safely within a fenced enclosure.
If Limone wasn't such a velcro-dog, I'd definitely visit this dog park more often and use the mini-trail to practice recall training and see how far she'd run ahead before attempting the larger off-leash trail spaces like Jack Darling, or High Park. 
From what I've read online, during the busy summer season, you may notice that the wooded lot and the main off-leash area form natural 'groups'. The smaller dogs tend to play on one side and the larger dogs stick to the other.
Because we visited after a snowstorm, only the parking lot was shoveled and I wasn't equipped with heavy duty snow boots to attempt traversing the recreational trails with Limone. Unfortunately, we can't comment on the recreational trails yet – but they seem lovely!
Overall, I'd definitely visit this space again – especially during the warmer seasons so that I can explore and discover what the rest of the park has to offer too!
Seasonal Details
When I write my dog park reviews, I try to include seasonal details – even if I've only visited the dog park location a few times. I refer to Google Reviews for some additional seasonal information if I've only visited a few times to fill out the other seasonal information as much as possible.
If you have any tips or additional comments, feel free to send me an email, message me on Twitter, or slide me a DM on Instagram!
Here are some key points to note depending on which season you are visiting this dog park.
Spring – Outside of sunny days – consider visiting other dog parks for off-leash play instead (a woodchip dog park like Cedarvale Dog Park would be a great alternative if you don't mind a muddy dog and just want to avoid mud puddles)  or stick to the on-leash recreational trails nearby. Spring is a great time to enjoy the trails and watch the various leaves and nature come into color. 
Summer – Avoid the park on especially hot days. The stone can burn your dog's paws. From personal experience, I'd go so far as to recommend only visiting this dog park in the early morning or late evenings and to bring a LOT of water for yourself and your dog. I'd also recommend a hat and sunglasses since there's really no shade anywhere.
Fall – Watch out for mosquitos in the evening especially if you're planning on walking on the recreational trail. Insect repellent recommended for the Fall months
Winter – Much like spring, you may want to watch out for mud – especially during the warmer days when the snow melts and the grounds become slushy. Make sure to bring lots of towels and remember to monitor your dog for the cold. Wet and cold conditions can cause your dog to become colder faster. You may also find less dogs during the winter months thanks to the cold and mud. 
What Other Reviewers are Saying
With over 250+ Google Reviews, and averaging 4.6 stars out of 5, G. Ross Lord Dog Park is a mostly positive experience. Here are the recurring positive comments:
Love the wooded off-leash trail / dog run
Clean and spacious
Excellent park to go on a stroll or picnic too
Ample parking
Like that there are shaded areas and benches
In terms of negative or low-rated reviews, this is what most dissatisfied visitors have to say:
Big dogs (mastiffs, bullies, pit bulls, rottweilers) frequent here and have aggressive play with inattentive owners
Very muddy
No small dog area
Insects bite a lot
Lots of poop around the perimeter of the park
(unrelated to the dog park – but good to know) – restrooms require more frequent maintenance
G. Ross Lord Off-Leash Dog Park Summary
Overall G. Ross Lord Dog Park is a great dog park to consider if you're looking for a larger park in Toronto where your larger dog can stretch its legs and play without feeling cramped. 
Furthermore, with its unique design, this North York off-leash dog park is a fantastic beginner's location to practice recall training to prepare for larger off-leash trails. 
Thanks to its location within a larger park itself, G. Ross Lord Dog Park is also a great option for folks who are looking to start their adventure with an off-leash visit followed by a longer, calmer on-leash long walk combo.
Similar Dog Parks in North York
If you like G. Ross Dog park and you're looking to try another dog park in the North York area with similar features, then I'd recommend visiting either:
Earl Bales Dog Park – similar to G. Ross Lord Dog Park, Earl Bales Park offers:

Artificial lighting
Two separate areas within the off-leash area (two alcoves)
Nearby on-leash nature recreational trails

Dogsview Park – located in Downsview park, you'll love this thoughtfully designed dog park with fenced trees and raised mounds located throughout the park for added stimulation. This dog park comes with a small dog fenced area too!
What We Always Bring With Us to Dog Parks
What's on Limone:
Depending on the situation we rotate Limone through various harnesses and collars:
Similarly, we rotate Limone's leash based on our needs. These are the three leashes we use regularly:
Have a specific dog park you'd like to see reviewed? Let us know in the comments below! We (Limone included) would love to explore new places and share our thoughts with you!