Hipcamp Canada: 90s Nostalgic Cabin Getaway – Vanessa's Rustic Cozy Cabin in Minden, Ontario
Calling all dog-owning 90s cottage babies or nostalgia aesthetic seekers! You are going to LOVE today's cabin review.
Do you love all things nostalgia?
Do you want to relive what it's like to watch video cassettes on a CRT TV?
Do you want to feel like a kid at summer camp again but with the added bonus of choosing exactly who's camping with you?
Are you looking for a dog-friendly weekend cabin getaway that's still near towns and restaurants?
If you answered yes to anything above, then this rustic cabin is worth your consideration!
---
Planning a staycation in Ontario? Find more inspiration & unique staycation ideas with these articles!
Northern Ontario
Southern Ontario
---
This post is lengthy! Here are some links to jump to the section you're looking for. Enjoy!
---
Rustic Cozy Cabin in Minden, Ontario – Overview
Full Disclosure: We are part of Hipcamp's Field Scout program. In exchange for taking photos and writing a review on Hipcamp's website, we're provided with a free night's stay at this property. Any review, experiences, and feedback found on SYDE Road, are completely our own 100% honest feedback.
About 90s Nostalgic Cabin Getaway – Vanessa's Rustic Cabin Getaway in Minden, Ontario
Vanessa's Rustic Cozy Cabin is located 10 minutes from Minden, Ontario – a Haliburton town known for its scenic Minden River Walk.
From Highway 20, you'll turn onto a dirt road with several mailboxes where you will need to drive a couple of minutes through a gentle meandering, and scenic road by Horseshoe Lake before you arrive on Vanessa's property.
Booking and Check-in Process
Currently, the only way you can book this cabin getaway is via Hipcamp.
If you haven't signed up with Hipcamp yet, you can use my code MARIAKC51D45 to get $10 off your first booking.
You will receive your booking confirmation via email and Vanessa will send you more details about your stay via Hipcamp's app.  
Our check-in experience was completely remote.  We told Vanessa our planned arrival time and she took care of everything else ahead of time. All we needed to do was show up and enjoy our stay 🙂 
Upon arrival, you'll receive a welcome bucket. Inside, you will find a s'mores building kit, a sightseeing and welcome pamphlet, and a guest book.
I miss guest books so much! I haven't seen one of these in SO LONG. We had so much fun flipping through the pages and reading about the other guests' experiences! I loved seeing other people's handwriting. (we left our own little note in it too for future guests!) 
Check-out Process
Our check-out experience was very pleasant. We just let Vanessa know on the Hipcamp that we were heading out and… well that was it!
During our stay, Vanessa kindly notified us that we could stay for the day if we wanted to. If you're not a morning person, you'll know that this is a BOON. I'm always grateful to any hotel or host/hostess that offers late or extended checkout. Sleeping in is the BEST. 
Site Overview (Interior)
Here's what you can expect when staying at this Rustic Cozy Cabin:
Cute Kitchenette
I am happy to report that you can keep most of your dining gear at home. This kitchenette nook offers:
running water (non-potable)
a microwave
cleaning supplies
a portable stovetop
basic cutlery and glasses enough for a group of 6
Tip: If you're planning on cooking for more than two people, you may find the one portable stovetop lacking. For larger parties, I recommend using the BBQ, bringing in packed food, or dining out  during your stay 
Cozy Living Space
This is my favourite part of the cabin. I gasped with delight when I saw the TV nook and Disney video cassettes. Oh, heart be still! Was that a working video cassette recorder I see beside the vintage TV? Did I spy a vintage table lamp proudly hovering above the VCR? My excitement was palpable.
If only I could playback how I felt when I stepped closer and turned the TV on. It was like… being transported in time. 
The fuzzy screen resolution, that familiar buzzing sound.  It brought me back to when I was a child.  Back then I'd always know when a TV was on in the home. We had 3 - a small 15 inch in the kitchen, a larger 25 inch one in the living room, and one massive 30 inch in the basement. Each one emitted a different sound. Back then, I took pride tattle tailing on my old brother whenever he forgot to turn them off. I'd always know when a TV was on no matter where I was in the house. 
Did I have a lot of fun just rewinding the video cassettes in the VCR? Yes. Yes, I did. And if you came here, I'm sure you would too. I'm convinced that I am not the only one that took delight listening to tapes rewind!
I loved the centrepiece in front of the dining area – Happy Campers indeed! It was exactly how we felt the entire time we stayed in this cabin.
If you're planning on visiting during the fall or winter, you have your choice of electric space heating or woodstove heating. This cabin comes outfitted with an electric space heater tucked in a corner and a wood stove centred in the cabin.
We loved that Vanessa turned the electric heater on for us prior to our arrival so that our welcome would be warm and toasty.  
Camping nostalgia with bunk beds, cards, and darts
Ah, bunk beds. There are only a few times in my life that I associate bunk beds with:
Summer Camps
Cruise Ships
Hostels
Naturally, with the cabin bunk beds, I'm dropped right back into my childhood summer camp days.
Although most of my summer camp memories were spent outdoors, many of my treasured camp memories also included making new friends (and enemies!) and playing cards on our bunk beds before lights out.
I won't tell you how many games of Speed and darts we played that night, but you bet our cabin was filled with plenty of happy barks, laughter, and competitive spirit!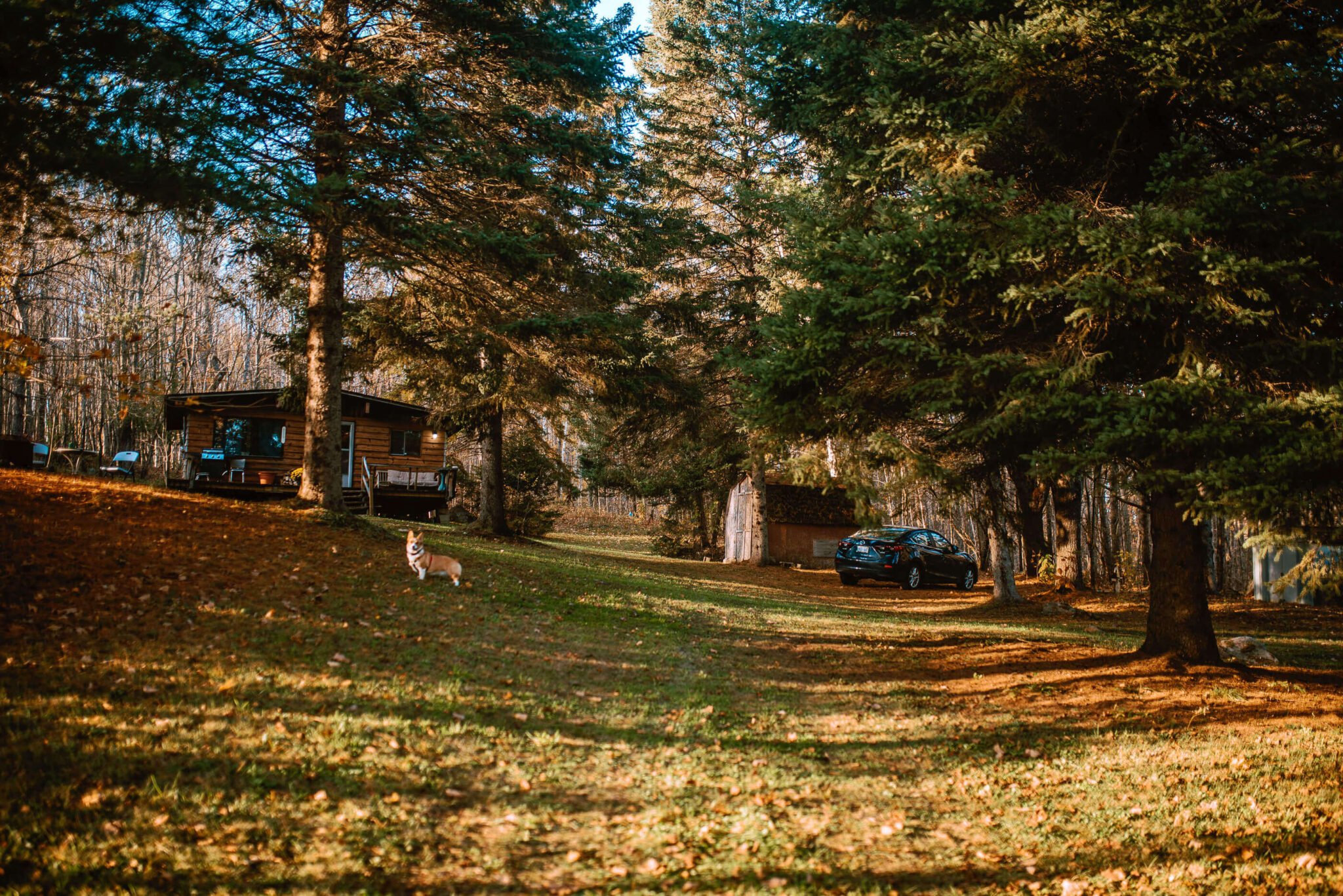 Site Overview (Exterior)
Clean and well-stocked outhouse
The cabin's cozy description extends to the rest of the property too. You'll find that the wooden outhouse is just as cozy as the cabin itself. I like how the outhouse was thoughtfully constructed at the edge of the property. Because you know… bad smells!
The outhouse isn't hard to find at night either because Vanessa created a solar light pathway towards the outhouse too.
Inside, you'll find that the outhouse is nicely decorated and well stocked with toiletries. It even comes with many types of hand sanitizers and wipes to make your outhouse experience as comfortable as possible. 
You'll also appreciate that the outhouse includes a built-in counter and comes with a mirror too. These added touches make the outhouse experience that much more pleasant. 
Ample Yard Space
When I say ample yard space, I do mean ample yard space. If Limone could speak she'd say this was her favourite weekend getaway this year!
What we loved:
Leash-free
Wide, open clearing
Grassy area
Gentle sloping hill
Natural forest underbrush fencing
Everything about the property made it easy to monitor Limone off-leash on the property. With a gentle slope and a wide clearing, we could easily keep an eye on her whereabouts without worrying about her getting lost.
I didn't realize how important this was until we stayed at the Luxury Bell Tent Glamping. We kept losing sight of Limone even when she was on-leash thanks to the thick forest underbrush.
While the property is nestled within a forest, most small to medium-sized dogs will likely be deterred from heading into the forest since the underbrush is fairly high and dense.
Promising Hammock Locations
… did we just want an excuse to pull out our 2-person hammock? (if you're interested – I recommend buying it from Amazon! For some reason it's more expensive on their website!)
Let's just say, I won't deny it! We love our hammock time quite a lot and we'll cling onto our hammock days even as the weather continues to become cooler over the months if we can!
Vanessa's property has a lot of mature trees that are more than capable of holding 2 people (and a dog!) comfortably in a hammock.
Our wiggly girl also loves hammock time!
Grilling Cauldron = marshmallow smores sans sparks
Do you have a perfectly roasted marshmallow standard?
For some, the best kind of marshmallows are slightly charred – purposely doused in the open flame so that they go on fire. Tongue-searingly hot on the outside, and melted liquid goo on the inside.
For others, it's a test of patience, painstakingly slow-roasted off the edge of the fire, cooked until slightly crispy and golden brown all around. Gently puffed, but not too hot. Slightly gooey on the inside, but still a bit firm.
Me? I'm on team golden! I love a golden marshmallow squished between two graham crackers. Angelo however, is a fan of the charred kind – which is perfect because more often than not, I tend to burn my marshmallows before I hit a golden brown one. Oops!
The grilling cauldron that Vanessa provided onsite, is perfect for making amazing smores, no matter how you roast your marshmallow.
I loved that Vanessa's cauldron was surrounded by firepit rocks too. Not only did the cauldron come with a spark protector, but the cauldron's height and the addition of the firepit rock barrier also made us feel comfortable enough to try having Limone off-leash while the fire was burning.
Note: I would not recommend an off-leash dog at an open fire unless your dog has great recall and obeys commands well. I wouldn't want any potential doggie injuries!
If you haven't signed up with Hipcamp yet, you can use my code MARIAKC51D45 to get $10 off your first booking.
Plan Your Stay
I've created a map for a quick overview of various aspects to help plan your stay including:
nearby grocery stores (red)
nearby beer & liquor stores (red)
nearby restaurants/places to eat (cyan)
nearby sightseeing aspects (azure)
Nearby Grocery, Restaurants, and Liquor Stores
Easton's Valu-Mart – (1) your closest grocery store
Foodland Minden – (2) your next closest grocery store
LCBO – (3)
Beer Store – (4)
Restaurants
Suwan's Thai Cuisine – (1) the entrance is at the back of the building. Since Thai food isn't normally common in smaller towns, there are a couple of things you should be aware of if you're visiting from a bigger city:
Expect higher prices
Expect mellower flavours – the Thai cuisine's rich aromatics are more mellow at this restaurant than most big-city Thai restaurants
The Minden River Cone – (2) cute curbside location to pick up ice cream and diner food (like burgers and grilled cheese) before exploring the rest of Minden during the day.
Molly's Bistro Bakery – (3) a great breakfast location for the day you check out. They offer several varieties of frozen homemade pies, casseroles, desserts, and pre-made dinner options that are great souvenirs to bring home with you.
What to do near Minden, Ontario – Sightseeing
Think you don't have enough time to sightsee AND enjoy the cabin in one night? Then think again! If you can spare a few minutes before you head home, you can visit two rather scenic locations nearby.
Minden River Walk -(1) if you've passed by Minden at any point chances are you've already seen the ultra scenic river walk in the center of Minden's two main streets. Much like other smaller towns built around the river, you get to enjoy watching the town's buildings reflect on the Gull River.
Minden Whitewater Preserve – (2) if you're in the mood for seeing fast-paced water, then the Minden Whitewater Preserve is an even shorter drive from Vanessa's cabin property. The preserve is a 100-acre park with some of Canada's best whitewater rapids for kayakers and canoe thrillseekers.
Even if you're not a kayaker, this is a great sightseeing stop as the parking and lookout area features several picnic tables. It would be a wonderful spot to visit and watch the rapids over some lunch (maybe some takeout from Minden River Cone?). If you're lucky, during your stay you might even see people kayaking over these rapids too.
What to Pack
Vanessa packs a lot of amenities inside this rustic cabin. Light packers – rejoice! Here's a list of everything we packed for our overnight stay – I think you'll be happy to know that the list is short:
Food:
Clothing:
Pyjamas
T-shirt
Pants
Socks
Sweater
Jacket
Footwear:
Personal Hygiene:
Electronics:
Camera
Phone charger
Battery Pack
Extra:
For Limone:
Dog Food / Meals
Treats
Collapsible Measuring Cup
Dog Treat Pouch – If I'm out with Limone you'll always see me with this. I love that it's a sling, has multiple pockets for different types of treats, is big enough to carry extra poop bags, and is even big enough to hold a ball for Limone if I need to. It's literally an essential and even though it might be ugly I love it so much. The neon green really helps me find the treats I'm looking for if I'm carrying different types too!
Wet wipes
Identification Tags
Harness – we brought her 'photo-op' / pretty one from Knick Knack Paddy Whack in Prime this time around *locally made in Toronto
Everyday Leash – 4 My Merles Creations – Standard Braided Leash *locally made in Orillia, Ontario
Dog Bed
Doggy Poop Bags
Dog Toys
Vanessa's Hipcamp Ontario – Rustic Cozy Cabin Summary
Vanessa's cabin is a large and well-secluded property perfect for any group looking for a cozy, nostalgic short getaway from the big city. You'll still have much of the city comforts nearby with the added benefit of the quiet charm of secluded property.
This was one of the best dog-friendly properties we've stayed at so far.  I'd definitely recommend other dog-owners looking for a quick getaway to consider this place. Limone was so carefree and relaxed throughout our stay
The property has a natural fence thanks to the surrounding dense forest underbrush. This is a great area to keep an eye on dogs off-leash if they're not the type to run into forests.
Overall, Angelo and I had an amazing time here. We're definitely going to bring some friends here with us next time. We're both looking forward to playing Speed with new opponents!
If you're looking for a dog-friendly cabin getaway, you should really consider Vanessa's cabin for your next trip!
If you haven't signed up with Hipcamp yet, you can use my code MARIAKC51D45 to get $10 off your first booking.
Would you consider visiting this nostalgic 90s aesthetic cabin for your next getaway? Let us know in the comments below!