Jack Darling Dog Park – A 22-Acre Fenced Paradise for Off-Leash Dogs
After visiting Etobicoke Creek Dog Park and now Jack Darling, I'm starting to think that Mississauga might have some of the best dog parks in the entire Greater Toronto Area. 
You'll never find dog parks as large as this in Toronto and many other Greater Toronto Area like the York Region simply open up a patch of green space, fence it in, and call it a dog park. But Mississauga must love their dogs differently!
Jack Darling's dog park is by far the largest fenced off-leash space we have encountered to date. 
If you've been putting off visiting this dog park because of its distance, I say – just do it (unless your dog gets really car sick – then maybe don't do it!)! 
This dog park is most definitely worth a visit and should be at the top of the list for any adventurous dog looking for MASSIVE off-leash play.
---
Looking for more dog-friendly related content? You might enjoy these posts too:
Dog Park Reviews
Dog-Friendly Getaways near Toronto
---
This review is lengthy! Here are some links for you to jump to the content you're looking for:
Jack Darling Dog Park Overview
IMPORTANT – Know before you go
Because of its massive size and integration with the water treatment facility, parts of the dog park can be closed (past closures ranged from grass cutting, tree/log removals, ice, etc.). Always check the Facebook page – Jack Darling Leash-Free Dog Park for any park closures!
Directions to Jack Darling Dog Park
Jack Darling Dog Park Address: Southwest of Lakeshore Rd W and Lorne Park Rd
Park Hours: Sunrise – Sundown
Note: My understanding is that jackdarling.com is not an official website of the park. While that website lists specific hours and on-leash restrictions during the summer months, I'm doubtful! Leash Free Mississauga – the non-profit organization that helped set up and manage the dog parks in Mississauga does not specify dog park hours so my guess is sunrise and sundown! Once I get confirmation I'll make an update to the post with the correct hours 🙂
The main address provides:
Parking access to both the dedicated small dog area
Parking access Leash-Free toboggan hill
Parking access Main off-leash areas 
The main off-leash area at Jack Darling dog park can also be accessed via 3 other gated entryways including:
Parking Lot D (North East Parking Lot) of Jack Darling Memorial Park
Unlabeled Parking Lot on the East side of the Memorial Park
Southeast of the Tennis Courts
Here is a map of all the entryways to every off-leash area. Entryways are marked on the map with thick black lines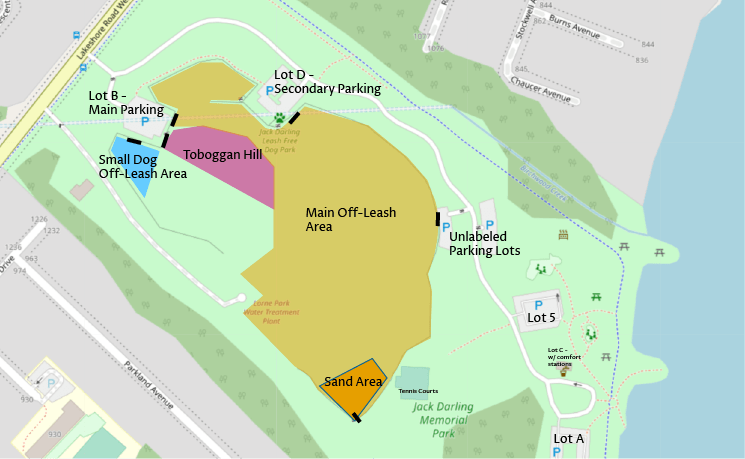 Parking at Jack Darling Dog Park
Parking within the memorial park is free. 
The main off-leash dog area (parking lot B) can fit 51 cars in its lot. During the weekdays, this is more than plenty of space to accommodate everyone that comes to visit the dog park. 
I'd recommend parking at the parking lots within Jack Darling's Memorial park if you're planning on exploring more than just the off-leash area. 
For longer visits, I'd recommend parking in Parking Lot A or Parking Lot 5 instead which gives you easy access to the rest of the Memorial Park's features including the:
Memorial beach
Splash pad
Playground
Waterfront trails
Comfort stations (located at the small Lot C – which can park about 5 cars)
Note: During the popular / peak summer season, the parking lots will fill up and stay full for the day. Parking enforcement officers regularly patrol this part and are generous in giving out tickets to cars parked in an undesignated location (e.g. the side of the road, etc.). I'd recommend going early (before 8:00 AM and no later than 9:15 AM) if you can or visiting on a less busy day if the lots are all if you'd like to avoid a CAD 100 ticket. 
10 Key Features of Jack Darling Dog Park
Here is what Jack Darling park offers:
1. Dedicated Small Dog Off-Leash Area
The fully chain-linked fenced off-leash area is restricted to dogs weighing 25 lbs or less. This small off-leash area is the size of most small dog parks found peppered throughout the city!
Small dogs and young puppies will be sure to enjoy this dedicated area which features:
Double-gated entryway
Large, flat grassy section
And a short 2-minute wooded, shaded trail on gentle slopes
Dedicated disposal bins by the entrance
Multiple picnic seats
2. Off-Leash Area with Toboggan Hill
Note: The toboggan hill is off-limits to dogs when there is enough snow for tobogganing. Off-leash dogs and children going down a toboggan hill are just a recipe for disaster and injuries! The hill will also be closed to the public when there is too much ice. For all closure updates, please visit Jack Darling Dog Park's Facebook page – Jack Darling Leash-Free Dog Park. 
3. Double-gated entries
Every off-leash entrance is made up of a double-gate entryway system.
4. Variety of terrain
Are you looking for hills? Gravel? Shaded forest trails? A sand bar? Flat grassy area? Or perhaps even limestone paved walkways? 
Jack Darling dog park has you completely covered. Thanks to its massive size and hard work to terraform the water treatment facility, you and your dog can enjoy plenty of variety during your off-leash visit. 
A surprisingly delightful aspect of this park is being able to walk on top of the water treatment facility off-leash. Depending on when you visit you might even see some folks working in the building too!
5. Dedicated dog fountain
Inside the main off-leash area is a dedicated dog fountain. I'm not sure if I have the most terrible of luck – but the fountain was not working during both my visits to the dog park. 
Many Google reviews have indicated that the dog fountain works, but to be safe I'd recommend bringing your dog some water as well. This dog park does not have access to freshwater via streams, ravines, or lakes, so you'll definitely want to have water on you to keep yourself and your dog hydrated.
To minimize the gear you're carrying, I recommend a collapsible silicone bowl with a carabiner that you can attach to your own water bottle or to a treat pouch. That way you only need to carry one water bottle for yourself and your dog! 
6. Seating area throughout
Whether you're near the entrance, midway, or deep into the dog park, there are plenty of seats located throughout the park. You'll find the seats range from picnic tables, benches, to concrete slabs depending on where you are in the park. 
7. 1.5 – 5 KM of established trails across ~13.5 acres of space
Much of the park has been dedicated to off-leash play. If you exclude the small dog area AND the toboggan hill, you STILL have 13.5 acres of space for off-leash play. That's a ton of space left over to explore the space! 
While the perimeter itself is a short 1.5 KM walk, there are plenty of trails within the space to allow for varied and interesting loops within the park. Walking through every trail within Jack Darling dog park can easily add up to at least 5 KM of walking and exploring within the park. 
8. Odour-free & Green Energy from dog poop waste receptacles
That's right! You read that feature correctly! 
Thanks to a dog waste pilot project, turned city initiative, Jack Darling dog park and several other Mississauga dog parks have these really awesome neon green dog waste receptacles.
Created by Sutera In-Ground, these receptacles are odour-free (thanks to its underground storage design) and green (in energy!) too. 
Once the containers are full, the dog waste is transferred to a facility where it is anaerobically digested, converted into methane, and then finally, into electricity. (Wow, I'm geeking out and getting so excited about this as I'm typing this!)
The byproduct then becomes a soil conditioner or fertilizer.
It's so great to see that rather than mixing the dog waste with our garbage, Mississauga's dog parks are reducing garbage contamination and diverting the waste into greener energy initiatives!
Pssst if you didn't know this is basically what happens to our food when it goes into the green bin too!
9. Poop Bag Dispensers Available
Poop bag dispensers are located near the entrances on the bulletin boards. Unfortunately, I have not seen it filled during my two visits here.
I'd still recommend that you bring your own poop bags just in case.
If you're looking for great value, I really recommend getting your poop bags from Costco if you can (they can be ordered online even if you don't have a Costco membership card). They're strong poop bags and are the cheapest per bag that I've found. 
10. Public Transit Friendly
Jack Darling Memorial Park's main entrance can be easily accessed via the 23 MiWay bus. The closest bus stop is at Lakeshore Rd W of Lorne Park Rd. 

For Toronto visitors, it's 'an okay' commute if you're willing to make the trek. From Union, take the Lakeshore West Go train to Port Credit Go. From here, transfer to the 23 Westbound bus and get off at Lakeshore Rd W of Lorne Park Rd to make your way to Jack Darling. If timed correctly your commute will be around 51 minutes. 
Missing Features You Should Know Before Visiting Jack Darling Dog Park
1. Comfort stations are relatively far away if you park at the main parking area – There is only one comfort station at Jack Darling Memorial Park and is located by the waterfront trail parking lot (according to the Jack Darling Memorial Park site, there's a second one located near parking lot D… I wasn't able to find it during my visits!) 
2. Additional Lighting is required for dark mornings and evenings. While the water treatment facility and buildings within the dog park offer light – a lot of the meandering paths within the dog park do not have additional lighting to illuminate the dog park. If you plan on exploring the full dog park, I wouldn't recommend visiting the dog park at dusk.
However, there is more than sufficient lighting from the nearby buildings to provide enough light to sections near the main parking lot.
Review of Jack Darling Dog Park (Plan for 30 min if visiting the small dog area, Plan for 1+ hour in the main off-leash areas)
First Impressions (Weekend Experience)
Our first visit to Jack Darling was on a sunny spring weekend and let me tell you, this is one very popular dog park! 
We thought we were oh so slick and such early birds (ha!) heading to the dog park at 10:00 AM on a Saturday morning. Lo and behold we *almost* couldn't find a parking spot in the main parking lot because it was so busy!
Thanks to Limone being on the smaller side (she's exactly 25 pounds!) we were able to visit both the small off-leash dog area as well as the two main off-leash areas as well. 
Here's how we ended up spending our 2.5-hour visit:
30 min in the small off-leash area playing
30 minutes on the toboggan hill dog watching at the top of the hill
1.5 hours looping around the main off-leash trail area – we looped over 3 times to explore as much of the interconnected trails offered in the park as possible
Our favourite part of the Jack Darling Dog Park was how each loop in the main off-leash area resulted in new terrain to explore. 
Exploring just the perimeter grants you access to shaded forest trails, and at the southernmost end, a large sandy area for diggers.
In the central area, you get to explore the naturalized rooftops of the water treatment facility – which is such a treat since you get a unique mix of nature and concrete integrated together.
While Jack Darling offers a less rugged experience compared to the
Jack Darling Dog Park is an equally massive dog park that offers a more diverse set of unique terrain making this a highly stimulating and enjoyable dog park for dogs of all ages to explore. 
Subsequent Visits to Jack Darling Dog Park (Weekday Experience)
A weekday experience at Jack Darling dog park is much like visiting other dog parks on the weekday – there are fewer people and larger groups of dogs.
Jack Darling Dog Park is a no-brainer for local dog walkers. 
When we arrived at 10:30 AM on a weekday morning, the parking lot was about a quarter empty but off-leash areas were quite busy. 
Expect anywhere between 2-3 groups of dog walkers with 5+ dogs per group near the gates by the main parking lot on weekdays. We made about 3-4 loops during our 1.5-hour weekday visit, looping by the entrance each time and we consistently saw 5-10 dogs (each loop resulted in a different set) near the main entrance.
As you explore further along inside the park though, Jack Darling's off-leash dog park transforms into a tranquil space. 
At times, Limone and I felt like we were practically exploring the space on our own. We only occasionally crossed paths with other dogs at the main pathway intersections and near the sand bar.
Seasonal Details
When I write my dog park reviews, I try to include seasonal details – even if I've only visited the dog park location a few times. I refer to Google Reviews for some additional seasonal information if I've only visited a few times to fill out the other seasonal information as much as possible.
Here are some key points to note depending on which season you are visiting this dog park.
Spring – If you're visiting the main off-leash area, bring a towel with you to wipe off the mud. Having said that, it's possible to keep a clean dog during your visit by avoiding the sand bar to the south as well the middle trail that leads up to the water treatment rooftop.
Summer – Arrive early if you're coming by car. Weekends are always full and obtaining a parking spot can be difficult unless you beat the summer crowd. 
Fall – Much like spring, you may want to bring a towel – otherwise, the space is fantastic for a nice day outside 
Winter – The toboggan hill can be closed during the winter for children to go down. However, the small off-leash dog park and the main off-leash dog park are generally open unless there are other maintenance work going on
What other reviewers are saying
With almost 240 Google reviews, and averaging 4.8 stars out of 5 stars, Cedarvale dog park is an overwhelmingly positive experience. Here are the recurring positive comments:
Lots of space
Favourite dog park in the GTA
Friendly dogs and owners
Great small dog section
In terms of negative or low-rated reviews, this is what most dissatisfied visitors have to say:
Not enough parking
More dog owners need to clean up after themselves – especially in the grassy areas
Jack Darling Dog Park Summary
If you're looking for the best dog park in the GTA, I do agree with most folks that this dog park should definitely be one of the top contenders. For Toronto dog owners that have a car the drive on the Gardiner is well worth it and is a great option for those willing to make the 30-40 minute drive.
Jack Darling covers many things that I think a lot of dog owners are looking for that not every dog park location offers:
Dedicated and fenced small dog space
Massive off-leash and fenced terrain
Lighting in key off-leash areas 
Dedicated dog fountain
Jack Darling dog park is certainly one of our favourite dog parks so far and we're definitely going to make it a point to re-visit this amazing off-leash area. 
How to Support Jack Darling Dog Park
Disclaimer: I am not being paid or earning a commission for the below – I just really love the park and the community and am a happy member of Leash Free Mississauga (LFM)!
If you visit Jack Darling Off-Leash Dog Park and love it just as much as we do, consider becoming a member of, donating to, or volunteering with www.leashfreemississauga.ca! It is free to become a member, and by doing so, it allows the organization to better grasp the actual number of park users and vouch for upgrades and improvements with the City.
Leash-Free Mississauga is a non-profit organization that works closely with the City of Mississauga's Parks and Forestry Division to create a secure and friendly environment for our canine companions. They not only support Jack Darling's Dog Park, but also a number of other popular dog parks including Etobicoke Valley Dog Park, Totoredeca, and Lakeside Dog Park! They do awesome work including:
provide electricity to the parks
clean up, pathway clearings, mulching, wood chips, etc.
advise the city about hazards in the park
set up lighting at the parks
fencing maintenance
water access (where feasible)
seating and signage
---
What We Always Bring With Us to Dog Parks
What's on Limone:
Depending on the situation we rotate Limone through various harnesses and collars:
Similarly, we rotate Limone's leash based on our needs. These are the three leashes we use regularly:
Have a specific dog park you'd like to see reviewed? Let us know in the comments below! We (Limone included) would love to explore new places and share our thoughts with you!